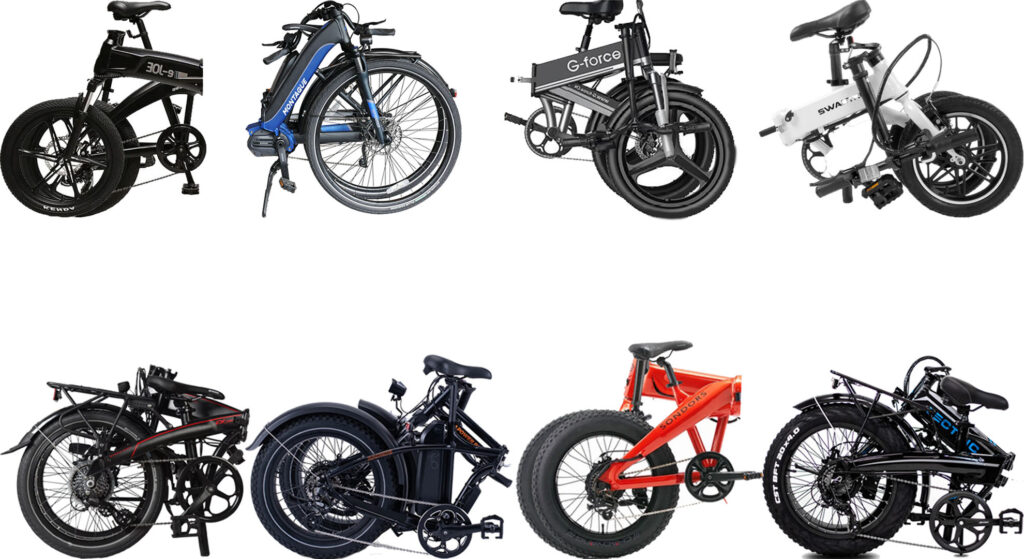 E-bikes of all types have had a huge growth in popularity and improvement in technology in the past few years. Folding bikes, including folding electric bikes, have also seen a jump in use.
This is because they are a convenient mode of transport for commuters or cyclists who need to transport and store their bicycles more easily.
With folding electric bicycles, you have the power to take on longer commutes without breaking a sweat, reliably bring your bike on any public transit, and fold it up easily to store it at the office or in your home.
The best folding electric bike will fold quickly and securely, be relatively lightweight, be comfortable to ride, and come fully equipped for urban commuting. With that said, let's take a look at some of the differences we see between models.
Quick Folding Electric Bikes Buying Guide
---
Tire width: Fat vs Standard
Folding fat bikes and regular folding e-Bikes are both popular choices with their own distinct advantages. The reason that fat-tire folding e-Bikes are so popular is that these bikes are the most versatile and comfortable.
A folding fat-tire electric bike has the ability to go on or off-road, maintains excellent traction and control in all terrains and weather conditions, and is super-comfy because the large tires absorb almost all of the road vibrations.
Non-electric folding bike vs a conventional folding bike
Whether you choose electric or not depends on your needs and capabilities as a cyclist.
A motor and battery will allow you to commute without effort, especially if there's a throttle. This is an excellent choice for long or difficult commutes. E-bikes also allow you to easily transport cargo such as a loaded pannier rack without noticing the extra weight.
Folding electric bikes for adults are great for those with injuries or who find it difficult to ride regularly and want to be able to without limitations.
Belt vs chain folding e-Bikes
A belt-drive electric folding bike for adults is a premium system because it requires virtually no maintenance, lasts a long time, doesn't require grease, and is silent when running compared to a chain drive.
Suspension vs rigid
The type of fork that comes on your folding e-bike greatly affects the comfort when riding on rough terrain. A suspension fork will absorb more shocks and bumps, allowing you to comfortably ride off-road without experiencing fatigue from vibrations.
Additionally, because you have a motor for power, the loss of performance and speed from suspension is almost canceled out.
Internal gearing vs derailleur
Internal hub gearing is common on e-bikes because it requires very little maintenance compared to a derailleur. It has less exposed parts which reduces wear and tear.
These types of hubs usually can't get as wide a gear range as a derailleur, but this is pretty much irrelevant as you are powered mostly by the motor on an e-bike.
---
Best Folding Electric Bikes
---
#1

Tern GSD S10

Best folding electric cargo bike
MSRP: $5,399
10-speed Shimano Deore
20×2.4″ + 2.15″ tires
250w, 85Nm mid-drive motor
Max payload: 440 lbs
400Wh battery
The Tern GSD S10 is a unique electric folding bike. It doesn't fold in half like most others but has a folding handlebar and stem and a telescoping seatpost.
This bike is designed to support huge cargo loads of up to 440lbs and is perfect for long-distance commutes with its 53-mile max range. At home, you can quickly fold and store the bike in a neat package.
Power comes from a premium Bosch Cargo Line motor with 400% support and 85Nm of torque to pull you up steep hills with a loaded bike. This pairs with a 400Wh battery with an integrated ABUS lock.
Finally, you have four-piston Magura hydraulic disc brakes, puncture-resistant Schwalbe tires, and a fully-equipped setup to make life in the city safe and convenient.
---
#2

Rad Power Bikes RadExpand 5

Best fat tire folding electric bike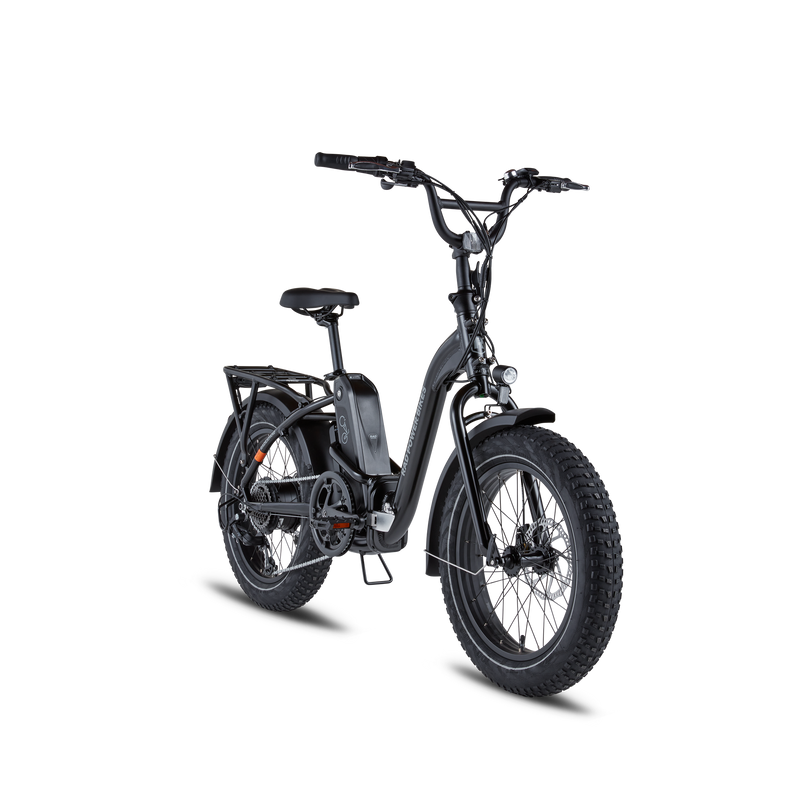 MSRP: $1,599
7-speed microShift derailleur
20×4″ tires
750w rear hub motor
Max payload: 275 lbs
48V 14 Ah battery, 672Wh
The RadExpand 5 folding electric bike is a fantastic choice for anyone who wants great value, convenience, and versatility.
This Class 2 eBike is great for long-distance commutes with its 45-mile range and when you arrive at your destination, quickly fold and store the bike in a small secure package.
The RadExpand folding electric bike uses a powerful 750W motor combined with a reliable microShift 7-speed rear derailleur to get you where you need to go. It also comes with full fenders, an LCD bike computer, and integrated LED lights on arrival.
Finally, this e-bike is a joy to ride due to its plush, puncture-resistant fat tires, disc brakes, and comfort-focused geometry.
---
#3

Lectric XP 2.0

Best folding electric bike under $1,000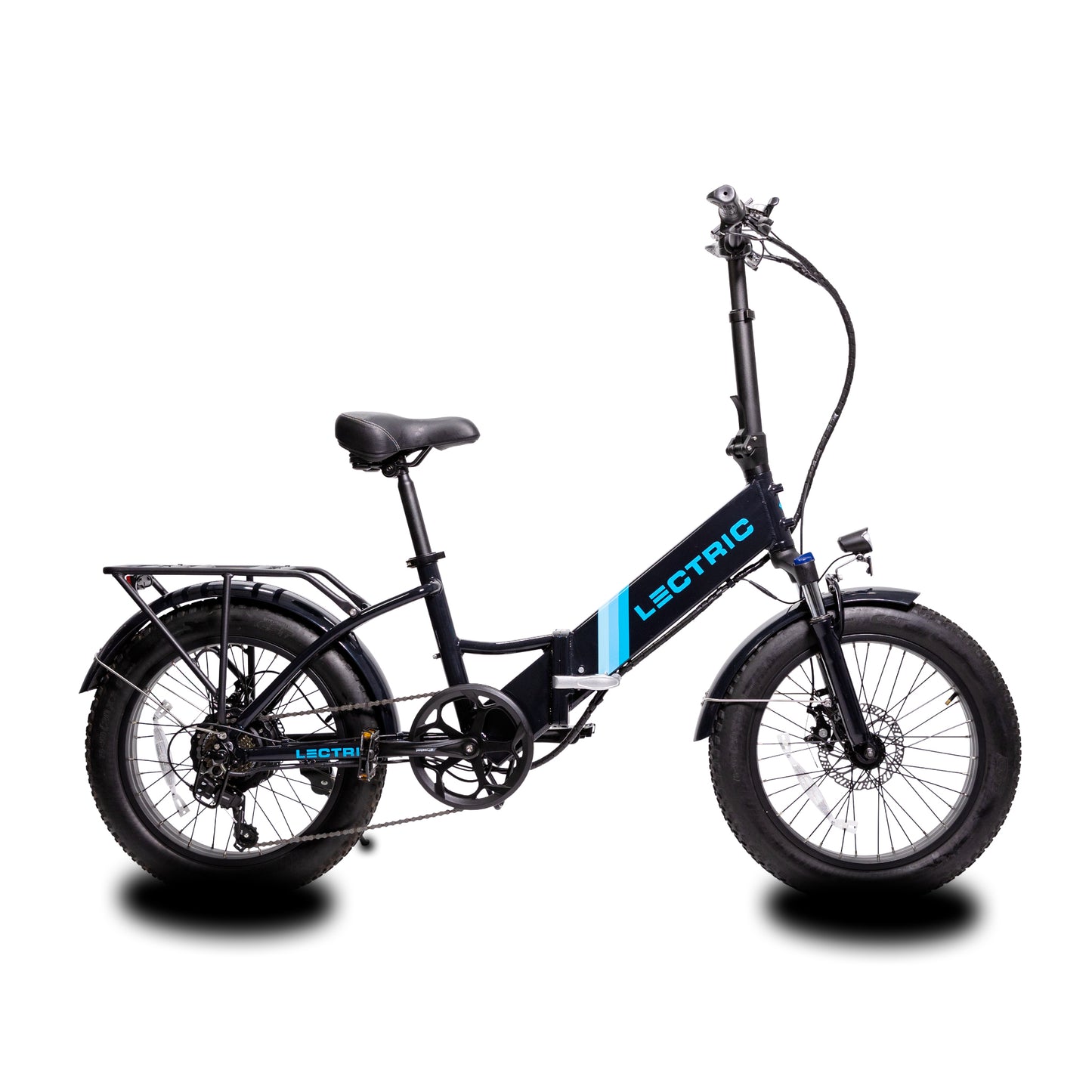 MSRP: $1,099
Range: Up to 45mi
500W motor (800W peak)
20×3″ tires
Max payload: 330lbs
Weight: 63lbs
48v 9.6Ah battery – 460Wh
The XP 2.0 folding fat tire bike by Lectric is certainly one of the best electric commuter bikes for all ages and sizes as it performs far above its cheap price tag.
This 500W folding electric bike comes with a punchy motor with 5 levels of pedal assistance and a 9.6Ah battery that delivers up to 45 miles of range. Additionally, the XP 2.0 has 3″ wide CST tires, Tektro mechanical disc brakes, and shock-absorbing fork suspension.
This 20-inch electric bike is fully equipped on arrival with fenders, integrated lights, and a rear rack. You can also choose the step-through version if you want extra comfort and convenience. Finally, even with all of these components it still folds up quickly and neatly.
---
#4

Buzz Charter F

Lightweight folding electric bike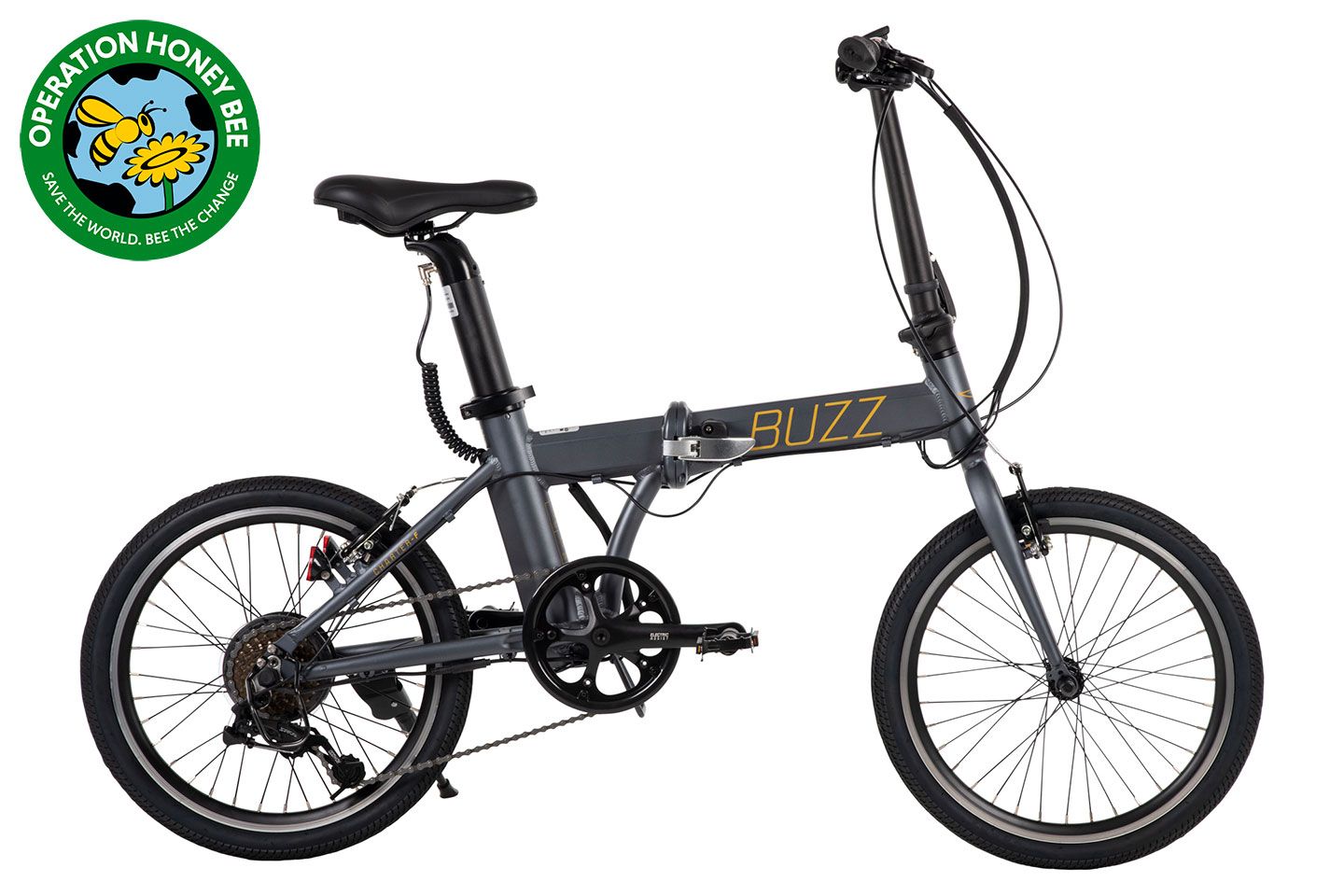 MSRP: $999
250W motor / 36V battery
V-brakes
20 x 1.75″ tires
7-Speed rear derailleur
Weight: 35 lbs
3 Levels of pedal-assistance
Buzz Charter F is a 20-inch folding electric bike designed for anything from an urban commute to leisure weekend rides on bike paths.
This electric folding bike has a solid 250W motor combined with a 7-speed drivetrain and a 36V battery that lasts up to 40 miles per charge.
To ensure this bike is lightweight and efficient, Buzz uses simple V-brakes brakes, efficient 20 x 1.75″ tires, and a sleek aluminum frame. Therefore, the total weight of the bicycle is only 35 lbs, which is incredible for an e-bike.
Finally, the Charter F folding electric bike folds quickly and stays secure for transport and storage. Due to its low weight, it's super-easy to carry around.
---
#5

Aventon Sinch

Fat tire folding electric bike
MSRP: $1,799
Motor: 500W
Battery: 672Wh
Alloy frame
Mechanical disc brakes
20 x 4″ tires
Max rider weight: 300 lbs
The Aventon Sinch folding electric bike features a set of all-terrain fat tires combined with a 45mm travel front fork for versatile off-road capability.
This affordable fold-up electric bike has a punchy 500W motor and 672Wh battery that is seamlessly built into the frame. This combination provides 40 miles of range with a max assisted speed of 20mph.
Finally, the Aventon brand gave this folding electric bike a reliable Shimano drivetrain, mechanical disc brakes, and app connectivity. The only weak point is the high weight.
---
#6

Swagtron EB-5

Super compact 14″ tires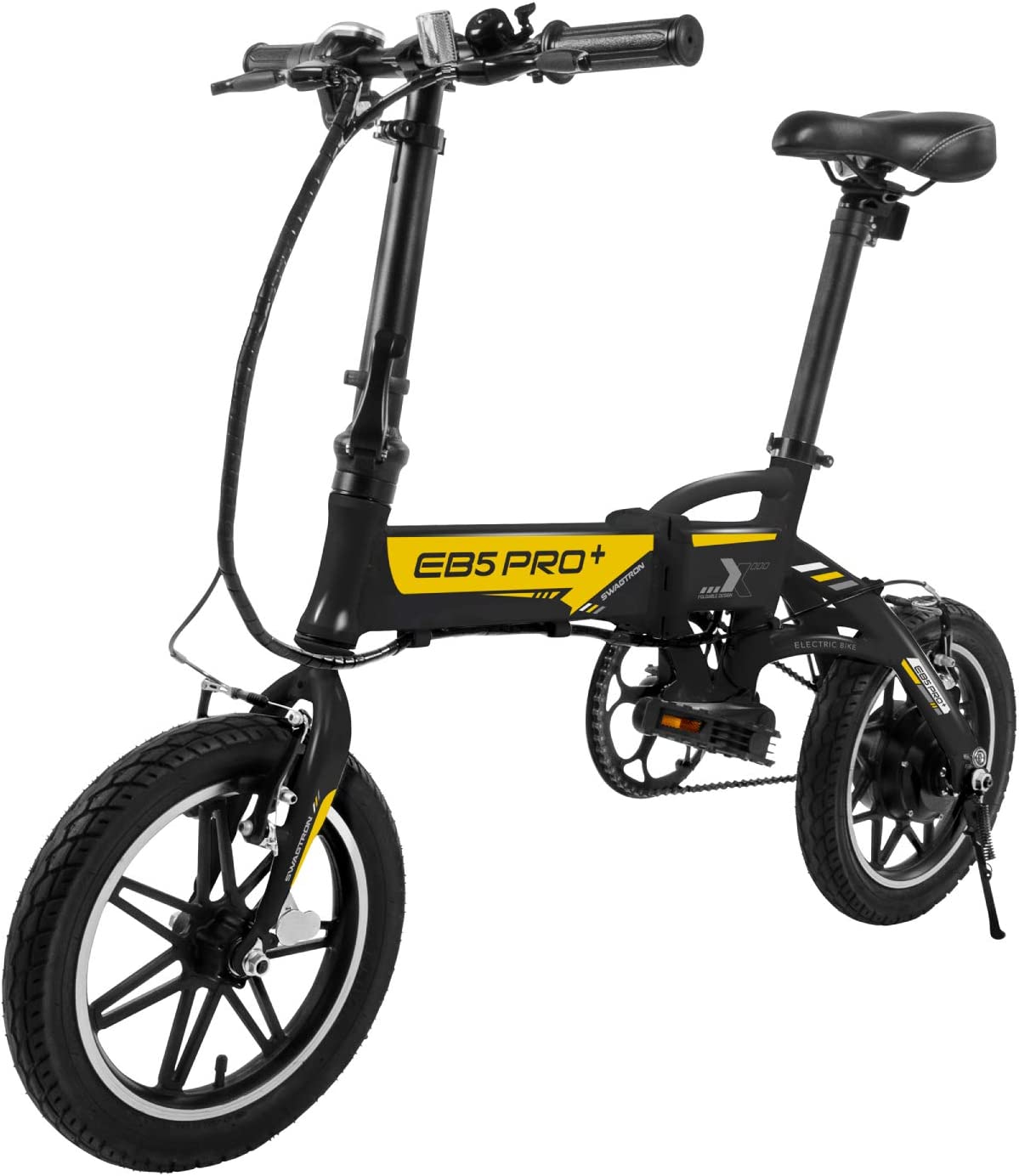 MSRP: Check on Amazon
250W motor
Battery: 36V
14″ tires
Charge time: 4-5 hours
Max speed: 15.5 mph
Weight: 37 lbs
Swagtron's EB-5 250W folding electric bike is one of the cheapest models we have seen that is still reliable and versatile.
This folding electric bike has a sleek design, an efficient 250W motor, and a 36V battery. Using the throttle alone you can reach max speeds of 15.5 mph for distances of 15.5 miles. Additionally, the battery charges fully in 4-5 hours and can be swapped out for an extra battery to extend the range.
The EB-5 36V folding electric bike also uses compact 14″ wheels and lightweight v-brakes to make it more comfortable and easier to control.
Finally, the Swagtron folding electric bike has ergonomic grips, a carry handle, and front and rear reflectors for safer traveling.
---
#7

Lectric XPremium

Dual-battery compatibility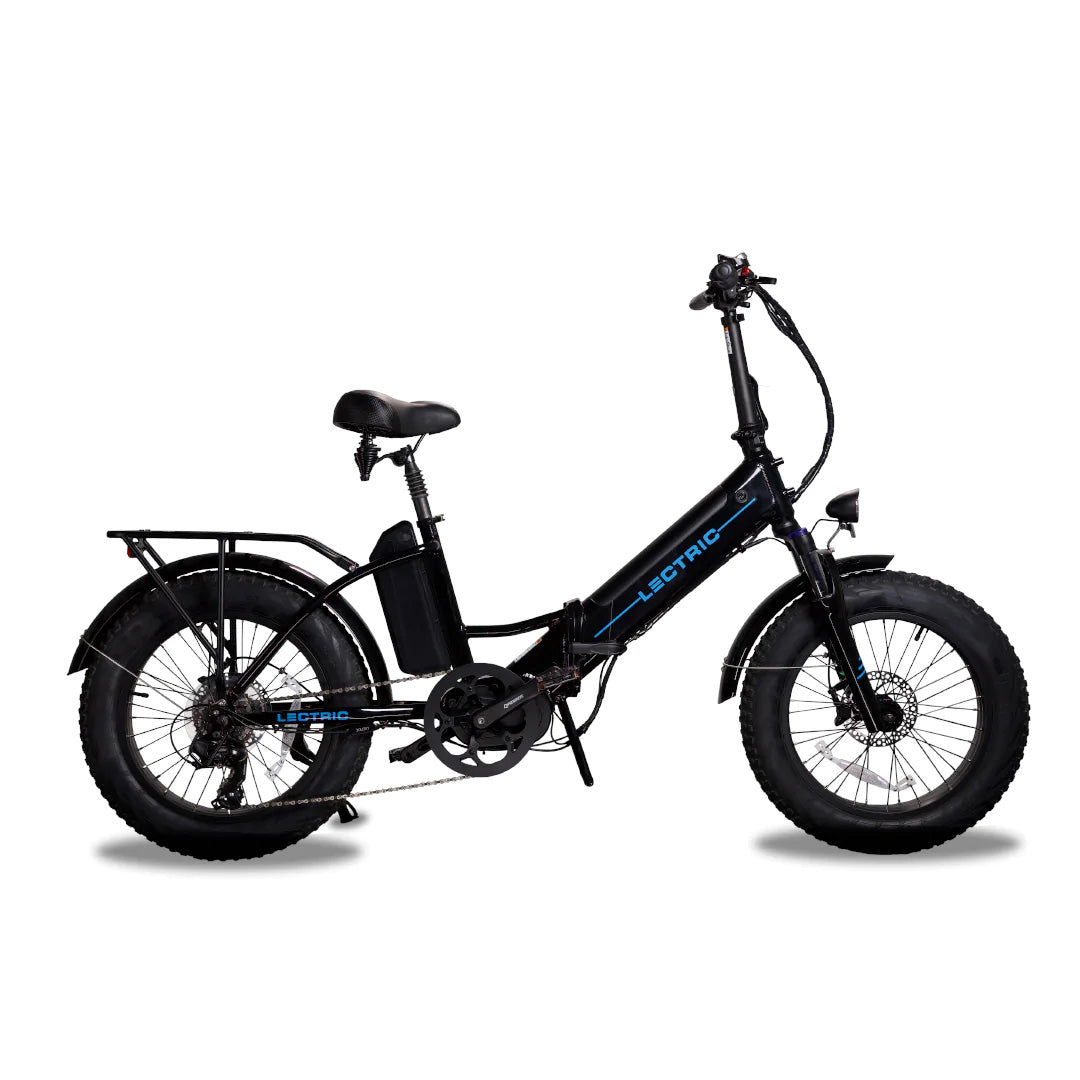 MSRP: $1,999
500W motor (800W peak)
Two 48v 10.4ah batteries
20 x 4″ tires
Hydraulic disc brakes
7-speed rear derailleur
Max weight capacity: 330 lbs
The Lectric XPremium folding electric bike has a unique combination of high-quality components chosen to make your life as convenient as possible.
This bike boasts maximum practicality with a compact and easy-to-transport folding mechanism along with an efficient torque-sensing and throttle-controlled motor.
Another excellent feature on the XPremium is dual-battery compatibility. It lets you mount two batteries on the frame at the same time, boosting the bike's capacity to around 1,000W, which results to a 100+ mile range!
The system is also combined with a 7-speed Shimano rear derailleur which will help you pedal uphill more easily and make better use of the battery.
Finally, this bike uses hydraulic disc brakes, plush 4″ tires, and is fully equipped with lights, a rack, and fenders.
---
#8

RockShark Hiland

Futuristic-looking foldable eBike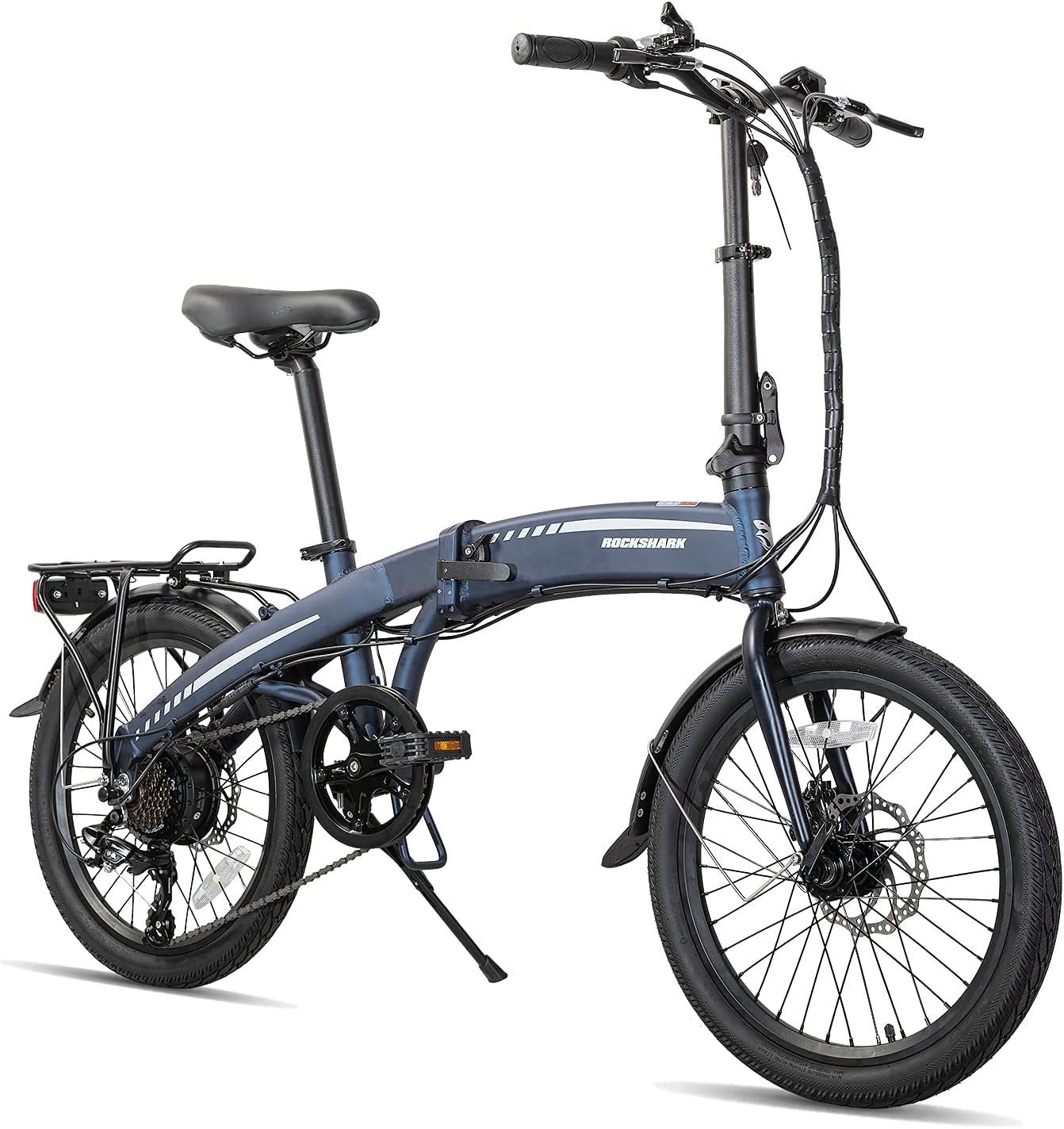 MSRP: Check on Amazon
250W rear hub motor
280Wh battery
Weight: 45lbs
Mechanical disc brakes
20″ wheels
Suits riders – 5'3″ to 6'3″
The RockShark Hiland folding electric bike is a solid option that outperforms its affordable entry-level price.
Make your commute a breeze with its 250W rear hub motor and a 280Wh battery that delivers up to 40 miles of range on a single charge. This combination is optimized for punchy power output and short to medium rides.
This folding bike folds into a neat package measuring 31.5″ x 15.7″ x 29.7″ to make it easier to transport. The relatively light weight of 45lbs also makes it possible to carry.
Finally, this electric folding bike has mechanical disc brakes, an integrated rack, fenders, a 7-speed drivetrain, and a 20mph top speed. It's a great commuting companion for any urban dweller.
---
#9

Vivi Folding Electric Bike

Best foldable electric cargo bike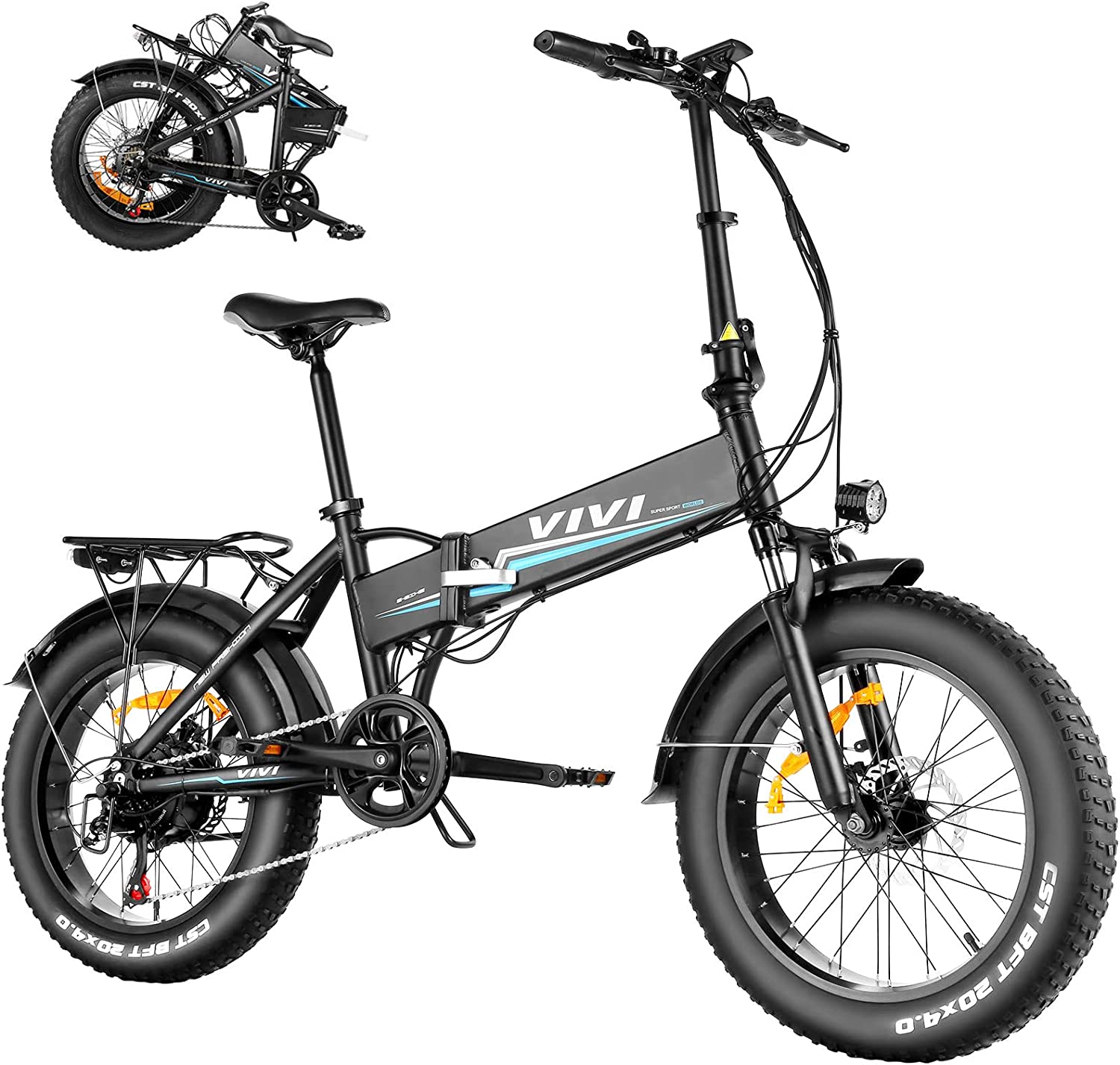 MSRP: Check on Amazon
Motor: 500W or 350W rear hub motor
Battery: 48V 10.4ah battery
20 x 4″ tires
7-speed rear derailleur
Mechanical disc brakes
Fits riders from 5'1″ to 6'4″
The Vivi foldable electric bicycle is a low-end model with affordable components and lots of thoughtful design features.
This e-bike comes with either a 500W or a 350W rear hub motor with pedal assistance up to 24 mph for a whopping 50 miles max range due to the large 48V 10.4ah battery. Additionally, the 7-speed drivetrain and mechanical disc brakes combine for one of the most efficient and easy-to-use drivetrains possible.
Lastly, to further boost comfort, power, and convenience, this bike has a suspension fork, 20″ x 4″ fat tires, front and rear lights, fenders, and even a rear rack.
---
#10

Engwe EP-2 Pro
MSRP: $1,400
Motor: 750W
Battery: 48V 13aH
Range: Up to 50 miles
Mechanical disc brakes
Max weight capacity: 330 lb
Fits riders: 5'2″ to 6'4″
Engwe EP-2 Pro is a popular electric folding bike that offers a lot of features at a very attractive price point. It's powerful, convenient to use, and performs well on diverse terrain.
This Engwe e-bike uses two quick-release clamps which allow you to fold it up in a matter of seconds. It also comes with lockable fork suspension and 4″ puncture-resistant fat tires that provide comfort and performance both on and off-road.
For power, the EP-2 Pro relies on a 750W motor with five pedal assist levels and a throttle. Using a 48V 13Ah battery, this bike averages 50+ miles per charge. This is certainly one of the best folding eBikes for this price.
---
#11

Ecotric Electric Folding Bike

Best budget folding electric bike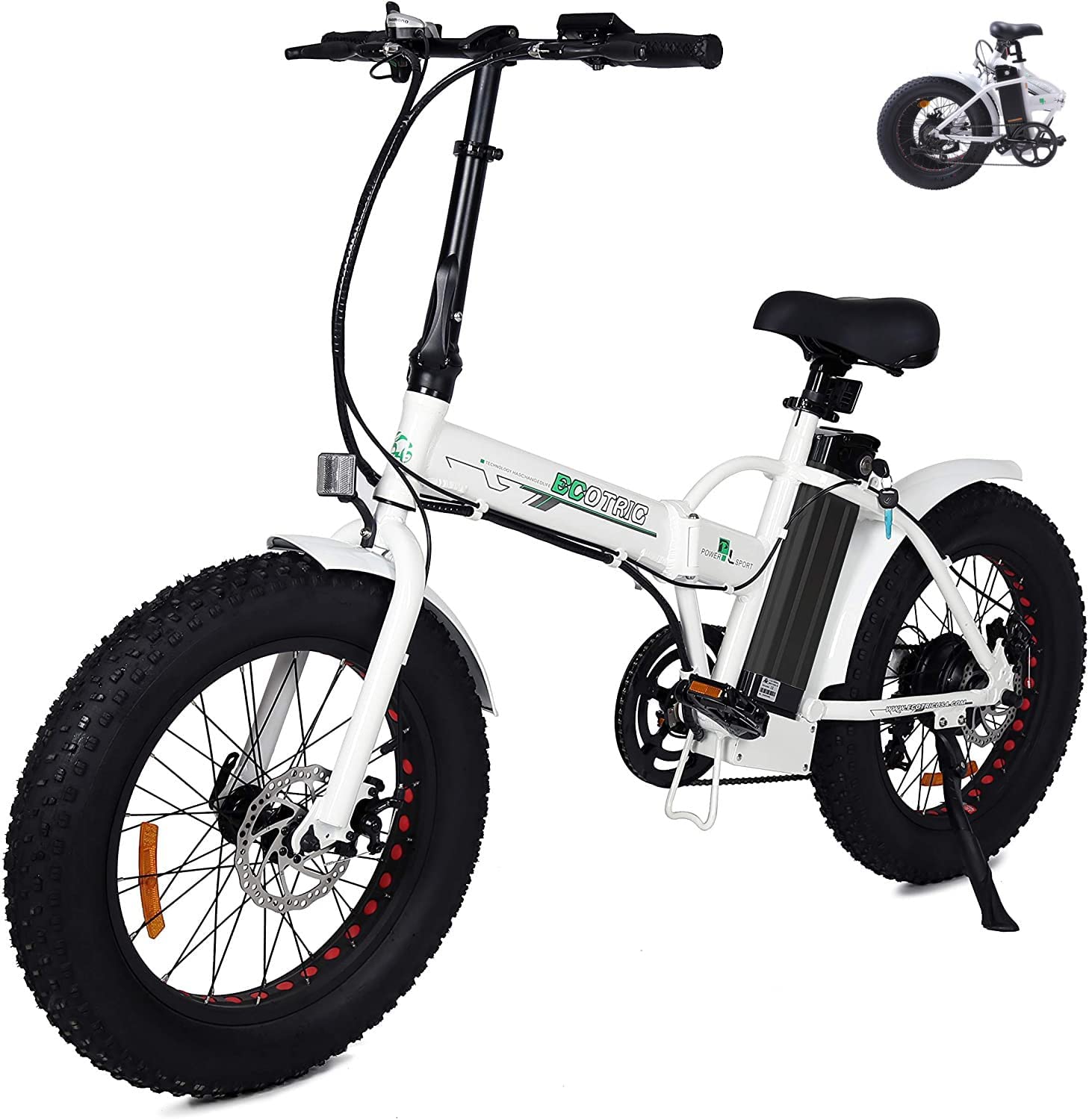 MSRP: Check On Amazon
Ecotric's compact electric folding bike is an affordable and attractive model. It's suitable for urban and off-road riding, which makes it ideal for work-day commutes and weekend adventures.
This small folding electric bike weighs around 56lbs, meaning it is relatively easy to transport or carry when folded. It uses a 500W motor which provides max speeds of up to 20 mph for a max range of 19-21 miles in pure electric mode and 33-36 miles in pedal-assistance mode using the 36V 12.5Ah battery.
Other notable features include four assistance modes, fat tires, front and rear fenders, reflectors, a kickstand, and mechanical disc brakes. Finally, the Ecotric folding e-bike has a 200 lb carrying capacity, which is not a lot, but it's sufficient for most riders.
---
#12

Brompton C Line Electric Explore

Best folding electric bike by the oldest folding bike brand
MSRP: $4,050
Made of steel
6-speed
Weight: 38.3 lbs
Battery: 36V, 312Wh
Brompton Electric Folding Bikes are the most established and recognized brand for this type of bike and the C Line Electric Explore is one of the most popular models they have, offering great quality and reliability, although it's slightly overpriced for the level of components.
The C Line Electric Explore is the perfect urban commuter bike. It features an ergonomic comfort riding position, a 312Wh battery that delivers 20-45 miles of range, a punchy front-hub motor, and a 6-speed drivetrain to support it.
This Brompton e-Bike has an excellent folding and locking mechanism which is the result of years of design experience. Their hand-brazened steel frames are also highly durable and comfortable.
Finally, this bike includes full fenders, a front mount for accessories, and Schwalbe Marathon Racer 1.35″ tires.
---
What Else You Need to Know About Folding Electric Bikes
---
What to think of full suspension folding electric bikes?
Full suspension on a folding e-bike is a little excessive. In general, this type of bike is uses for urban riding, commuting, or light trail rides. To do this well, all you need is fat tires and/or front fork suspension to absorb the bumps you encounter.
Additionally, a folding e-bike usually won't have the correct geometry to tackle tough mountain descents and singletrack.
What to think of cheap folding electric bikes?
For cyclists who need a bike for light usage and short trips, without the need to go off-road or carry heavy cargo, a cheap folding e-bike should be able to meet those needs.
For heavier usage or more difficult riding conditions like off-roading or tough gradients, a cheap e-bike might not work effectively or be durable enough.
Electric Bike Classifications
Most folding fat tire electric bikes are Class 1, which means the pedal assistance works up to 20mph. However, there are also Class 2 and 3. They are categorized as follows:
Class 1: Top speed 20mph
Class 2: Top speed 20mph + Throttle 20mph
Class 3: Top speed 28mph + Throttle 20mph
Hub drive vs mid-drive
Hub drive motors are the cheapest type. They are heavier and are generally found in the rear wheel axle. They power the rear wheel independently of the drivetrain and thus are not as efficient, especially in their power delivery or smoothness.
Mid-drive motors are the premium choice. They are more expensive, lighter, and are found in between the pedals. This location improves the center of gravity. These motors work by powering the drivetrain, delivering a smooth and efficient power output.
Spoke vs cast wheels on a folding bike
Spoke wheels are the premium option. They are more durable and perform better than cast wheels. Cast wheels are found on cheaper models. They require less maintenance and are lightweight, but also less durable.
Electric folding bike types
Fat tire
Hybrid folding electric bike
Cargo folding bikes
Step-through folding e-bike
Hunting folding e-bike