Electric cruiser bikes are growing in popularity because they are very comfortable, versatile, and accessible for people of all ages and abilities.
With the help of an e-bike those who may have been deterred from the demands of cycling before are beginning to become interested.
As electric beach cruisers are generally fully equipped with a rack, fenders, and lights, as well as having upright, comfortable geometry, and soft touchpoints, they function great for most casual riders who want to ride for short to medium distances.
In this article, we will cover various electric cruiser bicycles with different characteristics, components, and price points.
---
Best Electric Beach Cruiser Bikes in 2022
---
Charge Comfort 2
One of the best new cruiser eBikes in 2022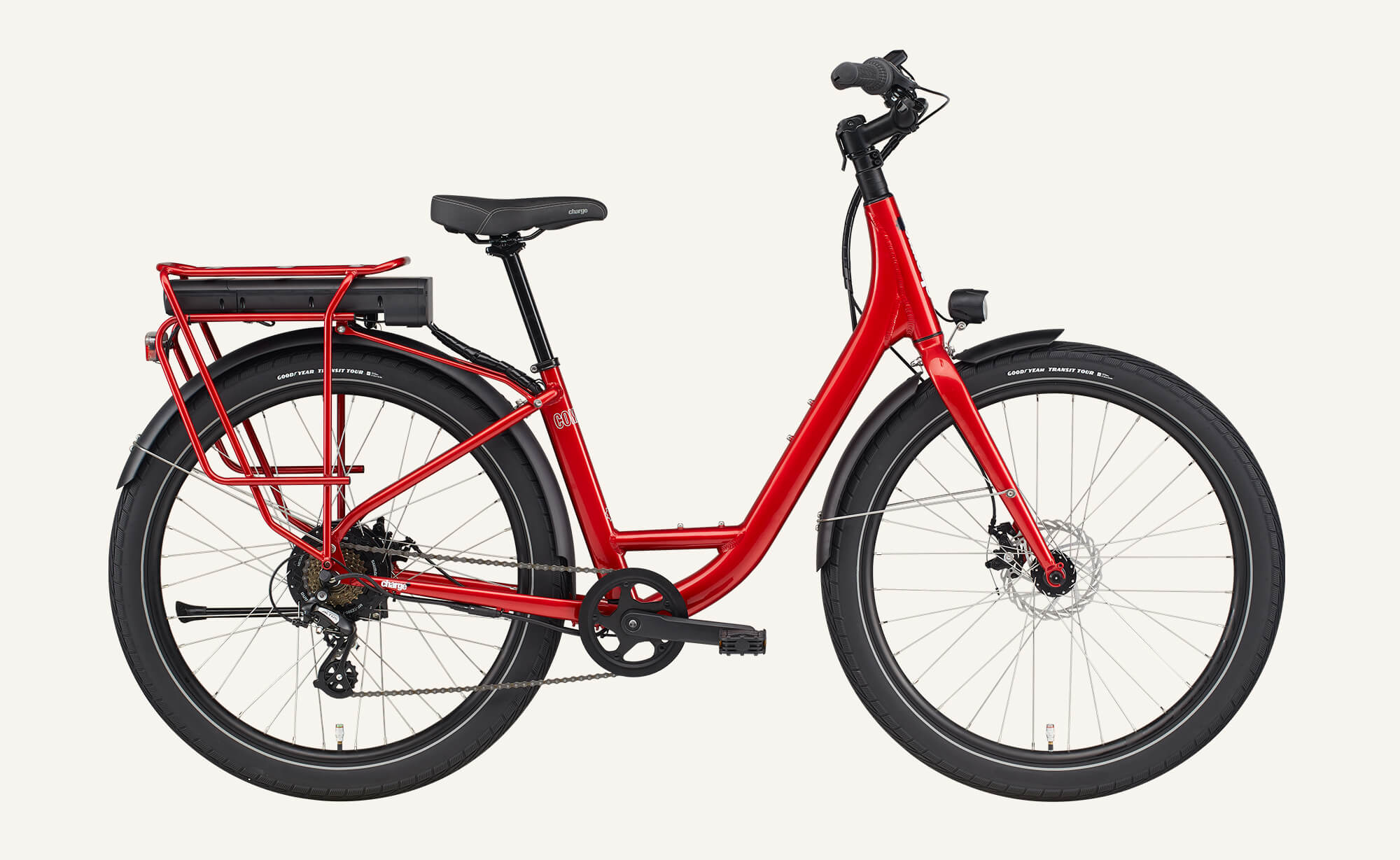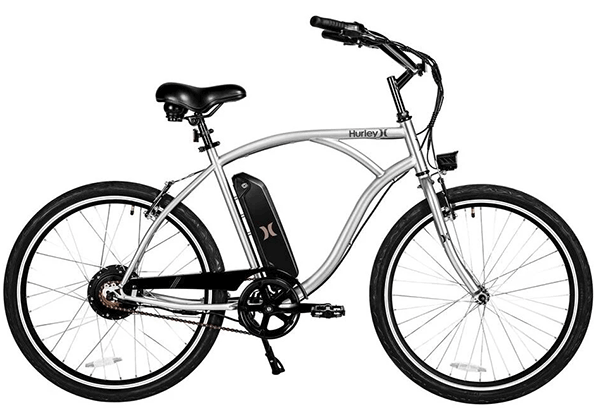 MSRP: $1,899
Class 2 eBike
250W Bafang rear hub motor
418Wh battery
7-speed Shimano
Comfortable geometry and low-step frame
Goodyear Transit Tour 27.5 x 2.6″
The Charge Comfort 2 is a comfortable bike fully equipped with the accessories needed to make your life easier.
The bike's frame is designed with upright cruiser geometry which makes it very enjoyable to ride. Wide 2.6″ tires and a low-step aluminum frame help to absorb bumps from the road.
The power on the Comfort 2 comes from a 250W hub motor. Using a 418Wh battery, riders can expect decent ranges of up to 50 miles. Additionally, the bike has a 7-speed drivetrain that helps you get the most out of your battery.
---
Electra Townie Go! 7D Step-Through
One of the most popular beach cruiser electric bike
MSRP: $1,750
Class 1 eBike
250W rear hub motor
250Wh battery
Charge time: 4 hours
Range: 16-40 miles
7-speed Shimano Tourney derailleur
26″ x 2.35″ tires
Electra is a Trek-owned brand specializing in beach cruisers style bikes. Their Townie GO! 7D step-through is one of their best electric models that comes from eight years of experience in the e-bike market.

This Electra cruiser step-through women's bike sports classic beach cruiser geometry with a convenient step-through frame design which makes it accessible for even more people.
For power, this Electra beach cruiser bike relies on a punchy 250W motor and a removable 250wh battery to deliver up to 40 miles of range. These electronics are complemented by a reliable Shimano Tourney 7-Speed groupset.
Finally, innovative Flat Foot technology allows riders to have a foot flat on the ground without sacrificing an optimal pedaling position.
---
Ride1Up 700 Series
A hybrid/cruiser e-bike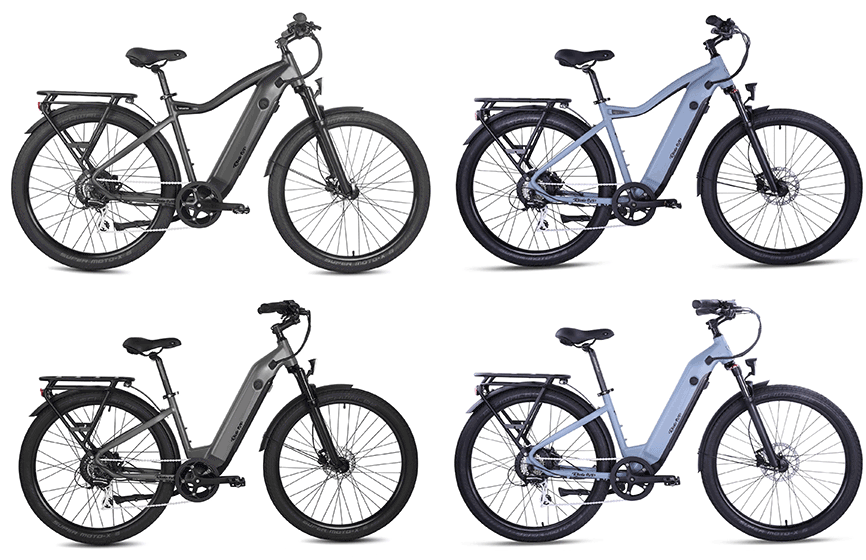 MSRP: $1,695
Class 3 eBike
750W rear hub motor
672Wh battery
Range: 30-50 miles
8-speed Shimano Acera
27.5″ x 2.4″ Schwalbe tires
Left-side thumb throttle
The 700 series by Ride1UP is an electric cruiser bicycle that delivers great quality at an unbeatable price for an e-bike.
This fat tire beach cruiser utilizes components such as front fork suspension, powerful hydraulic disc brakes, premium Schwalbe Supermoto X tires, and stylish integrated electronics.
All of this combines perfectly with the comfortable, upright geometry chosen by Ride1UP making this bike a joy to ride in any urban environment.
Additionally, the 700 Series has a large range of 30 to 50 miles with 28mph pedal assistance and a 20mph throttle thanks to the 750W motor and 14Ah battery combo. Finally, the bike is fully equipped to make any job convenient with a rear rack, fenders, a kickstand, and integrated LED lights.
---
Rad Power Bikes RadCity
One of the best city electric cruiser bikes on the market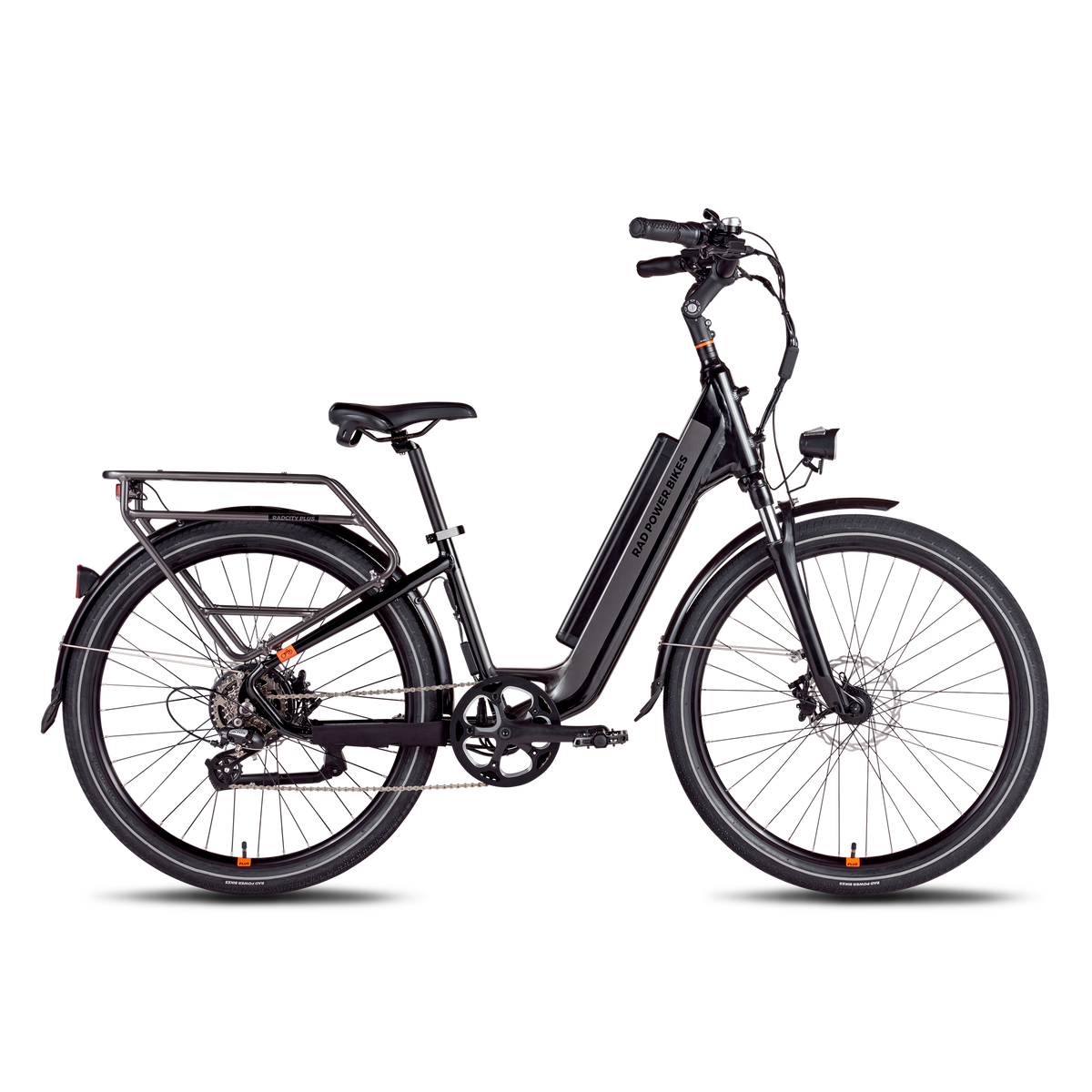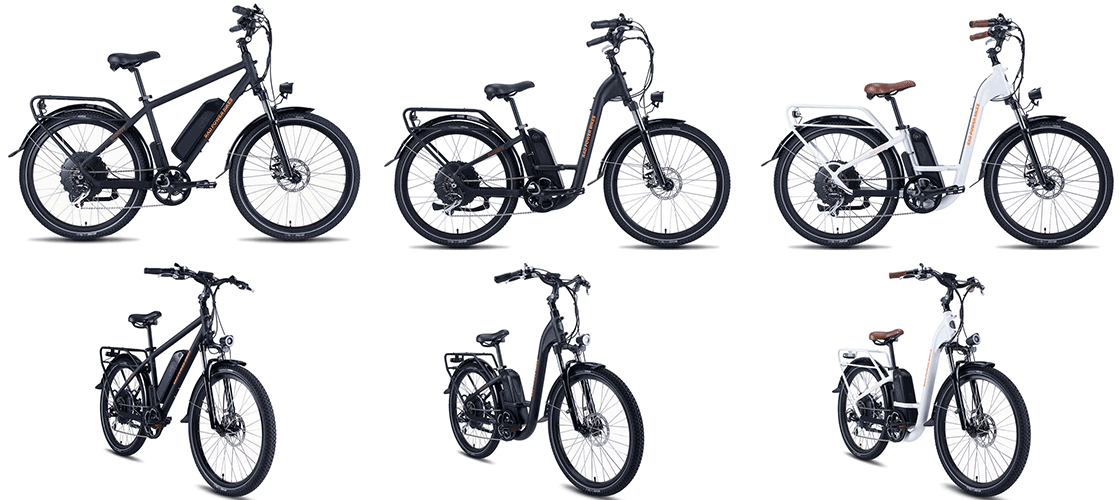 MSRP: $1,999
Class 2 eBike
750W rear hub motor
672Wh battery
Range: up to 50 miles
7-speed gearing
27.5″ x 2″ tires
Half-twist throttle
Rad Power eBikes are some of the best you can buy for under $2000, and the RadCity 5 Plus Step-Thru is their motorized beach cruiser choice.
This bike comes with powerful electronics including a 750W/40Nm hub motor with regenerative braking and a 672Wh battery. With this, riders can expect up to 50 miles of range.
The step-through frame design and upright geometry on the RadCity 5 Plus combine perfectly with wide puncture-resistant 2″ tires, 50mm fork suspension, and comfortable touchpoints to make it a joy to ride.
Finally, this bike has various other great features including hydraulic disc brakes, an integrated rack, fenders, LED lights, and a 6061 aluminum frame.
---
Electra Townie Go! 7D
Step-over version of the popular beach cruiser electric bike

MSRP: $1,750
Class 1 eBike
250W rear hub motor
250Wh battery
Range: up to 40 miles
7-speed gearing
The Townie GO! 7D step-over is almost identical to their step-through version except with a more traditional frame design.

This Electra cruiser men's bike has classic beach cruiser geometry without the step-through frame which may limit the appeal to older age groups or those with mobility issues. Despite this, it is still incredibly comfortable with shock-absorbent balloon tires and ergonomic touchpoints.
The GO! 7D has a 250W motor and 250wh battery combined with a 7-speed groupset to deliver up to 40 miles of range.
Additionally, Electra includes their innovative Flat Foot design that gives riders the ability to keep a foot flat on the ground while sitting and pedal in an optimal position.
---
Electra Townie Go! 5i Step-Over
The most advanced model of the popular Townie GO!
MSRP: $2,950
Class 1 eBike
250W mid-drive motor
400Wh battery
Recharge Time: 3.5 hours
Range: 20-70 miles
5-speed Shimano Nexus internal gearing
27.5″ x 2.35″ Schwalbe Fat Frank tires
The Townie Go! 5i Electra beach cruiser electric bike is the brand's top-end model.
This bike has the patented Flat Foot Technology seen on the other Townie GO! models, relaxed, upright geometry, ergonomic grips and saddle, and smooth, puncture-resistant 2.35″ balloon tires which combine for a super-smooth ride.
However, where this model stands out is the premium 250W Bosch mid-drive motor. This torque-sensing motor delivers exceptional power transfer and a great punch.
The battery on this bike is a 40oWh Powerpack that can last up to 70 miles on eco mode and is boosted by Shimano Nexus internally geared hub which reduces maintenance needs compared to regular gearing.
Finally, the GO! 5i is fully equipped, including integrated LED lights, and has a frame-mounted rear tire lock for easy security on the go.
---
Cannondale Treadwell Neo 2 EQ
Stylish and simple urban cruiser for ladies

MSRP: $2,175
Class 1 eBike
250W rear hub motor
250Wh battery
Range: up to 47 miles
8-speed microShift gearing
650b x 47 mm Maxxis tires
The Cannondale Treadwell Neo 2 EQ beach cruiser women's electric bike is a stylish and comfortable bike with lots to offer for city riders.
This e-bike uses an 8-speed microShift drivetrain and a 250W rear-hub motor to power you through the city streets without breaking a sweat. The battery on this Treadwell has 250 Wh and lasts up to 47 miles per charge.
Using a flexible aluminum frame, wide wide 650b x 47mm tires, upright geometry, thick rubber grips, and excellent accessories, you will be able to ride in comfort for many miles. The package includes front and rear fenders, a front basket, lights, and even a kickstand.
Finally, this cruiser bike's front rack can carry up to 22 pounds, which will be more than enough to bring all of your groceries home.
---
NAKTO Fat Tire Electric Bike
One of the most affordable fat tire electric beach cruiser e-bikes – under $1,000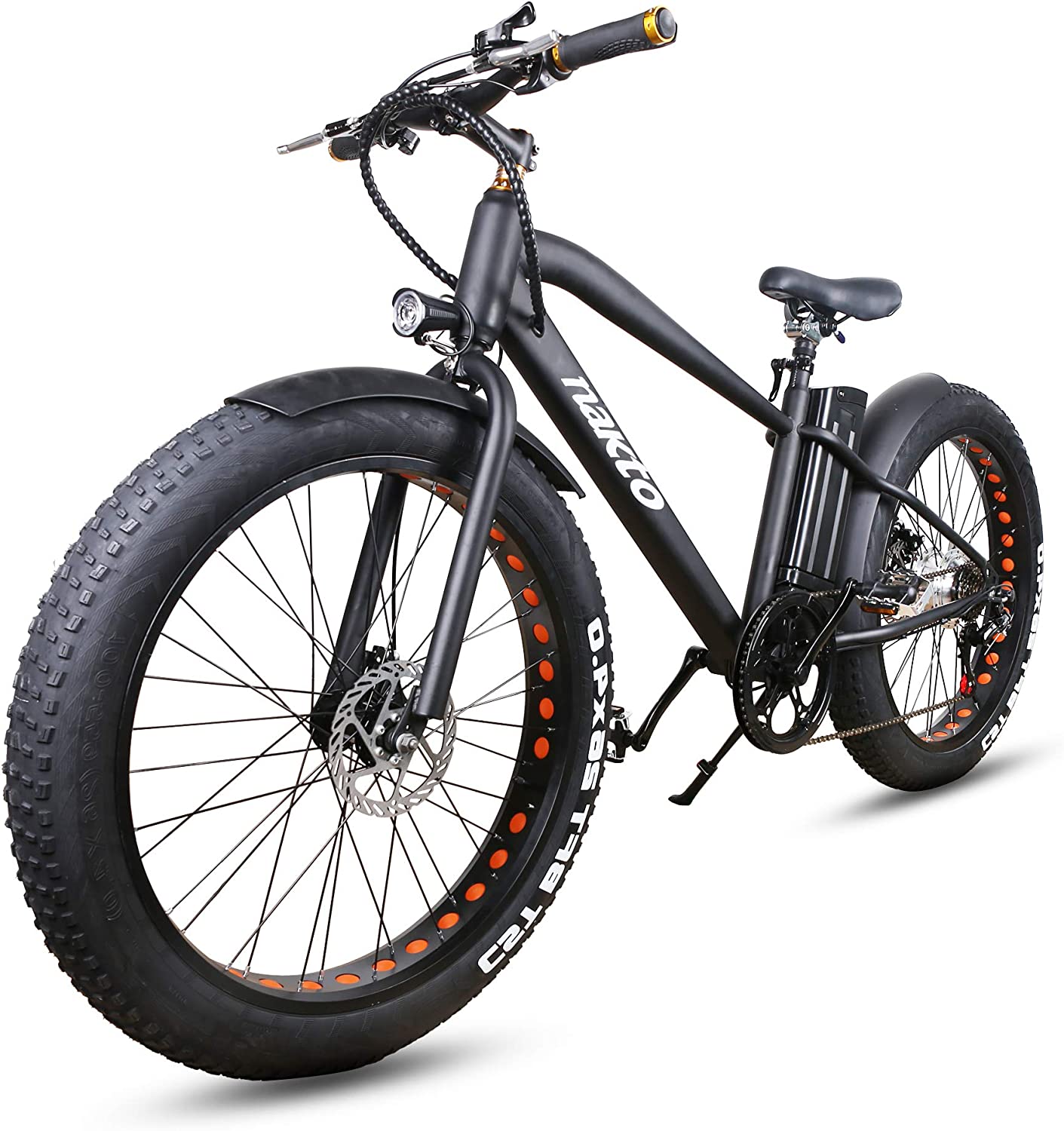 MSRP: Check Price on Amazon.com
Class 3 eBike
350W rear hub motor
360Wh battery
Range: 25-35 miles
6-speed gearing
1-year warranty
Nakto's fat tire cruiser bike is a great option for those who need a little bit more from their e-bike. With wide 4″ tires, you can take on soft surfaces like sand with no problem.
This bike uses a shock-absorbent steel frame, upright geometry, and of course fat tires to make riding super smooth on any terrain.
The motor is a 350W rear-hub model that pairs with a 10Ah battery for up to 37 miles of range with pedal assistance.
Finally, this eBike cruiser by Nakto has 6-speed gearing, disc brakes, and a handy LCD control panel with all your important ride stats.
---
SixThreeZero AroundtheBlock Women's
Sleek women's beach cruiser with a powerful motor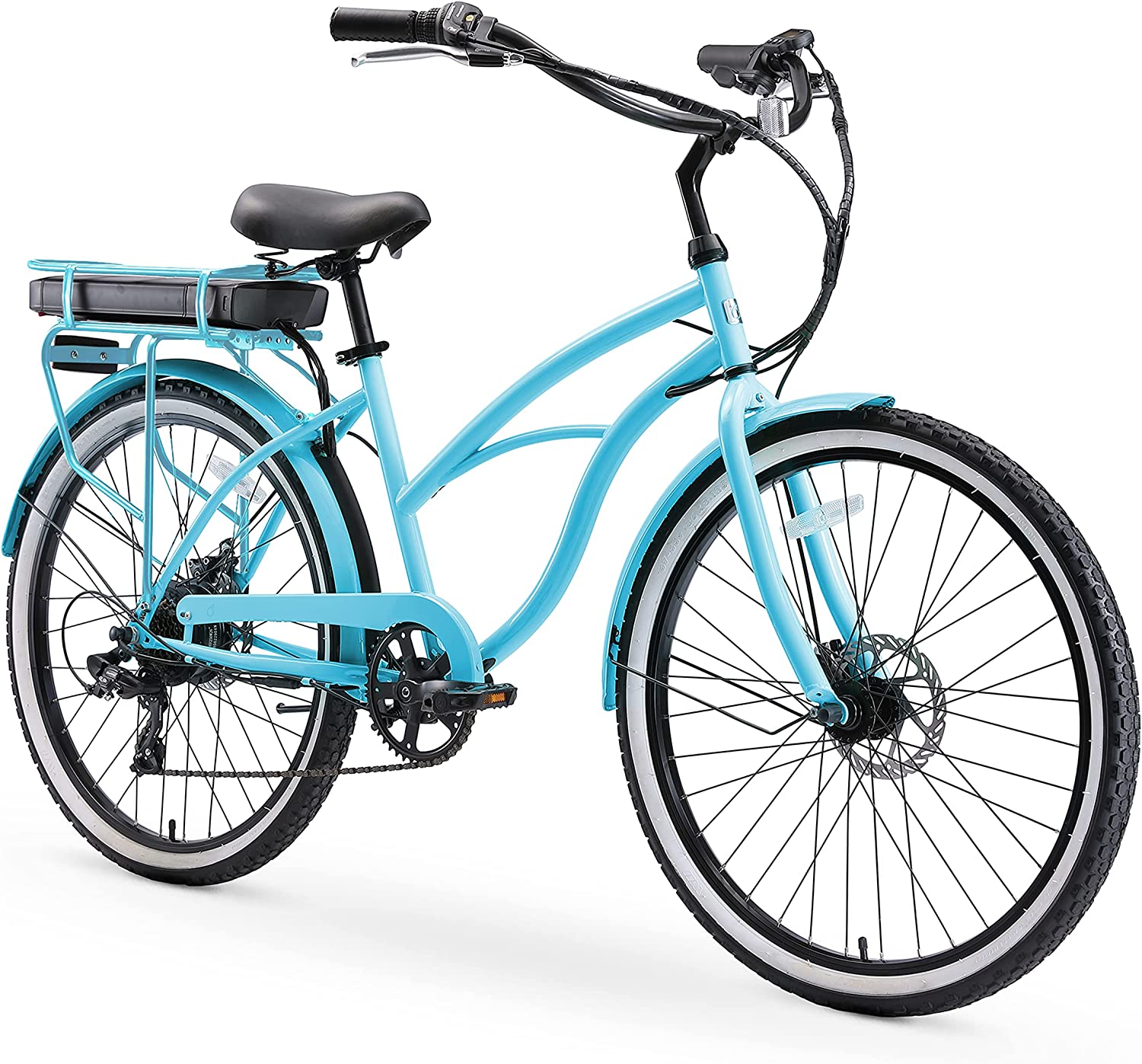 MSRP: Check the price on Amazon
Class 2 eBike
250W or 500W rear hub motor
250Wh or 500Wh battery
Range: 18-40 miles
7-speed Shimano Tourney
26″ x 2.125″ tires
Thumb throttle
Sixthreezero specializes in beach cruiser bikes and their Aroundtheblock beach electric bike is an affordable and high-quality choice.
The bike has typical cruiser geometry which is matched by 2.125″ balloon tires, soft grips, and a plush oversized saddle to give a very comfortable ride.
This Sixthreezero beach cruiser electric bike has either a 250Wh or 500Wh battery that can last 18 miles on full-electric mode or up to 40 on pedal assistance even when powering the large 250W or 500W motor. You can choose which electric setup you want to get when purchasing on Amazon.
Finally, no cruiser would be complete without a rear rack, fenders, a kickstand, and a comfy saddle to make your rides convenient no matter what arises.
---
Norco Scene VLT
One of the best electric beach cruisers on the market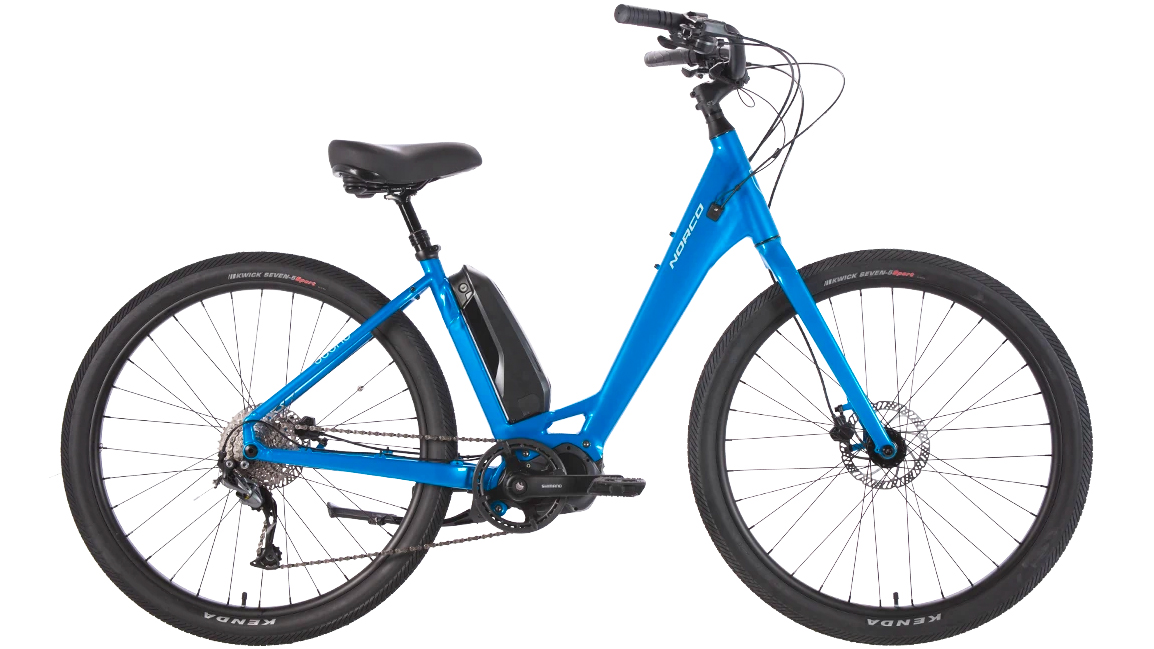 MSRP: $3,599
Class 1 eBike
Shimano STEPS M6100 mid-drive motor
504Wh battery
9-speed Shimano gearing
27.5″ x 2.2″ tires
Norco Scene VLT is a mid-range electric beach cruiser bicycle that overperforms its price tag.
This bike comes with a powerful Shimano STEPS M6100 mid-drive motor and a 504Wh battery. Thanks to a 9-speed Shimano Alivio drivetrain, you can get the most out of this setup and ride with ease on any terrain.
The Scene VLT has notable features such as a lightweight aluminum frame, integrated cabling, a kickstand, hydraulic disc brakes, and a dual-spring saddle.
Comfortable cruiser geometry on this bike is made smoother with soft grips and a sweptback handlebar. Get it if you want the utmost comfort paired with speed and excellent accessories.
---
Gazelle Arroyo C7 HMB Elite
Budget-friendly beach cruiser with plenty of functionality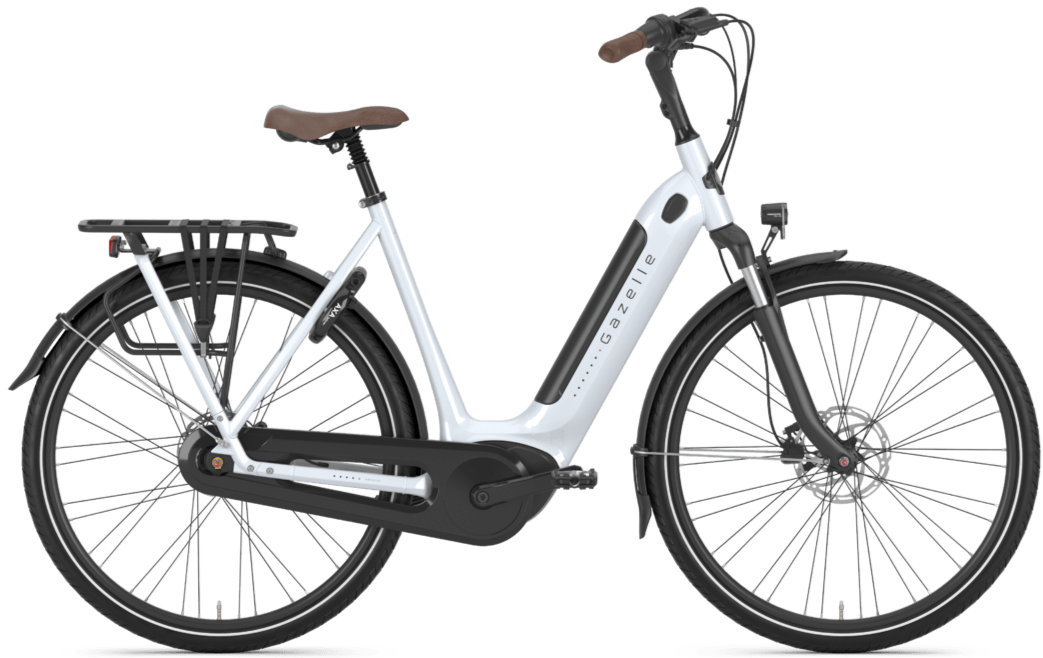 MSRP: $3,300
Class 1 eBike
Bosch Active Line Plus 3.0 (50Nm) motor
500Wh battery
Shimano Nexus, 7 speeds, freewheel
28 x 1.75″ tires
Gazelle Arroyo C7 HMB Elite is a city-friendly cruiser (and a mouthful) designed for comfort and functionality.
This Gazelle beach cruiser electric bike has a 50Nm Bosch Active Line Plus mid-drive motor with 5 levels of pedal assistance up to 20mph and a Shimano Nexus 7-speed drivetrain to support it.
The battery has a 500Wh capacity which is a great addition to the powerful Bosch motor. Additionally, the Arroyo C7 uses 1.75″ city tires to improve comfort as well as a suspension seatpost, plush saddle, and soft grips.
Finally, this bike is fully equipped for any job riding in the city, including front and rear fenders, a rear rack, front suspension, lights, and even a rear wheel lock.
---
Conclusion
There's no doubt that electric beach cruisers are an enjoyable style of bike to ride for anyone, especially those who want relaxed riding.
Optimized for comfort and assisted by powerful electronics, you can easily take these bikes on long, leisurely rides, out to run errands around the city, or use them as comfy commuter bikes. Additionally, wider tires also mean you can tackle rougher surfaces like gravel without issue.
From reviewing all of the different bikes in this article we hope you can find the perfect cruiser e-bike to meet and exceed your needs. Happy riding!