Cargo eBikes combine two of the most convenient modern characteristics of cycling – motorized pedal assistance and the ability to carry a lot of luggage.
When put together, these two features turn a simple bicycle into a powerful machine that can help deliver goods, carry tools, transport equipment, and a myriad of other things. Some people even use them as a bike to carry kids, making the school run a quick and simple job.
Cargo ebikes come in several different shapes and sizes, from normal bikes with added racks to multi-wheeled haulers that can carry a fridge. Naturally, they also have strong frames and powerful motors designed to support the extra load.
Types of Cargo Bikes to Consider
---
Bakfiets bikes aka Long Johns
The bakfiets is the ultimate luggage carrier, perfect for those big jobs that need more than just a rear rack or pannier bags. The massive bucket at the front of a bakfiets can carry large items like furniture, boxes, and building materials.
Longtail cargo bikes
A longtail cargo bike has an extended chassis with a protruding rear wheel that supports a lengthy, sturdy rack. They make excellent children carriers when one or more seats are fitted on the back.
Midtail cargo bikes
Much like the longtail, the mid-tail has a slightly extended rear rack that can carry heavy luggage but isn't quite as loadbearing. These are commonly used for making deliveries, collecting goods, or in some rare cases, long-distance touring.
Cargo tricycles
Cargo tricycles are the heavy loaders of the cargo bike world, fitted with luggage bins so big they need three wheels to stay upright. These bikes are typically used by delivery companies in busy cities with heavy traffic.
---
Best Electric Cargo Bikes
---
Tern GSD S10
Tern's folding cargo bike
Weight: 74 lbs | Load Capacity: 440 lbs | Range: 26-53mi
MSRP: $5,399
Class 1 eBike
250W Bosch Cargo Line Motor – 85nm Torque
400Wh Lithium-Ion Battery
6061-T6 Aluminum Frame
Shimano Deore 10-Speed Gearing
With a massive load capacity of 440lbs (200kg), you can safely carry up to two kids on the back of this Tern cargo bike. The GSD S10 is unique with its folding handlebar, stem, and telescoping seatpost. It comes fitted with a powerful 250W mid-drive motor delivering 85Nm of torque.
The 400Wh battery will keep you going for up to 53 miles on a single charge, with a 10-speed Shimano Deore drivetrain helping you along. At only 74lbs, this bike is easy enough to navigate even when fully loaded, compared to other cargo electric bikes.
---
Rad Power Bikes RadWagon 4
Unbeatable value in an electric cargo bike

Weight: 77 lbs | Load Capacity: 350 lbs | Range: up to 45mi
MSRP: $1,999
Class 2 eBike
750W Geared Rear-Hub Motor
672Wh Lithium-Ion Battery
7-Speed Gearing
This electric utility bike from Rad Power Bikes offers the best value for money that we can find on the market. With a powerful 750W rear hub motor, long-range battery, and 350lbs (159kg) load capacity, you get everything you need for a fraction of the price.
Now with adjustable handlebars, wider tires, and twice the torque (80Nm), the RadWagon electric cargo bike is in its 4th edition and just getting better. Load it up with a range of accessories, including baby chairs, seat padding with safety bars, runner boards, baskets, or panniers.
Whatever your fitness level or cargo requirements, the RadWagon 4 has got your back. It fits riders between 5'1″ – 6'4″ tall and the entire bike weighs around 76 lb, but with the help of the powerful motor you will be able to easily control it and ride it on any terrain.
---
Benno Boost E 10D
A spacious and modern electric cargo bike
Weight: 65 lbs | Load Capacity: 440 lbs | Range: 75mi
MSRP: $5,499
Class 3 eBike
250W Mid-Drive Motor, 85Nm Torque
500Wh Lithium-Ion Battery
Charge Time: 7.5 hours
Shimano Deore 10-Speed Gearing
Benno Boost E 10D is one of the most attractive cargo bikes on the market, with excellent accessories and a high maximum payload! This gives you ample room to pack it full of racks, panniers, seats, baskets, or whatever else you can think of.
The strong aluminum frame means you can load a full 440lbs on this beast with no worries of frame failure. You also get a 10-speed Shimano Deore drivetrain to help you haul that weight uphill.
At only 250W, the Bosch Performance mid-drive motor may seem weaker than others but it still kicks out 85Nm of torque. The reduced power requirement also means you get a full 75 miles (120km) from the battery.
---
Lectric XPremium
An excellent mix of utility and versatility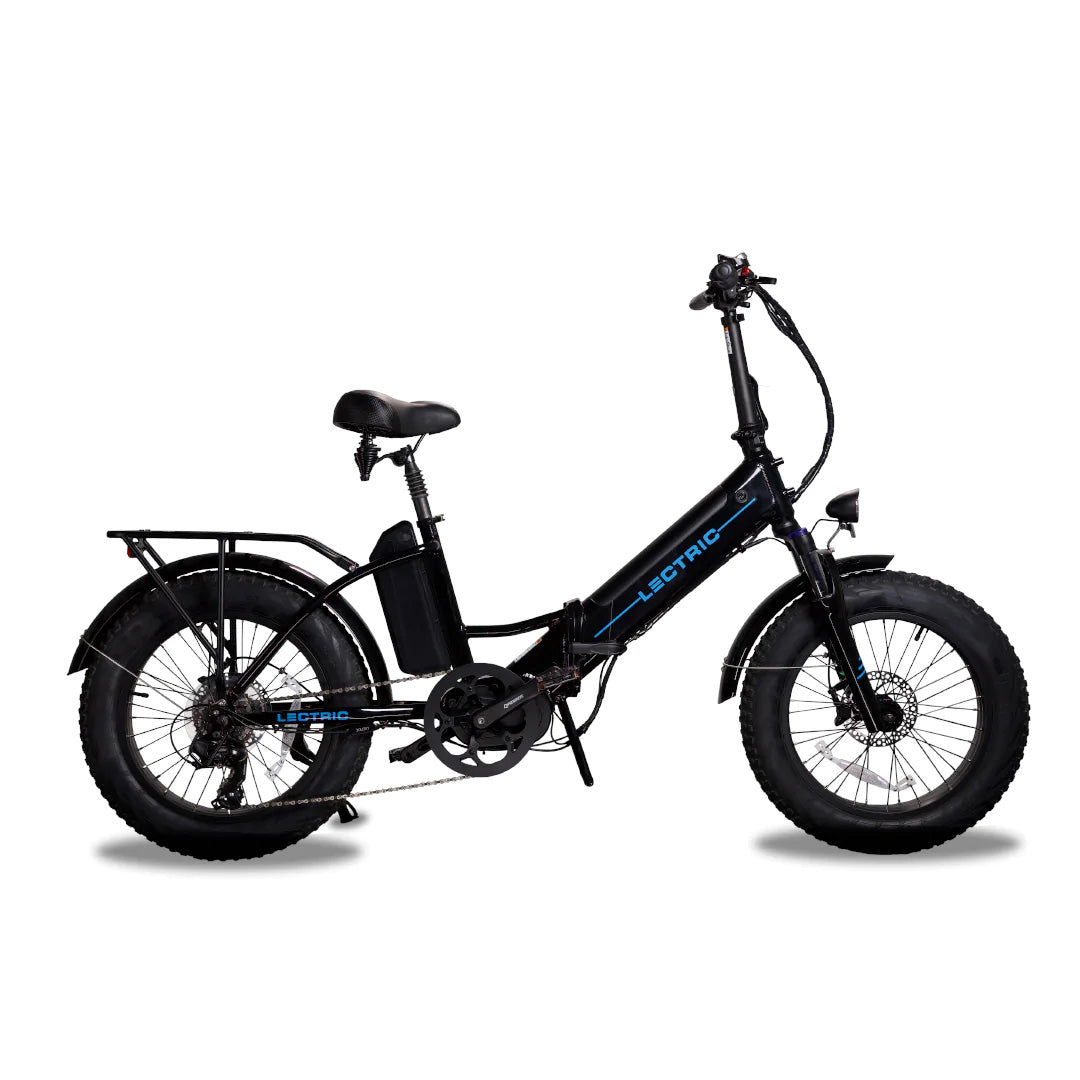 Weight: 75 lbs | Load Capacity: 330 lbs | Range: 100+ mi
MSRP: $1,999
Class 2 or 3 capabilities
750W rear hub motor
2 x 500Wh Batteries
Charge Time: 4-6 hours
Aluminum Frame
The Lectric XPremium electric cargo bicycle is a marvel of engineering, able to fold up to a compact size for easy storage or transport. But don't be fooled by its small size – the 750W rear hub motor packs a punch and all the additional accessories will make your day-to-day life easier.
At 74″, it's not much longer than a standard bike and yet it can carry a child or a solid 3300lbs of cargo! Solid disc brakes, a 7-speed drivetrain, and front suspension are just a few of the extra components that make this a winning compact cargo ebike.
Plus, you get up to 100+ miles (160km) out of the 1000Wh double-battery setup that charges in just 4-6h thanks to the two chargers you get in the package.
---
Momentum PakYak E+
A full-featured modern cargo ebike
Dropper Post | Load Capacity: 360 lbs | Dual Battery Compatible
MSRP: from $5,600
250W YAMAHA, SyncDrive Pro motor
500Wh battery (compatible with a 500Wh range extender)
Charge Time: 3.8 hours
6061 Aluminum-Alloy Frame
Shimano Nexus 5-speed drivetrain
If you're looking for a modern, feature-rich cargo e-bike, the Momentum PakYak E+ is a solid option. The brand is Giant's sister company and is quickly becoming one of the top choices on the market.
The PakYak E+ boasts a 250W YAMAHA, SyncDrive Pro motor with 80 Nm of torque, so it will make short work of hauling up to 360 lb of weight even when riding uphill. It comes with a 500Wh battery, but it's compatible with an optional 500Wh range extender to double the range.
The PakYak E+ also has front and rear cargo areas, a dual-leg kickstand, 4-piston hydraulic disc brakes, lights, and a Shimano Nexus 5-speed drivetrain.
All in all, this is a seriously stable cargo e-bike that even features a dropper post so the entire family can easily find the perfect riding position.
---
Urban Arrow – Shorty Performance
A fully-equipped eBike, ready for hauling serious cargo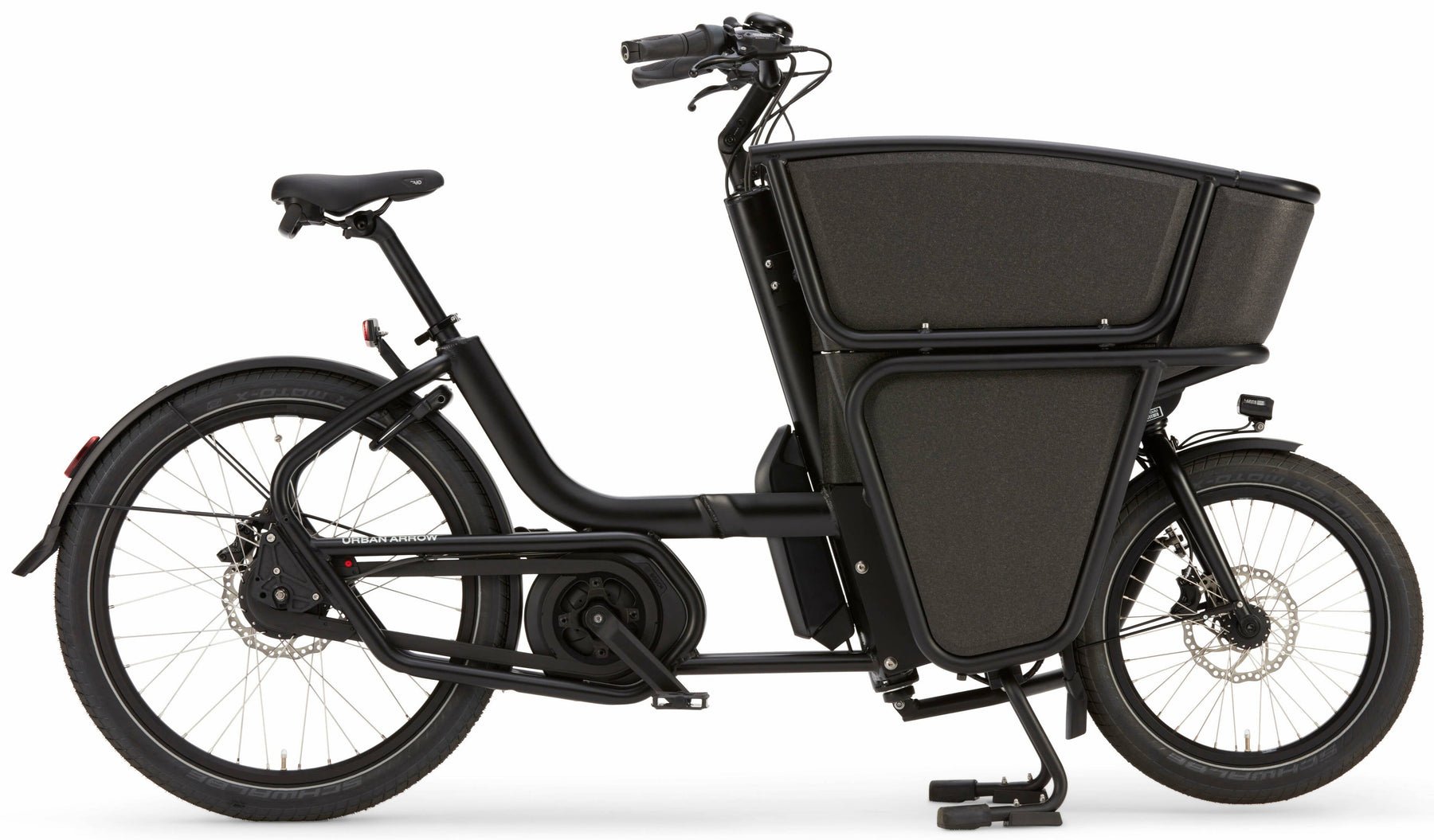 Weight: 101 lbs | Load Capacity: 496 lbs | Range: 31mi Avg.
MSRP: $5,000
Bosch Performance Line motor 250W/65Nm Mid-Drive Motor
500Wh Lithium-Ion Battery
Aluminum Frame
Enviolo Trekking hub
The Urban Arrow Shorty Performance is the more compact version of their iconic front-loading cargo bike. It can haul almost 500lbs of cargo or passengers on its sturdy aluminum frame.
The 500Wh battery keeps the 250W Bosch Performance Line motor running for 31 miles on average, with pedal assistance provided via the Enviolo Trekking internally-geared hub.
Any discerning cyclist will know that these are some serious components, which explains the rather eye-watering price of $5,000. A small price to pay for the pick-up truck of cargo eBikes.
---
Benno RemiDemi 10D Sport
Best lightweight electric cargo bike
Weight: 65 lbs | Load Capacity: 400 lbs  | Range: 25-70 mi
MSRP: $4,099
Class 3 eBike
250W/65Nm Bosch Performance Sport motor
400Wh Bosch battery
Charge Time: 6.5 hours
Steel frame
Hydraulic disc brakes
Benno makes some heavy-duty cargo bikes, but the RemiDemi 10D Sport is a lighter, more agile model that can still handle heavy loads.
The large rear rack is compatible with a range of accessories so you can easily carry your cargo. Optionally, you can increase its versatility by fitting it with a front rack for additional capacity.
A 250W Bosch mid-drive motor is powered by a 400Wh battery that will help you get moving up to 28 mph. It also includes a Shimano Sora 9-speed drivetrain to help you pedal more smoothly and maximize your range.
Finally, the RemiDemi 10D Sport has huge 4.25″ fat tires that allow you to tackle any surface with traction and stability.
---
FAQs
---
What is a freight bicycle?
A freight bicycle is technically just another term for a cargo bike, although would usually be used to describe large bikes like bakfiets, large tricycles, or cycletruck.
How much does an electric cargo bike cost?
Decent electric cargo bikes usually go for between $2,000 and $6,000, although the RadWagon and Blix Packa offer good value under $2,000.
Are bucket bikes safe?
While there have been a few rare accidents, bucket bikes are generally considered safer for children than cars. However, children should wear helmets and be strapped in at all times.