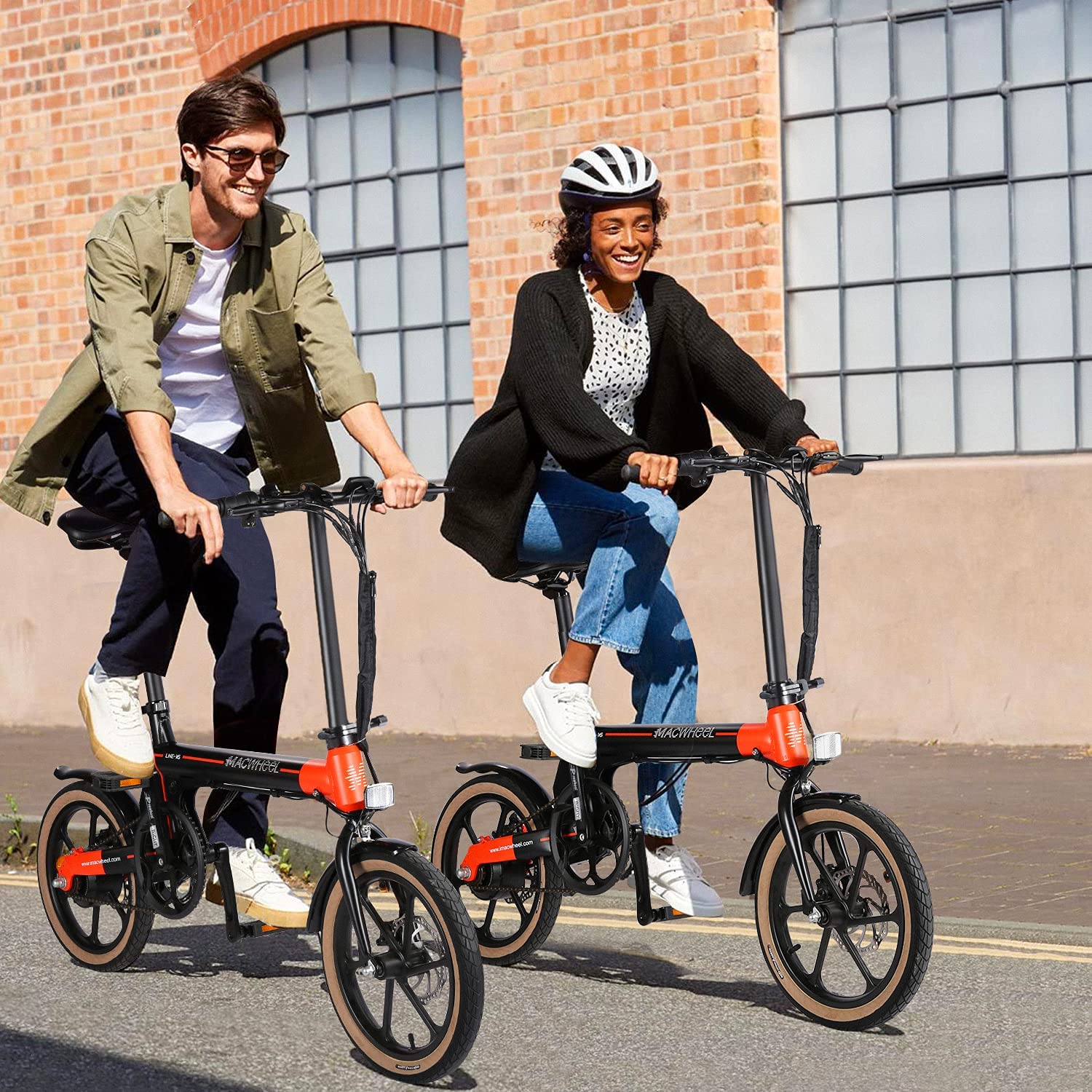 Times are changing and you no longer have to pay through the nose to enjoy the benefits of an e-bike. We're about to prove it to you with our list of the best electric bikes under $1,000!
Only a few years ago, it was impossible to imagine purchasing an electric bicycle without spending thousands of dollars. Luckily, the industry is developing and technology is becoming more accessible, which is good news for riders on a budget.
Expensive electric bicycles are not going anywhere, so you can certainly still take a loan and shell out $5,000+ or more on a Cannondale Synapse Neo or a similar bike if that's your thing.
However, if it's not and you want to spend less than $1,000 on your next electric bicycle, you should check out our TOP 11 list below.
Can You Get a Proper Electric Bike Under $1,000?
Many manufacturers have started making quality electric bikes for less than $1,000. However, keep in mind that these budget e-bikes are intended for casual everyday use. They might not endure too much abuse if you take them on a trail ride or misuse them in other ways.
All things considered, electric bikes under $1,000 offer a lot of value for the money, even though they come with some drawbacks.
Even though cheap e-bikes can be a good buy, they differ from their more expensive competitors in a few important ways.
These bikes typically come with front- or rear-mounted hub motors instead of mid-drive motors, as these are a lot more affordable to source and install. Mid-drive motors provide better weight distribution and a more natural ride feel, but modern hub motors have come a long way in this regard too.
What to Expect from an E-Bike Under $1,000?
rear or front hub drive instead of mid-drive
lower-end components (mostly entry-level Shimano components)
fewer gears
heavier materials
the battery is not integrated
If $1,000 is all you can spend and you need an e-bike to improve your mobility and have more fun, you'll be happy with one of the choices below.
---
Lectric XP 3.0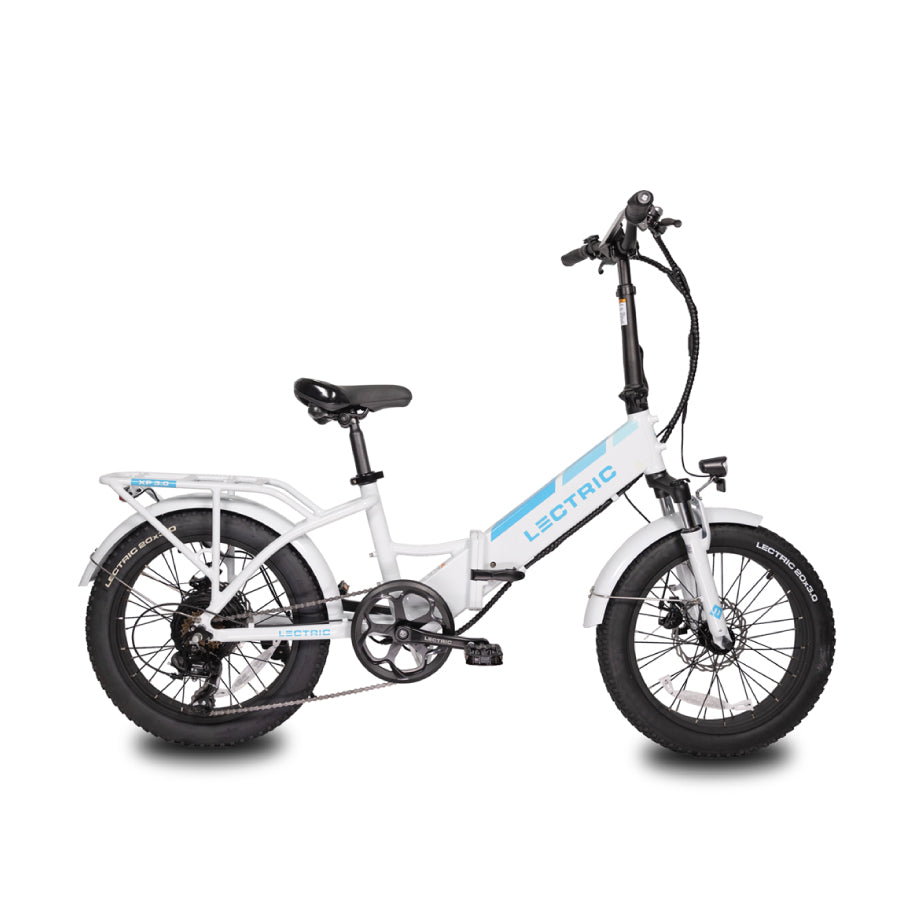 MSRP: $1,099
500W Motor / 500Wh battery
Mileage: up to 45mi
Frame Material: Aluminum
Fork: 50mm
Gearing: 1×7-speed
Brakes: Mechanical disc
Tires: 3×20″ CST or Chayang
Bike Weight: 64 lbs
Weight Capacity: 330 lbs
Introducing a popular sub-trend of e-bikes – the 3-in-1 fat-tire/folding/electric bike. Although many of us don't believe in such mixtures, these bikes have actually proved to be super popular for a wide variety of reasons.
You'll get practicality and portability of what to expect from a folding bike, decent power assistance from an eBike, and 20×3″ tires coupled with front suspension for ultimate comfort.
Power comes from a 500W (1000W peak) hub motor and a 500Wh battery that returns up to 45 miles of range. You can carry everything you need on this bike with its integrated rear rack that supports up to 150 lbs.
Lectric is also offering the XP 3.0 in a long-range and step-over version.
---
Schwinn Healy Ridge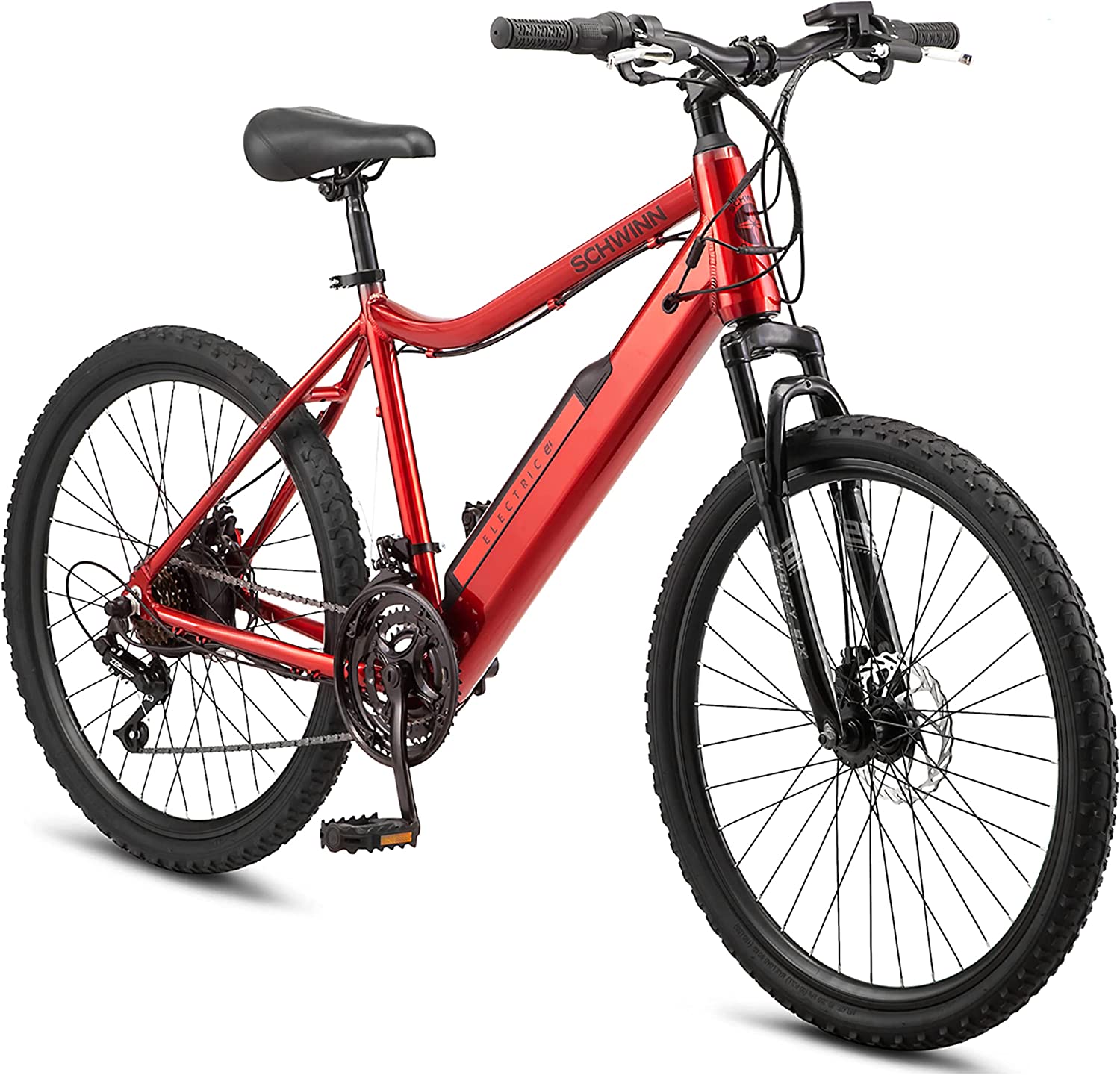 MSRP: Check price on Amazon
Motor: 250W
280Wh battery
Weight: 61.9 lbs
18-speed
Range: 25 miles
26″ wheels
Schwinn is one of the longest-running bike brands, and the Healy Ridge is one of their electric bike offerings. E-bikes are currently booming like no other bike type, people are looking for the best bang for their buck, and many of them are willing to pay only $1,000.
This Schwinn e-bike is available in multiple colors and comes with 1.95″ balloon tires, fork suspension, and comfortable touchpoints for a smooth and enjoyable ride quality.
The modest electrics will return ranges of 25 miles with a small punch from the 250W motor. Overall, Schwinn bikes are solid value for money and good options for riders with a budget.
---
Engwe T14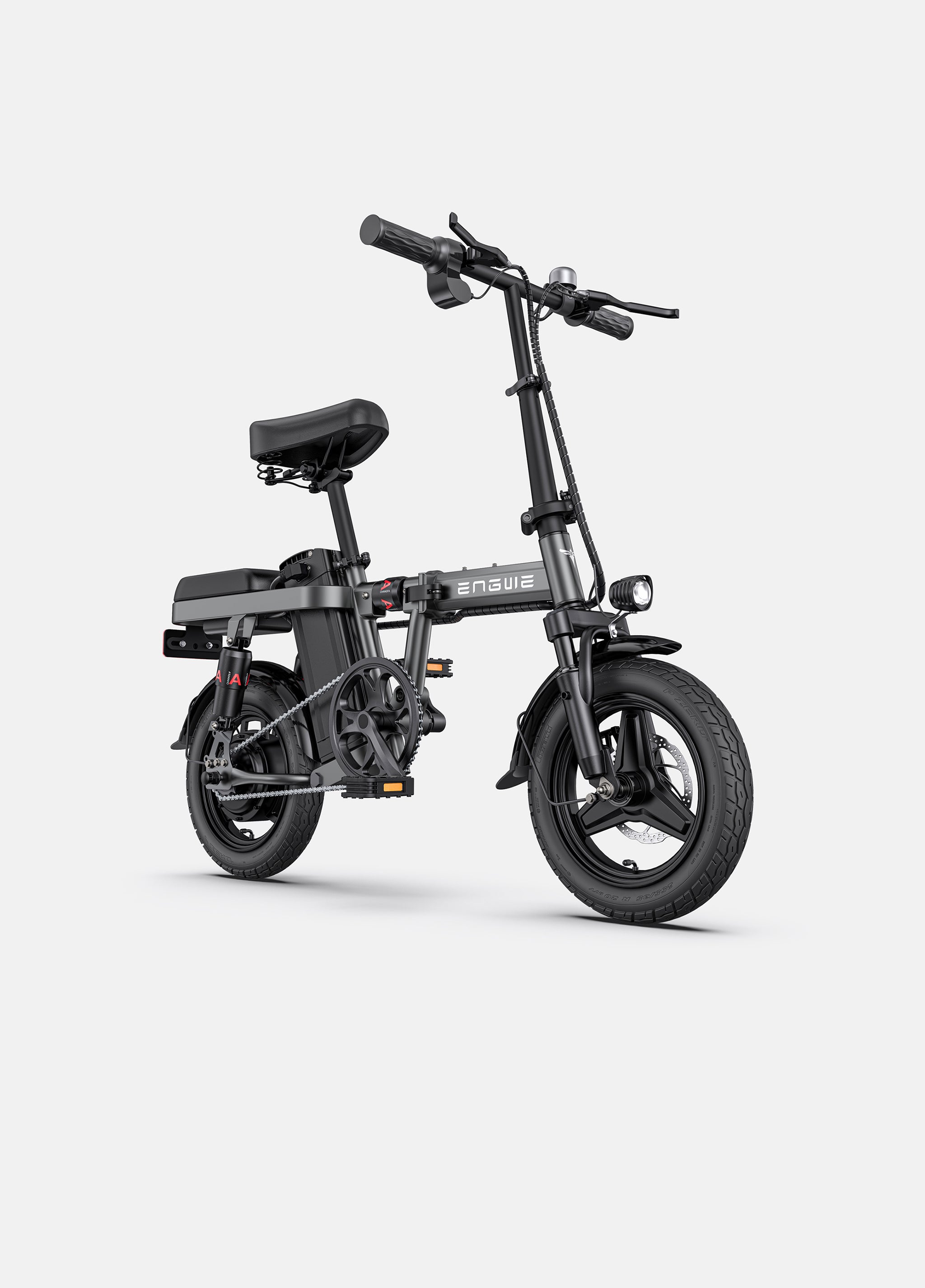 MSRP: $550
Motor and Battery: 350W motor and 480Wh battery
Features: Aluminum frame, 14″ x 2″ city tires, mechanical disc brakes, throttle, single-speed drivetrain, fenders, and lights
Best For: Paved roads, city commutes, small apartments
Engwe T14 is a pretty tempting value proposition. This is a proper urban commuter's electric bicycle with a potent rear hub motor and a high-capacity frame-mounted battery. It features entry-level components, but it's ready for long days on any type of terrain.
When it comes to the electronic parts, this bike comes with a 350W rear hub motor and a 480Wh removable battery. You can get help when pedaling up to 15 MPH, with pedal-assistance or throttle. The battery provides a 50-mile range, which is enough for a few days' worth of riding. The charging time is 6–8 hours, so you can do it overnight.
Engwe T14 is a capable bicycle thanks to its 14″ compact tires and the numerous accessories. The ride is comfortable and you'll get plenty of range even when abusing the throttle.
You'll appreciate the mechanical disc brakes and the upright geometry, as well as the foldable frame that's easy to put away when not in use.
In addition to that, this bike is equipped with front and rear fenders, lights, and a passenger seat, therefore, you can take your child along for the ride.
Engwe T14 will be the most fun when taken out around the city streets, which is where it thrives and it won't feel sluggish thanks to the electronics. On smooth roads, it feels like riding on a cloud.
---
Lectric XP Lite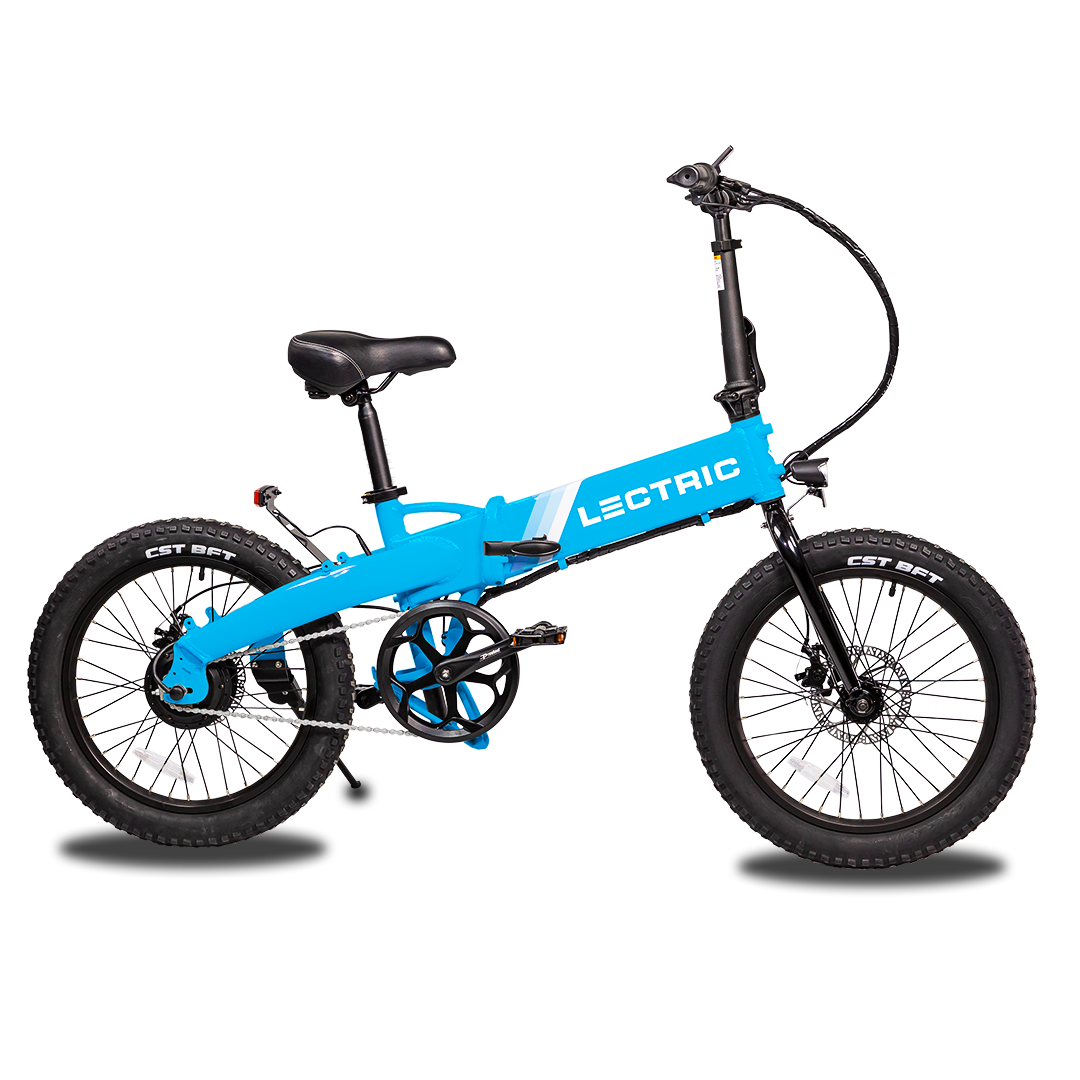 Motor and Battery: 300W motor, 375Wh battery
Features: Aluminum frame, 20×2.4″ tires, mechanical disc brakes, removable battery
Best For: Urban riding, commuting
Lectric is an electric fat bike with loads of value for money This e-bike rolls on wide 2.4″ tires that make it suitable for mixed-terrain riding.
The Lectric XP Lite is powered by a 300W geared rear hub motor and a 375Wh battery integrated into the frame. The expected range is around 40 miles, depending on how you use the assistance. Avoid relying too much on the throttle to increase the range.
The Lectric XP Lite has a ~20 MPH maximum assisted speed that you can reach with pedal-assistance or throttle. If you want to go faster than that, you can do it by pedaling on your own.
A single-speed drivetrain makes for low-maintenance and easier repairs but more difficult pedaling on hills. In addition, mechanical disc brakes provide ample amounts of stopping power.
This bike is built for riding on paved roads, but nothing's stopping you from enjoying it on gravel paths and fire roads as well.
So if you're looking for an affordable folding e-bike for convenient urban riding but also has the ability to ride off-road, the XP Lite is a foolproof choice.
---
Buzz Charter F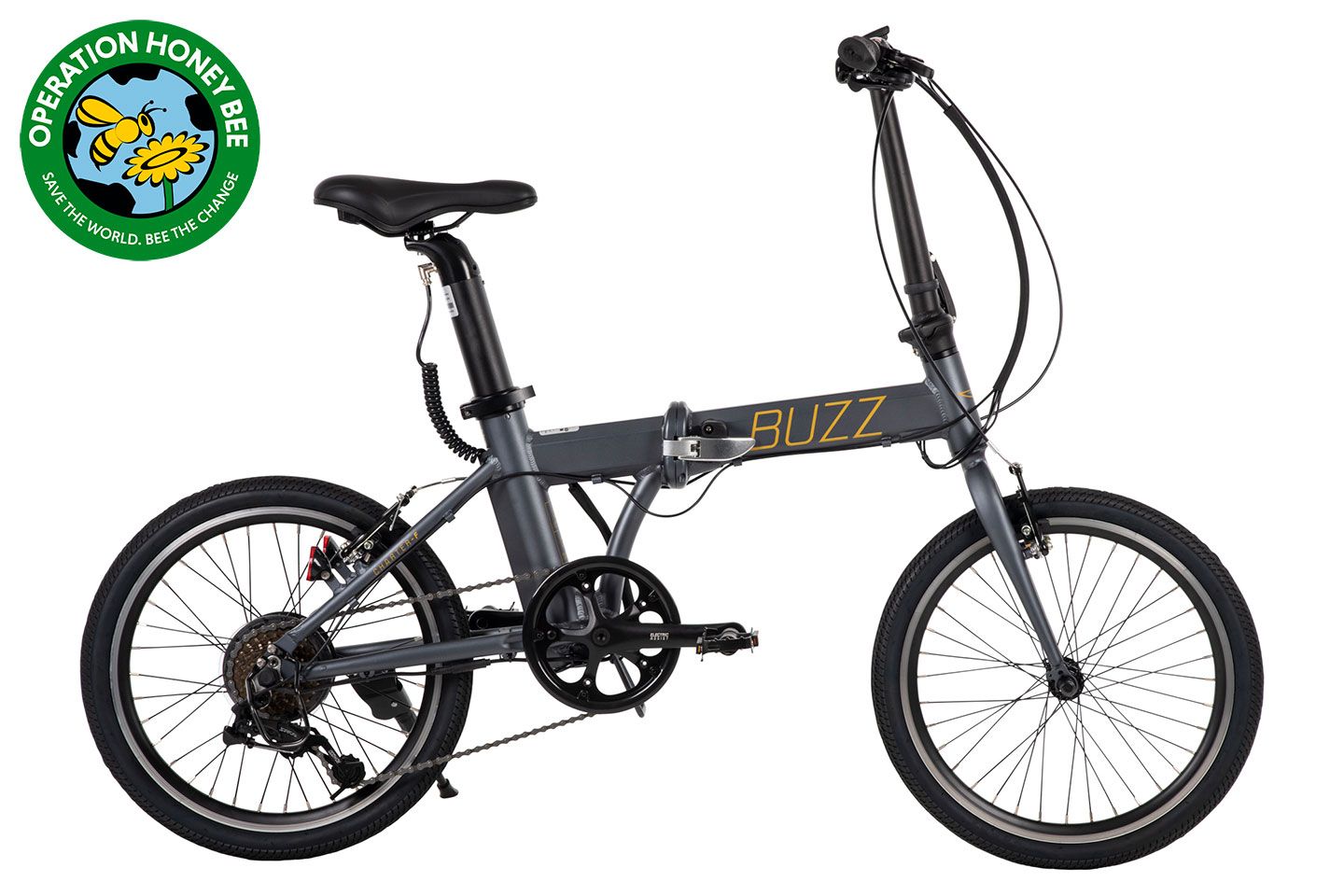 MSRP: $999
Motor and Battery: 250W motor and 36V battery
Features: Aluminum frame, pedal-assist, rim brakes, 7 speeds, kickstand, lightweight frame
Best For: Versatile riders who commute and run errands on two wheels
Buzz is becoming one of the most popular e-bike manufacturers in the folding e-bike niche. They have made a name for themselves by manufacturing affordable e-bikes that offer a good bang for the buck. The Charter F is a good example of that reputation.
Buzz built this bike around an aluminum frame and equipped it with a 250W motor and a 36V battery. You can expect to reach 20 MPH with the help of the motor and maintain it for around 40 miles, which is the average range this battery provides.
We love the appearance and the color scheme of this bike, as it makes it look more expensive than it is. However, we'd like it if it had more accessories, such as fenders and a rear rack.
What we do like is the 7-speed drivetrain, lightweight disc brakes, and a foldable frame, which make this Buzz model practical and easy to use.
We advise purchasing this e-bike if you need a simple option for workday commutes and weekend rides with family and friends.
---
Final Thoughts: Should You Buy an E-Bike Under $1,000?
Electric bikes under $1,000 are not for everyone. Let's face it, to achieve such a low retail price, the manufacturers had to cut a few corners. However, they still have a very important place on the market and there are a lot of people out there who will be very happy with a simple bike like this.
These e-bikes are not a good option for riders who use and abuse their bikes on a daily basis, riding as many miles as they can. Instead, cheap e-bikes are a good fit for casual users who ride occasionally and don't worry too much about speed or acceleration.
The bikes we included on our list are cheap but are not cheaply made. These are still quality products that will last a long time if taken care of.
So if you have a limited budget and you want to see what the whole e-bike frenzy is all about, we recommend starting with one of these models.