Rad Power Bikes RadTrike 1 Review: High-Quality Electric Trike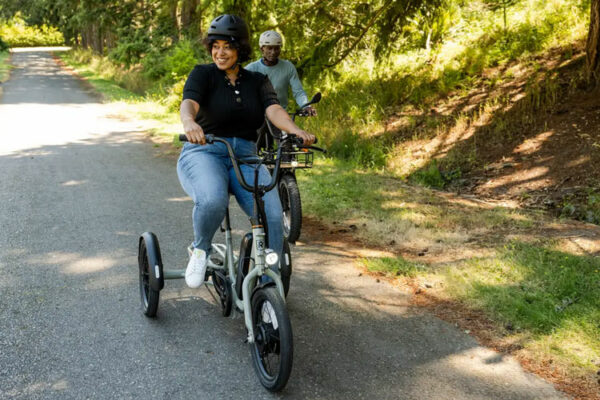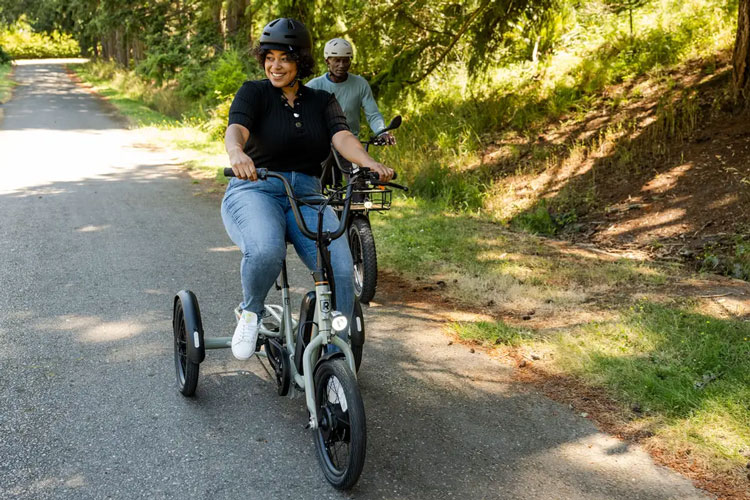 Rad Power Bikes is one of the leading electric bike-specific manufacturers in the US and Europe, offering a range of affordable urban-style e-bikes. The latest addition to their lineup is the RadTrike 1 electric tricycle, shipping in January 2023.
This type of electric vehicle is a long-time idea of owner Mike Radenbaugh, and it has finally come to fruition.
Tricycles like the RadTrike offer a unique ride quality and capabilities compared to regular bicycles. Extra stability, carrying capacity, and comfort make them better suited for use as utility vehicles, and Rad Power Bikes has identified these strengths and played to them.
This Rad Power Bikes RadTrike 1 review will discuss the bike's specs, standout features, and who it is best suited to.
RadTrike 1 Main Specs:
MSRP: $2,499.00
Motor: 750W hub, 14mph max speed
Battery: 480Wh (48V, 10Ah)
Drivetrain: Single-speed
Range: 20-55 Miles
Wheels: 18″
Brakes: Front mechanical disc, rear coasters
Weight: 82 lbs
Payload Capacity: 415 lbs (325-lb max rider weight)
Sizing: Height – 4'10" to 6'4″ / Inseam – 25″ to 35″
RadTrike 1 Review
---
The Rad Power Bikes RadTrike 1 is a timely release by the electric bike brand, expanding into an untapped market of potential riders who want the freedom of an e-bike with the added stability and carrying capability of a tricycle.
The RadTrike is one of just a handful of e-trike options available and is priced in the mid-range of current models, such as the Buzz Cerana, Sixthreezero EVRYjourney, and Pedego Trike.
Frameset, Geometry, and Carrying Capacity
The RadTrike 1 frame and fork are made with Chromoly steel, the best for durability, comfort, and price. Unfortunately, steel is also the heaviest frame material, but this is a reasonable trade-off for a tricycle, and the RadTrike 1 weight isn't excessive at 82 lb, despite the steel build.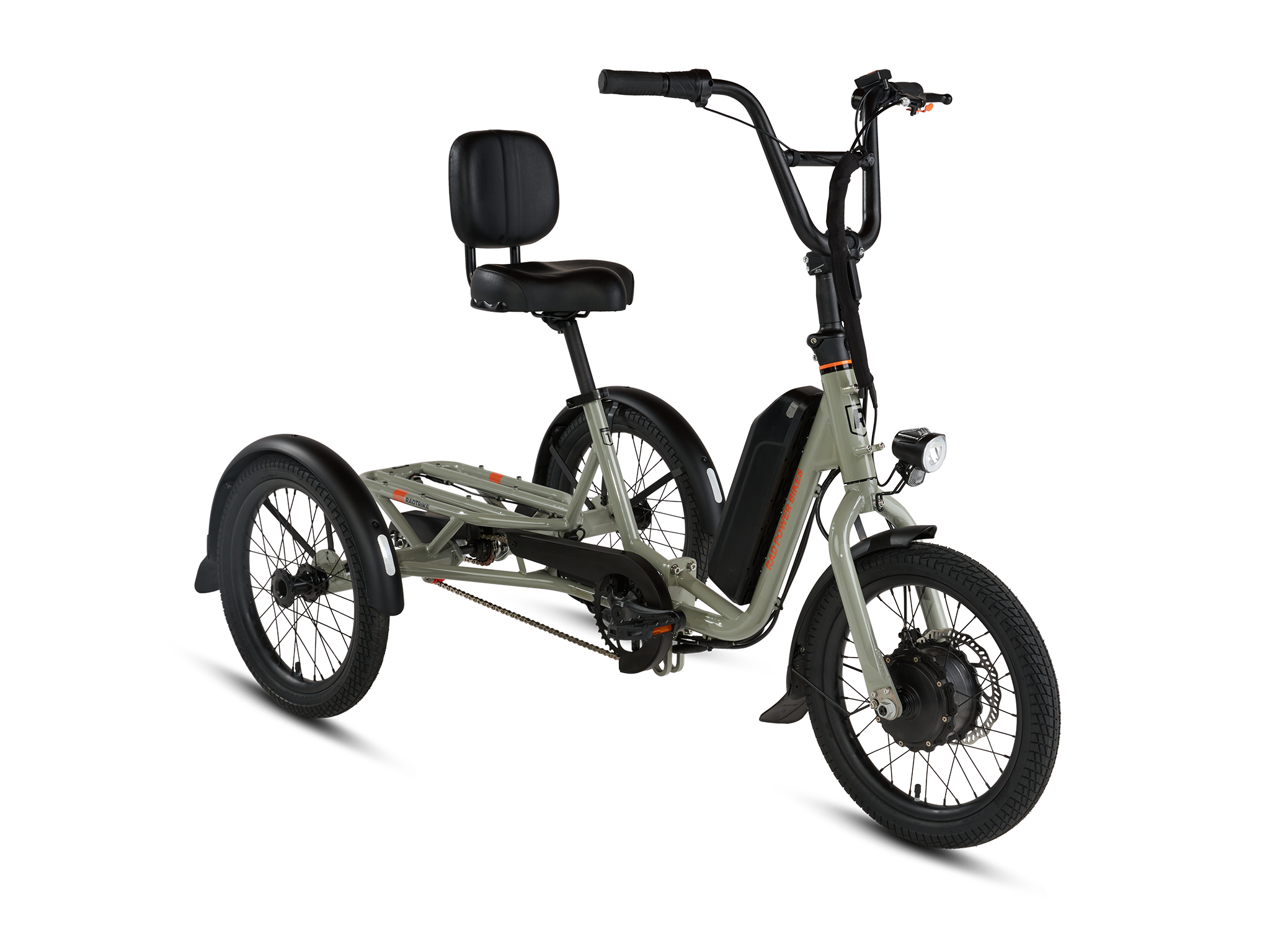 The RadTrike's geometry is upright and relaxed, meaning those with limited mobility can ride comfortably. In addition, the handlebars, saddle, and seat back are adjustable, so owners can modify their position to find what works for their body and flexibility.
Another unique feature of the handlebars is that they fold down when you want to transport or store the RadTrike.
With a strong steel frame and three wheels, this tricycle has a whopping payload capacity of 415 lb, including rider and cargo. However, the total carrying capacity is just 90 lbs, 60 on the rear rack and 30 on an optional front rack, which could be better but is enough for daily use.
RadTrike 1 Motor and Battery
The RadTrike's electronics make it stand out from some of the other options on the market. It has a 750W hub motor paired with a 480 Wh downtube-mounted battery.
The RadTrike 1's top speed is just 14mph, which is adequate for a tricycle as they can become unbalanced when turning at speed. Riders can expect from 20 to 55 miles of range.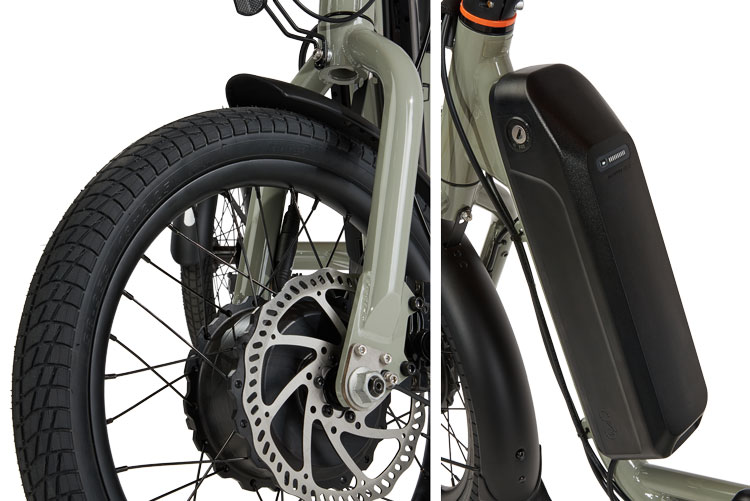 A unique capability of this system is its reverse function. By holding down the PAS button, the RadTrike will reverse slowly, which is handy when riding with cargo. In addition, you can add mirrors to the cockpit, so you don't need to strain your neck while reversing.
Finally, you can choose between five levels of pedal assistance or fully electric riding with the half-twist throttle.
RadTrike 1 Components

We have mixed feelings about the Rad Power Bikes RadTrike 1's build kit. Some components are solid, while others are a little underwhelming, given the price of $2,500.
Firstly, the wheelset consists of three 18″ single-wall alloy rims wrapped in 2.25″ Kenda Kontact bespoke puncture-resistant tires. While these rims are weak, the tires provide tons of cushion for bumpy pavement and have a K-Shield liner to limit puncture risk.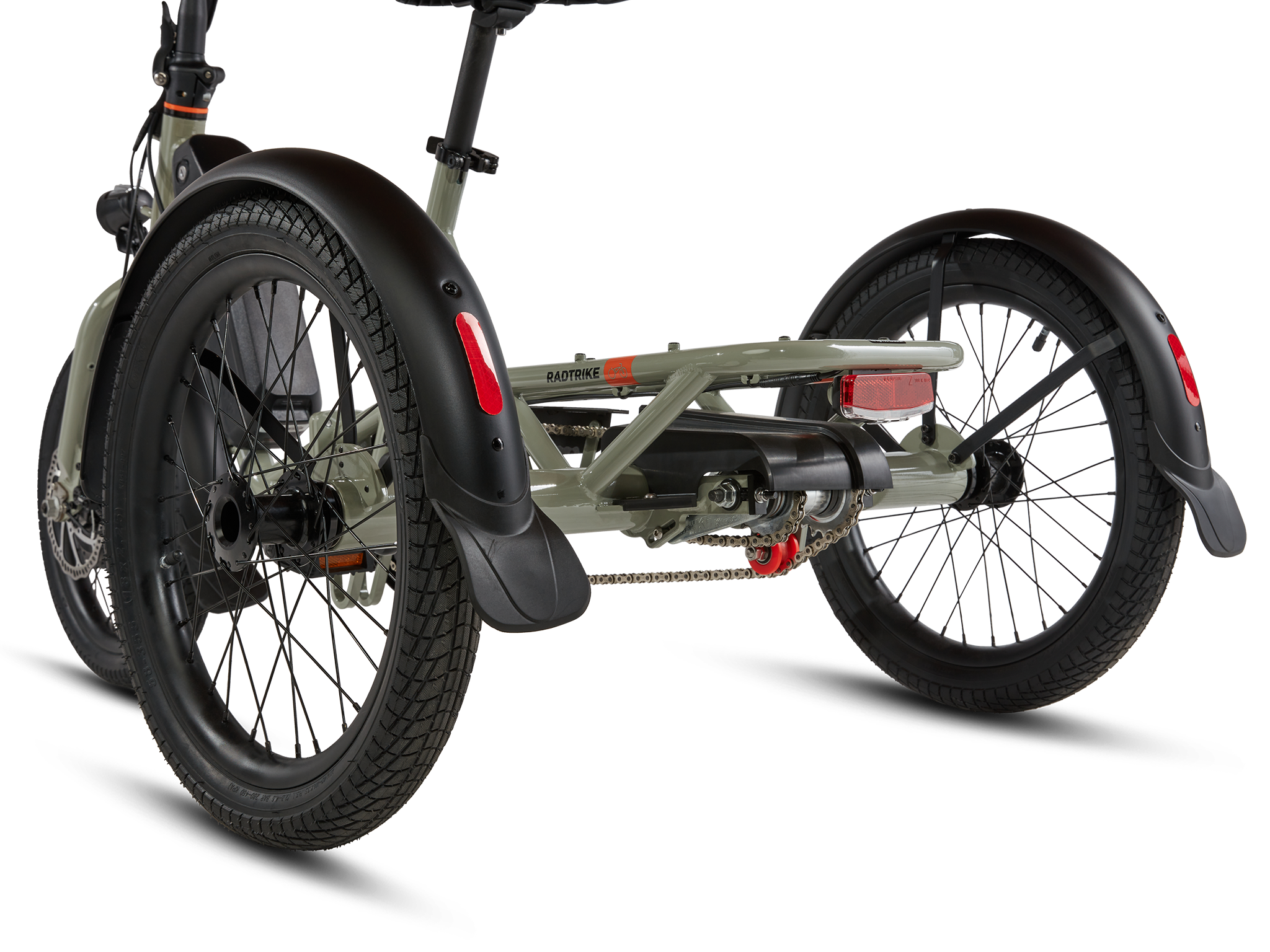 Rad Power Bikes included a fully-equipped setup of auto-on LED lights, three fenders, a rear rack, a bell, and a handbrake. These components mean you can quickly and safely navigate the city and transport your cargo.
The touchpoints include a cushioned saddle, backrest, and durable rubber grips, which are comfortable on the short to medium-distance rides this trike is designed for.
Finally, the groupset consists of a single-speed drivetrain and a front 180mm-rotor mechanical disc brake with two rear coaster brakes that engage by pedaling backward. The advantage of a single-speed setup is lower maintenance requirements and increased longevity.
RadTrike 1 Accessories
E-tricycles are the perfect utility machines, and Rad Power Bikes acknowledge this by offering a range of accessories to suit different jobs and needs.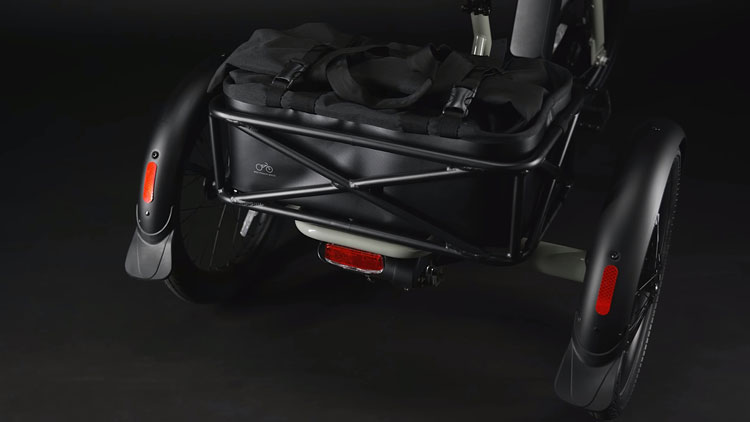 The RadTrike comes with a rear rack, and you can purchase a basket, pet bag, insulated delivery bag, or large platform to maximize the carrying capacity.
Likewise, you can add a front rack with different baskets and bags to utilize this carrying space. Other noteworthy options include a handlebar mirror and a stem phone mount for easier and safer navigation.
What Could Be Better?
There are three aspects of the RadTrike that we would change. Firstly, the brakes are slightly underpowered, given the total weight capacity. The combination of a single mechanical disc brake with a 180mm rotor and coaster brakes is simply not powerful enough for a bike loaded with 415 lbs of weight and traveling downhill or at 14mph on flat ground.
Another disappointing feature is the low rear rack capacity of 60 lb, which limits your ability to carry heavier items. Finally, the single-speed drivetrain means you cannot freely pedal up steep hills, which will drain the battery faster.
Ride Feel and Suggested Use
Electric tricycles like the RadTrike 1 are the ultimate comfort utility machines. The extra wheel creates a much more stable base, meaning older individuals with impaired balance or those who transport heavy cargo will appreciate the confidence-inspiring ride feel.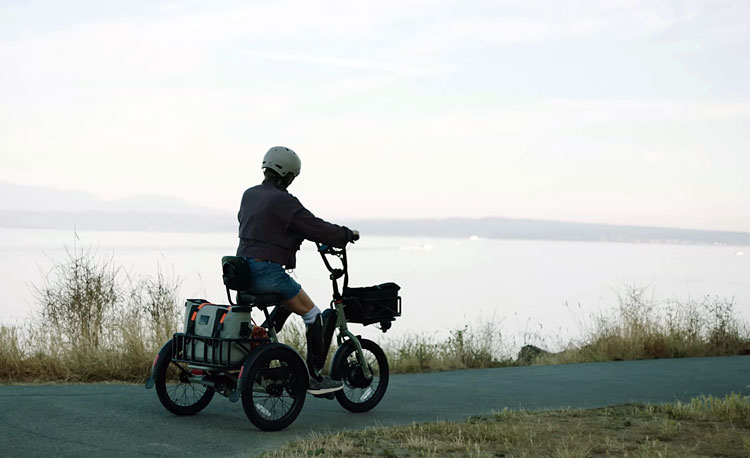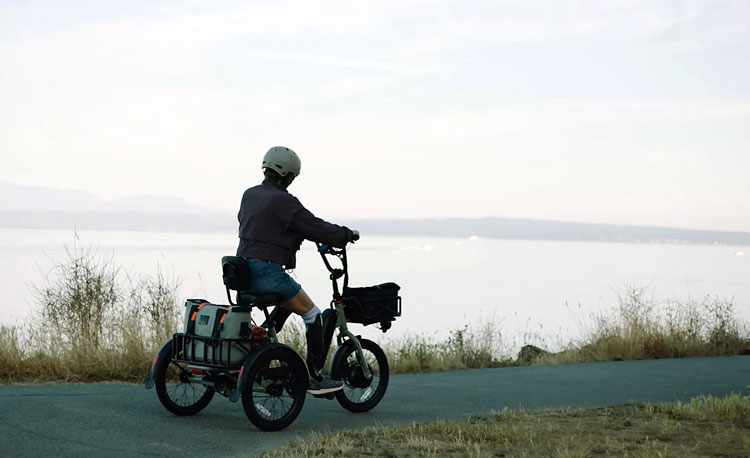 The stability means that even with 60 lb on the rear rack and 30 lb on the front rack, you won't need to worry about wobbling.
A comfortable seat and upright geometry also enhance the ride quality of the RadTrike, allowing you to ride for many miles without experiencing stiffness or numbness.
Again, this tricycle is the ideal choice for riders who are uncomfortable on a traditional bike loaded with cargo or have balance issues yet enjoy being outdoors and navigating the city more freely than in a car.
Other Rad Power Bikes Models We Have Reviewed:
What's Our Verdict?
---
The Rad Power Bikes RadTrike 1 is an exciting addition to the brand's lineup, appealing to a demographic of riders traditionally excluded from the e-bike market.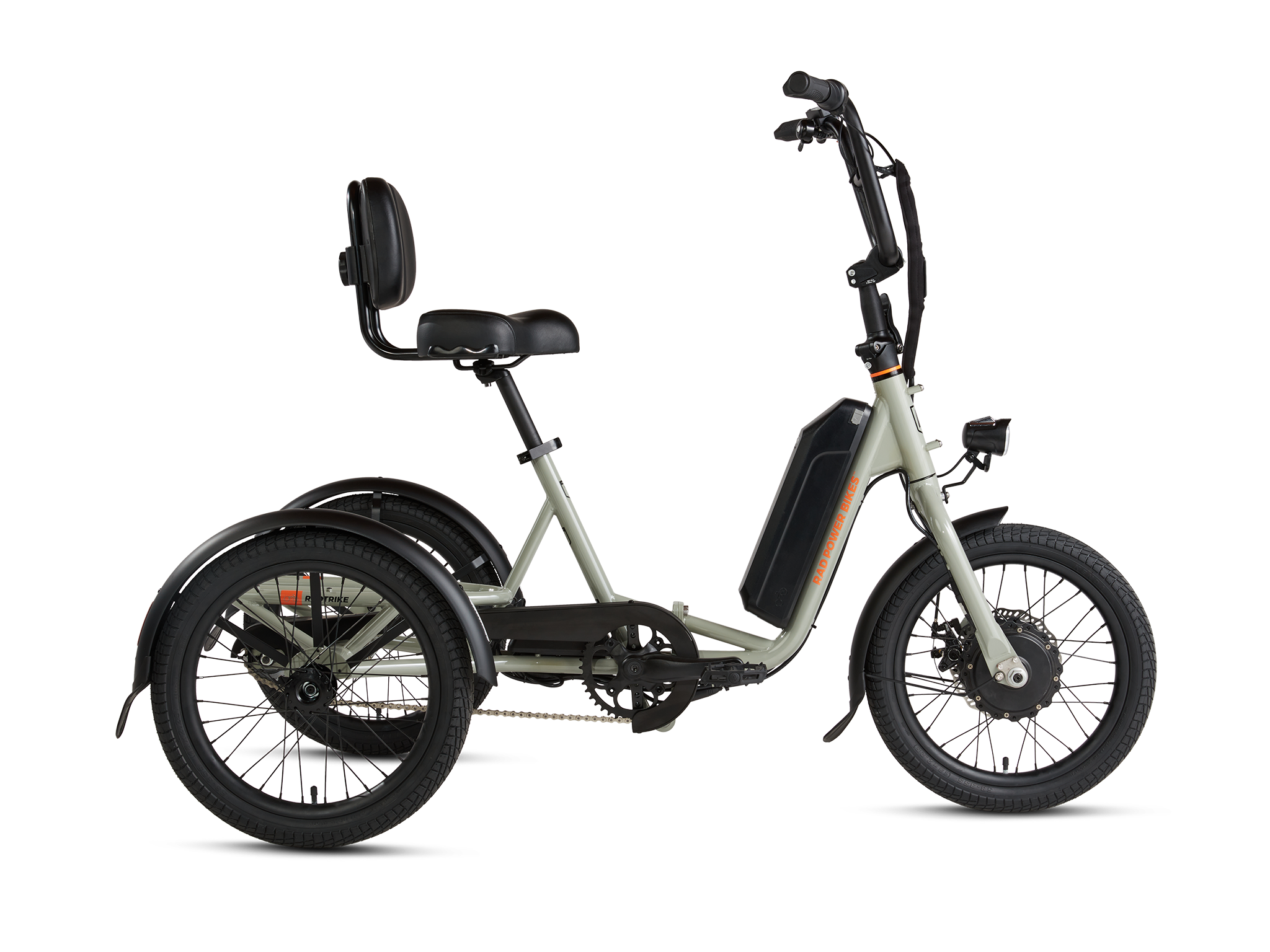 While we would change a couple of the components in an ideal world, the price and componentry are well-matched. The RadTrike will undoubtedly deliver the same long-lasting and reliable experience as the rest of the company's products.
The overall design of the bike is sleek, sturdy, and functional. In addition, it comes with all of the necessary components and accessory compatibility to meet the needs of its owners.
All things considered, the RadTrike 1 easily tops our list of electric tricycles, given the solid value for money and our trust in the Rad Power Bikes brand.
---
The Rad Power Bikes RadTrike 1 is an exciting addition to the brand's lineup, appealing to a demographic of riders traditionally excluded from the e-bike market.
It easily tops our list of electric tricycles, given the solid value for money and our trust in the Rad Power Bikes brand.
---
How it stacks against others
Compared with others