Charge Electric Bikes Brand Review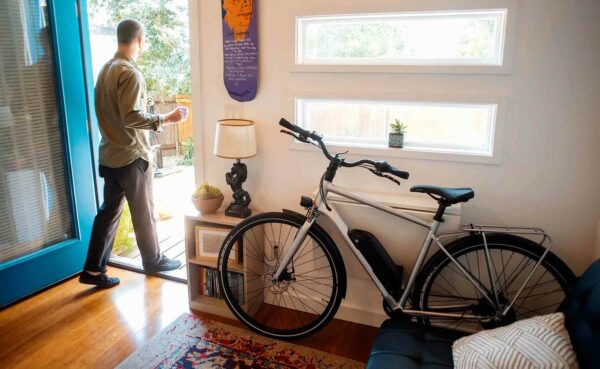 Charge Bikes is one of the industry's newest and most unique electric bike brands. They offer fully-equipped urban-style bikes and one off-road model with many of the same urban features.
As part of a large bicycle group that includes other brands like Cannondale and GT, Charge benefits from large-scale manufacturing and deeply-rooted industry expertise, resulting in high-quality products at affordable prices.
This Charge Bikes review will discuss the brand and its policies, highlight the standout features of the bikes, describe the individual models in detail, and provide a verdict on whether or not we would buy a Charge bike.
About Charge Bikes
---
As mentioned, Charge is one of the newest best electric bike brands, switching its focus to e-bikes in 2020 after 16 years as a traditional bike brand.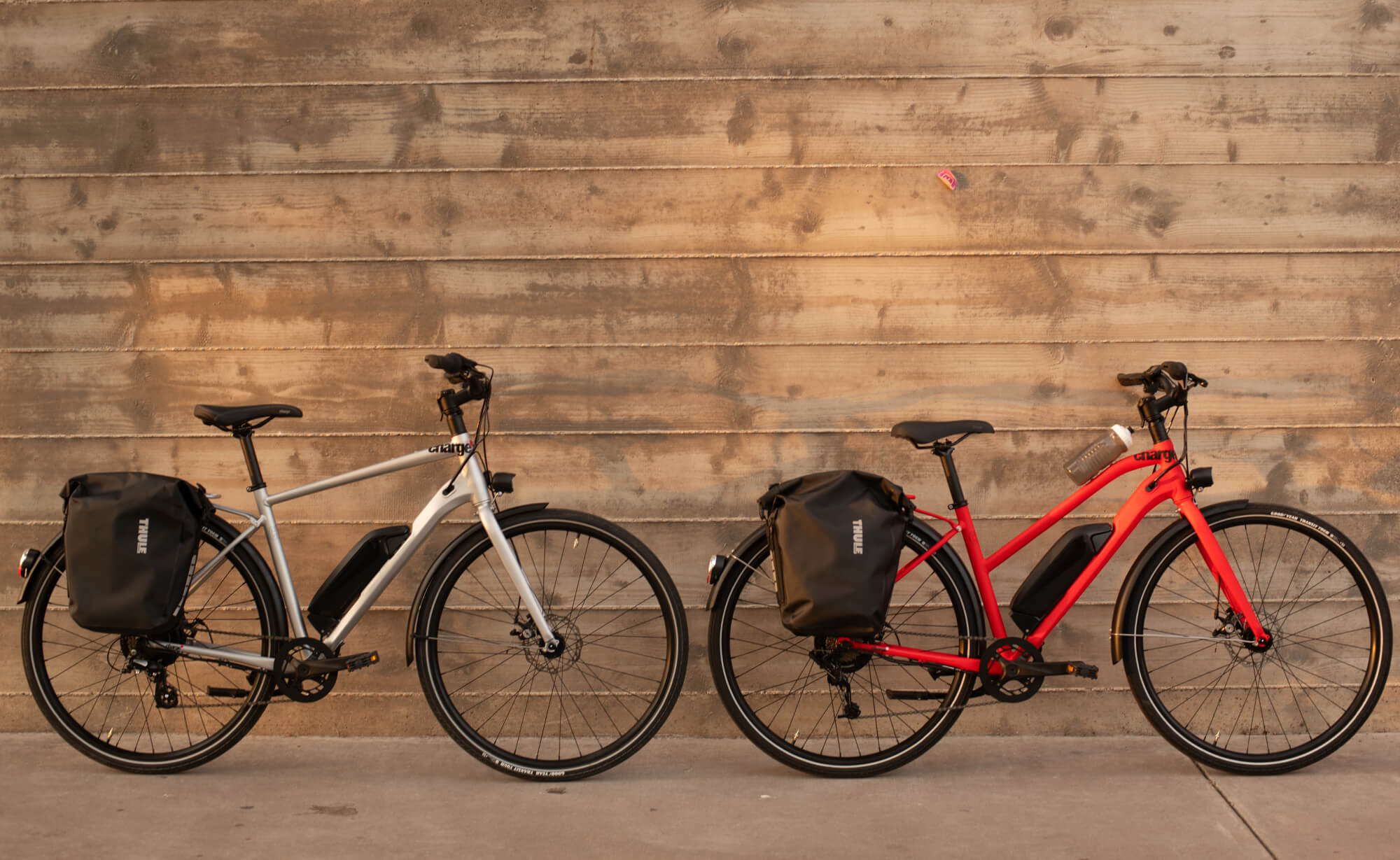 In 2020 when Charge pivoted to electronic, it was a significant advantage to be part of the Cycling Sports Group (CSG), the parent company for other brands like Cannondale and GT (Dorel Sports own CSG).
With their backing, expertise, and the partnership of friend and colleague, Cannondale's VP of Product, Peter Vallance, Charge has been able to develop some of the best electric bikes that are fulfilling Larsen's original mission of making cycling easy and affordable.
Nick Larsen founded Charge with the mission of making cycling easy. To achieve that, they produce affordable and reliable bikes that are easy and fun to ride.
Although Charge is primarily a direct-to-consumer brand, they have dozens of test-ride locations and dealers across the United States.
Cycling Sports Group makes Charge Bikes. They also own popular brands Cannondale and GT. The Cycling Sports Group is owned by a parent company Dorel Sports, which also manages Pacific Cycles with Schwinn and Mongoose as part of its portfolio.
Standout Features of Charge Bikes
---
Charge's designs and component choices solve common yet frequently-overlooked bike owner problems.
Each of the four models on the lineup has the same basic componentry that makes owning an e-bike— especially an urban one—a more convenient experience.
Dedication to Solving Problems
What makes Charge Bikes unique is its commitment to tackling common problems cyclists face in urban environments. As experienced bike designers and cyclists, founder Nick Larsen and partner Peter Vallance could identify issues other manufacturers overlook.
A big problem for urban riders is bike storage in the home. Although there are plenty of creative bike racks to solve the space issue, Charge designed their bikes to fold into a neat unit for storage at home.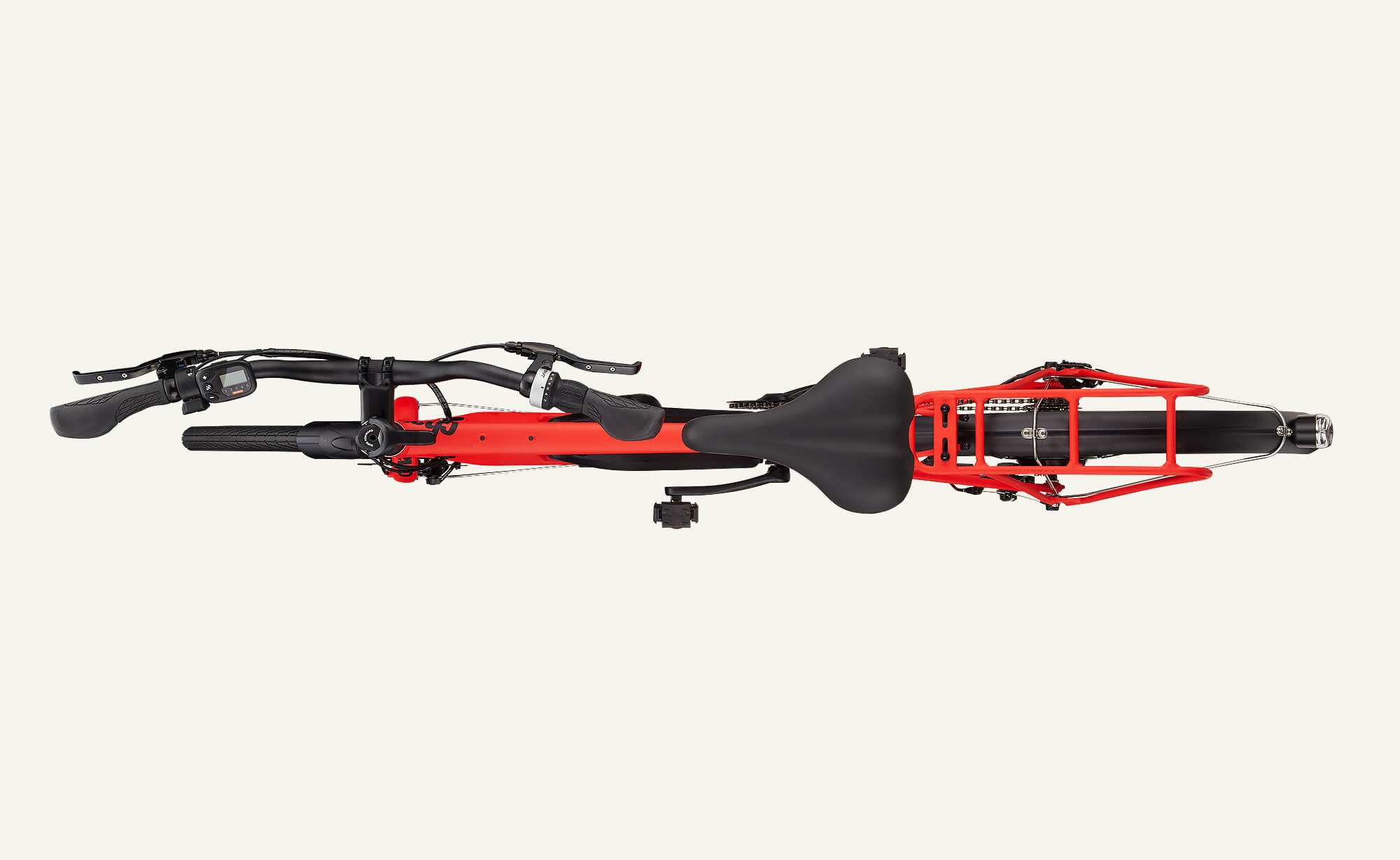 All four models have fold-up pedals and handlebars, turning a Charge bike into a flat package that can squeeze into tighter spaces, such as behind a couch. They do not fold as small as the best folding electric bikes out there, but they still save significant amount of space in small apartments.
Maintaining the ideal tire pressure can be a bit of a pain, but doing so balances comfort and rolling speed for a more enjoyable ride. Charge electric bikes have caps that indicate tire pressure with a red (refill) or green light (good) to solve this.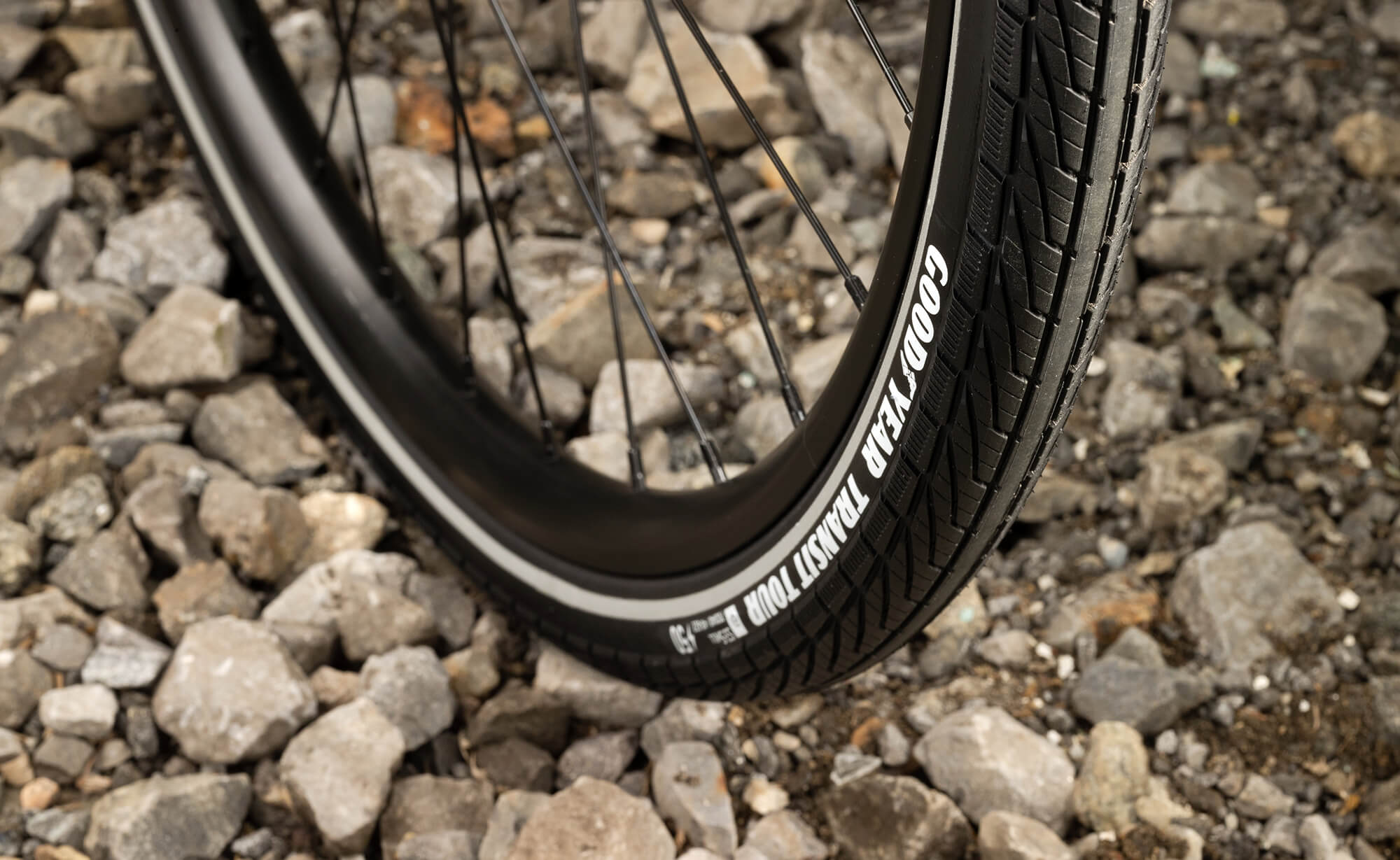 Another metric often overlooked by e-bike manufacturers is range. Most e-bike displays offer a vague bar or a percentage reading that doesn't provide any actionable indication of the distance remaining. All Charge bikes have an exact number of remaining miles to take the stress out of your rides.
A convenient bike will get used often. Because nobody likes changing a flat tire, each Charge electric bike has puncture-resistant Goodyear tires. In addition, you can charge your battery anywhere you want, as each model has a removable battery.
Pain-free Assembly
One of the standout features of Charge Bikes as a direct-to-consumer brand is the commitment to making the customer's life as easy as possible.
Anyone who has purchased an e-bike online knows that assembly can be an unnecessarily complicated task. The top companies make instructions that are straightforward to follow, but even then, it can be pretty time-consuming.
Charge goes one step further by selling fully assembled and adjusted bikes ready for riding, except for the front wheel. Each Charge e-bike has folding pedals and handlebars, combined with a bespoke shipping box designed by the Charge team, allowing them to send the bikes with just four simple steps to finish the setup using one tool.
In addition, the brand minimizes waste by eliminating unnecessary plastic wrap and foam from the box for 100% recyclable packaging.
Fully Equipped for Urban Rides
All four Charge eBikes come with a comprehensive set of components selected to make life safe and convenient in an urban or commuter setting.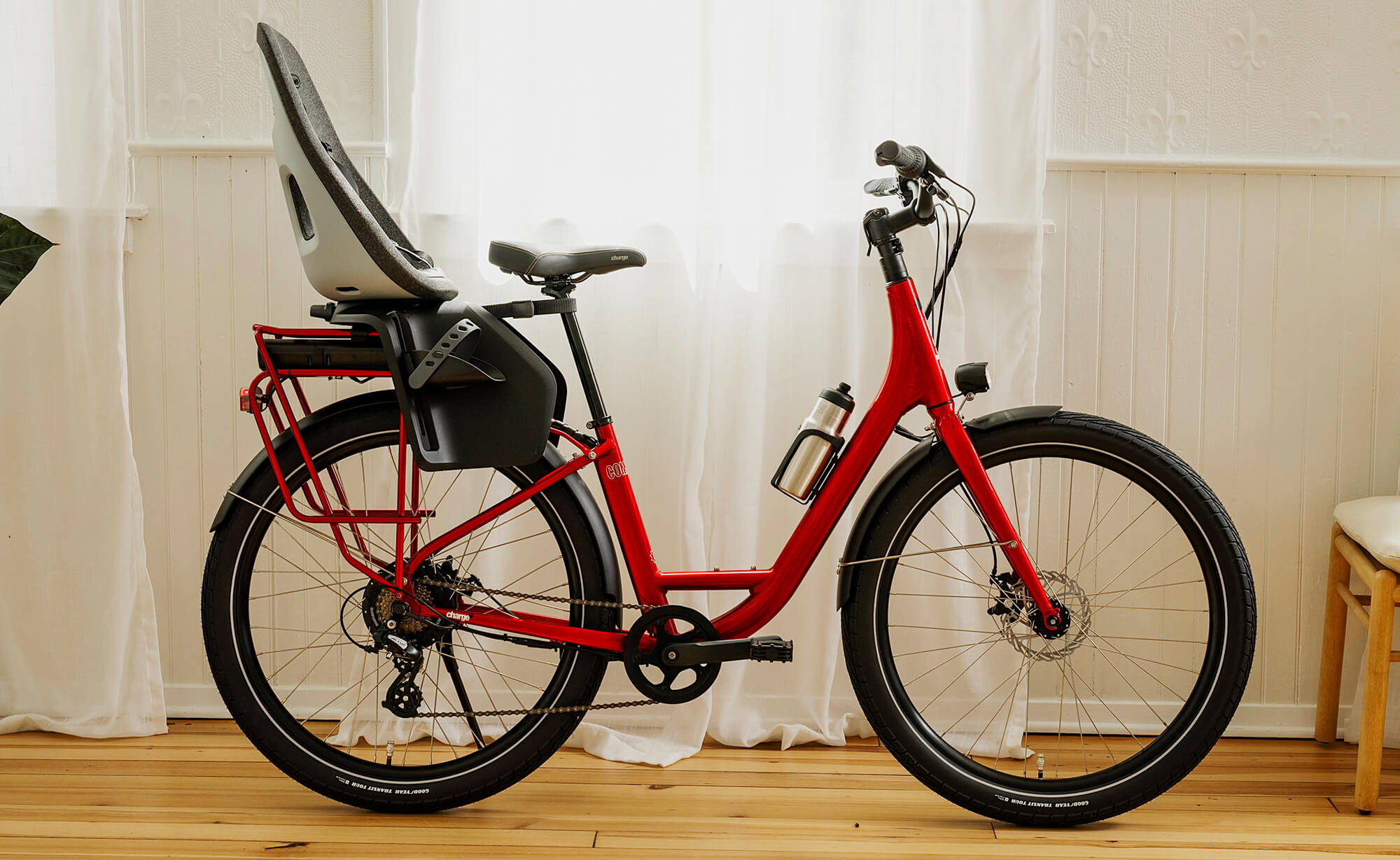 Firstly, you have the typical commuter parts like a rear rack, plastic fenders, a kickstand, and automatic LED lights on the front and back.
However, Charge takes it to the next level by including an electronic horn, tires with reflective sidewalls, and unique tire pressure indicator caps.
Charge Electric Bikes Lineup
---
The Charge Bikes lineup features four models and three distinct designs in the $1,800 to $2,700 price range. Three are pure urban e-bikes, and the fourth has a blend of off-road and urban capabilities.
Check them out below in more detail!
Charge City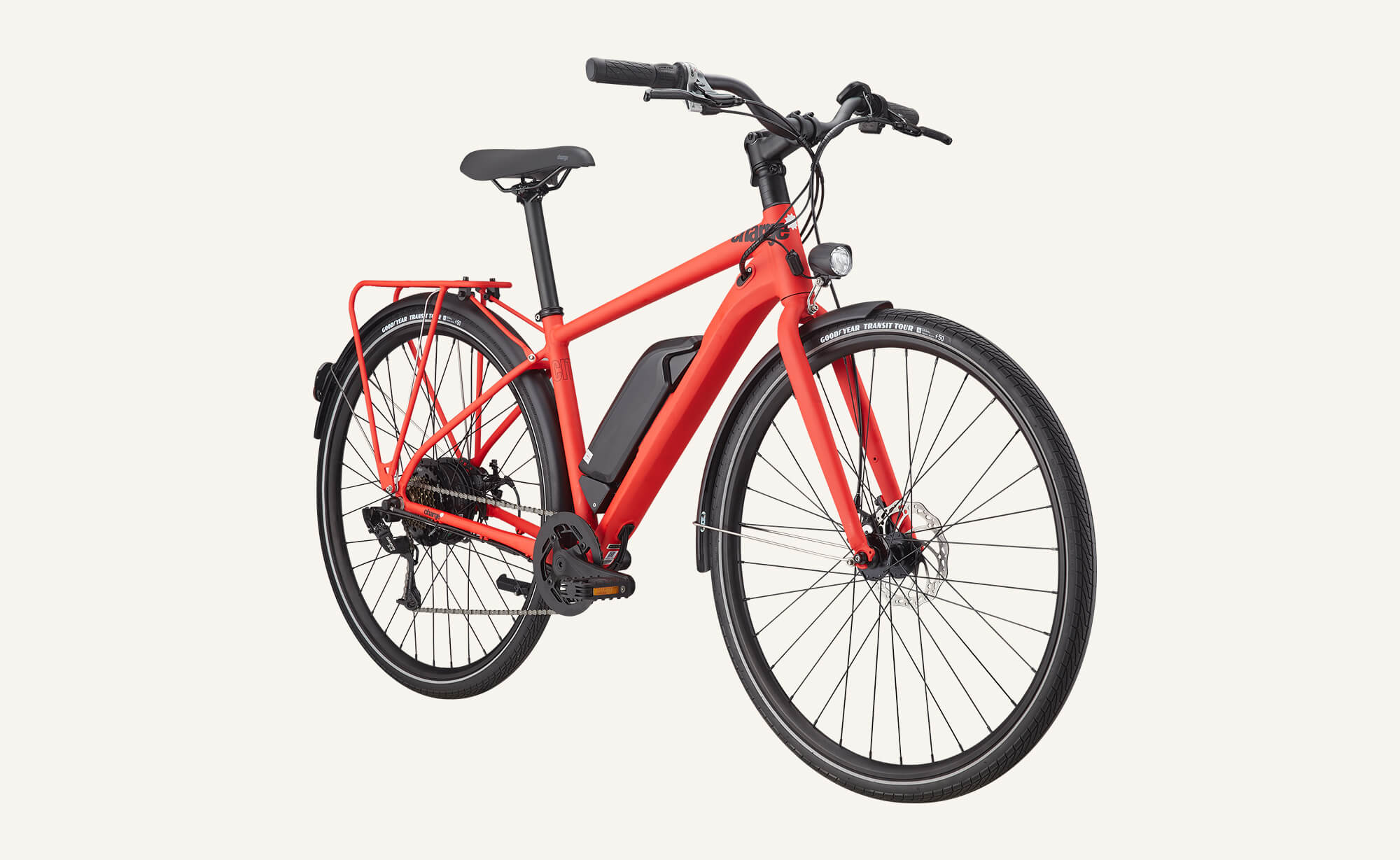 MRSP: $1,799
Lightweight for a fully-equipped bike
Weighs 45lbs
Sporty yet comfortable
The Charge City electric bike is a classic urban hybrid electric bike with all the components and features necessary to make life convenient.
An upright ride position, low weight, fast 700x40c tires, and agile steering make this bike perfect for zipping around busy streets. However, Charge didn't forget about comfort. The City has a shock-absorbent Chromoly steel fork and a plush Charge Comfort saddle.
The Charge City eBike has integrated LED lights, reflective tires with puncture resistance, a kickstand, pre-installed rack and fenders, and foldable handlebars and pedals for easier storage at home.
The electronics on the City include a 250W, 45Nm Bafang hub drive motor paired with a 418Wh removable battery. This combination will provide up to 50 miles of range and runs using five levels of pedal assistance or throttle with a 20mph max speed.
The groupset comprises a set of mechanical disc brakes with 160mm rotors and a 7-speed Shimano Acera drivetrain. Although this setup performs reliably, it leaves something to be desired in terms of stopping power and gearing range.
Consider the Charge City if you want an affordable and reliable urban bike with all the bells and whistles needed for city living.
Recommended rider height
Step-over: Small – 5'1″ to 5'9″ / Large – 5'10" to 6'3″
Low-step: One size – 5'1″ to 6′
---
Charge Comfort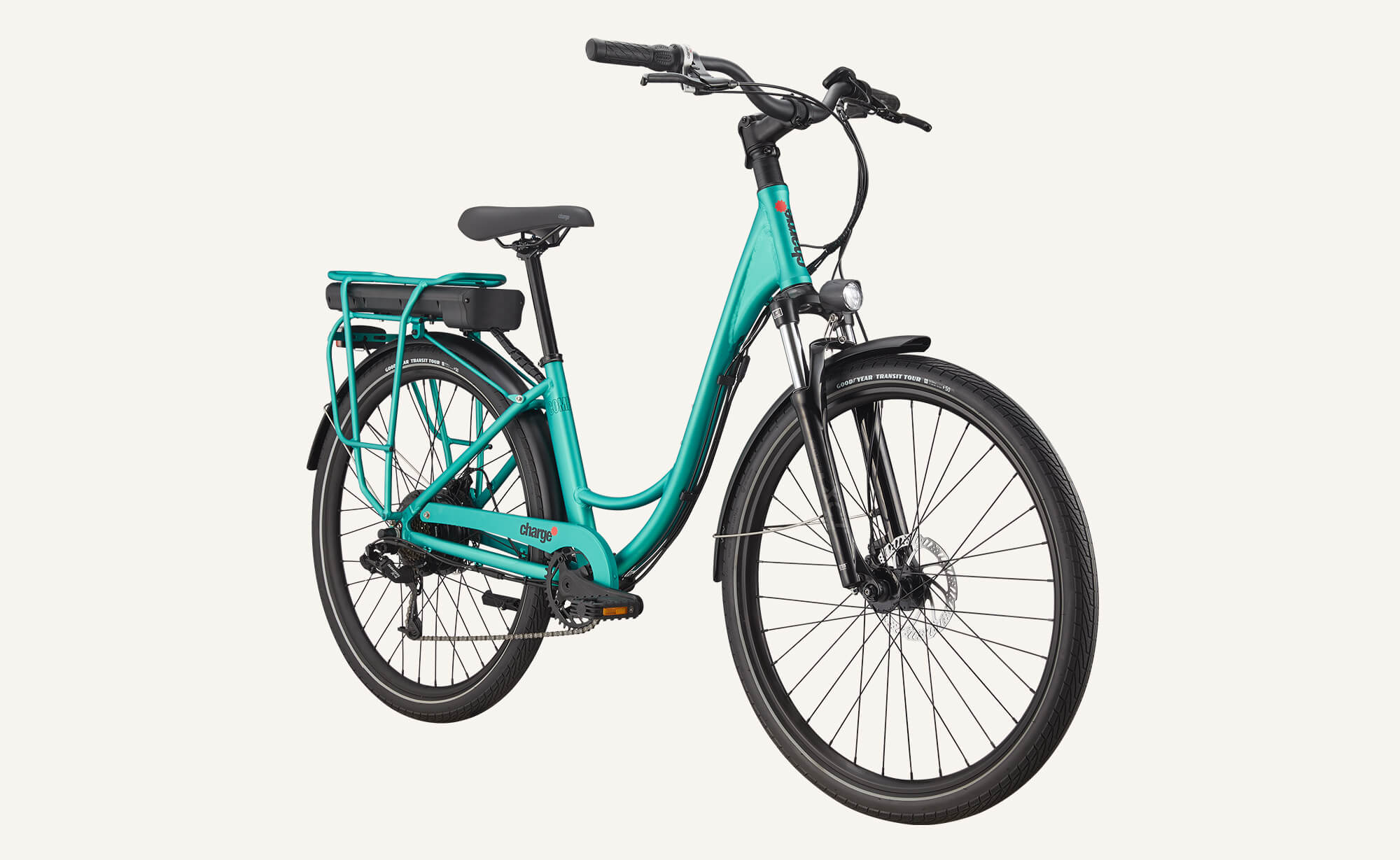 MRSP: $1,799
Ride position is suitable for all riders
Fork suspension
2″ tires
One size fits 5'0″ to 6'0″ riders
As the name suggests, the Charge Comfort provides a relaxed and smooth ride experience. Each feature of this bike contributes to its comfy personality.
Beginning with the tires, Charge chose a set of 2″ Goodyear puncture-resistant ones, which, along with 80mm of fork suspension, absorb almost all of the lumps and bumps on urban roads or light dirt or gravel paths. The ergonomic grips and saddle also enhance the comfortable ride quality.
The low-step frame makes the Comfort easy to mount and dismount, regardless of your flexibility or if you have a loaded pannier rack. In addition, this bike is fully equipped with everything needed for urban riding, including fenders, lights, a horn, and a kickstand.
The electronics are the same as those on the Charge City eBike. A 250W, 45Nm Bafang hub motor, a pannier-mounted 418Wh battery, and an intelligent display.
The downside of this bike is it's six pounds heavier than the City, meaning the electronics can feel underpowered on hills.
All things considered, the original Charge Comfort is an excellent deal for the price and a solid choice for urban riders who want a comfortable cruiser e-bike.
---
Charge Comfort 2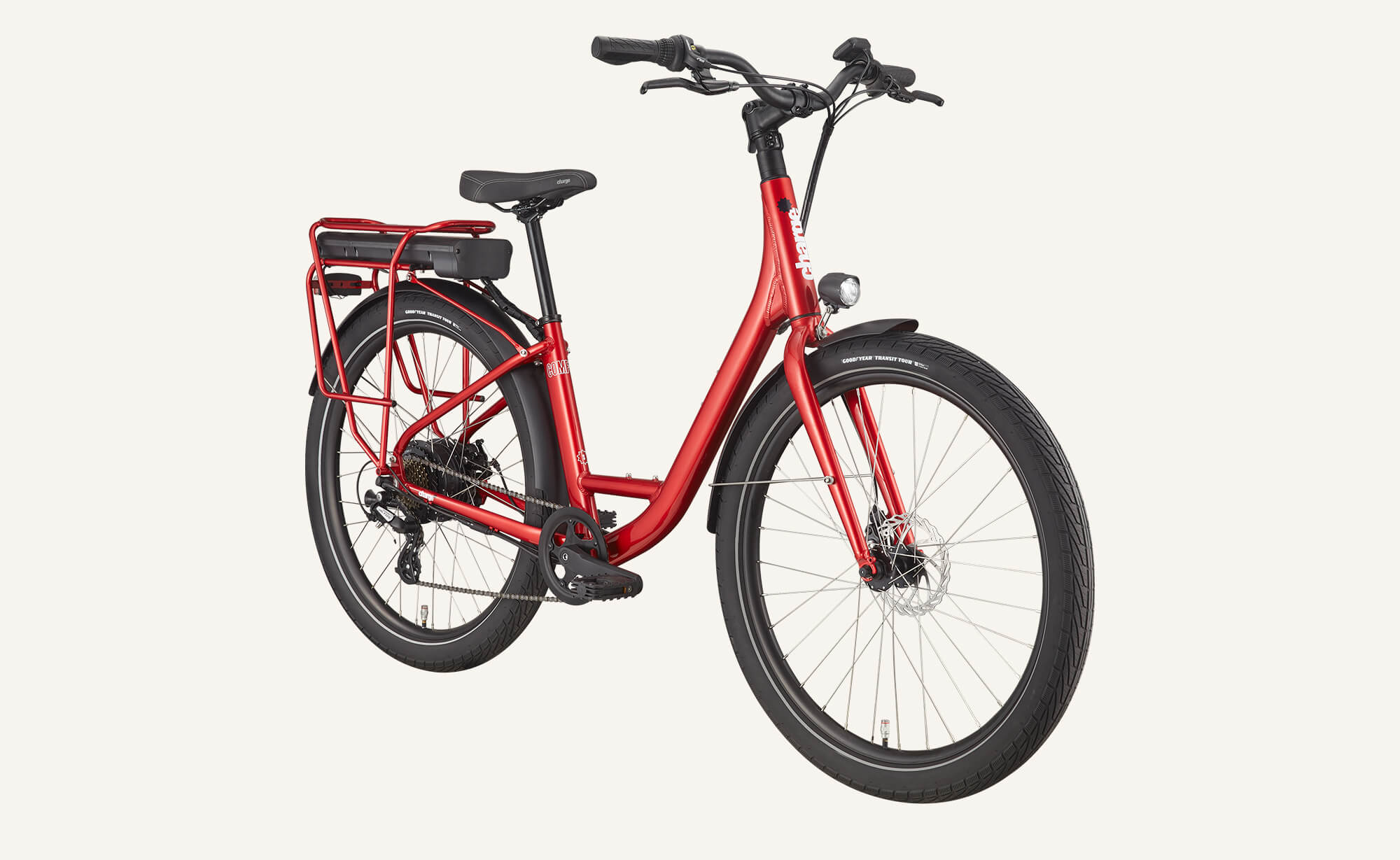 MRSP: $1,899
Integrated rear rack with child seat compatibility
Mixed-terrain 2.6″ tires
One size fits 4'11" to 6'3″ riders
The Comfort 2 Charge eBike is a revamped version of the original model, with a few minor updates for just $100 extra.
The most notable change to the new Comfort 2 is the removal of the 80mm Suntour fork suspension and the switch from 2″ tires to 2.6″ tires.
Higher-volume tires help compensate for the loss of suspension without adding all the extra weight associated with cheaper suspension forks. In addition, you get extra grip and capability on light off-road terrain.
Another significant update was the integration of the rear rack. Building the rack into the frame increases the payload capacity, meaning you can carry up to 55lbs on the rear of the Comfort 2. In addition, it's compatible with a Thule RideAlong child seat which you can purchase from Charge's online store.
Aside from these changes, the Comfort 2 is the same smooth and relaxed e-bike that makes any ride more enjoyable and convenient. So choose it if you want a new and improved version of the original Comfort.
---
Charge XC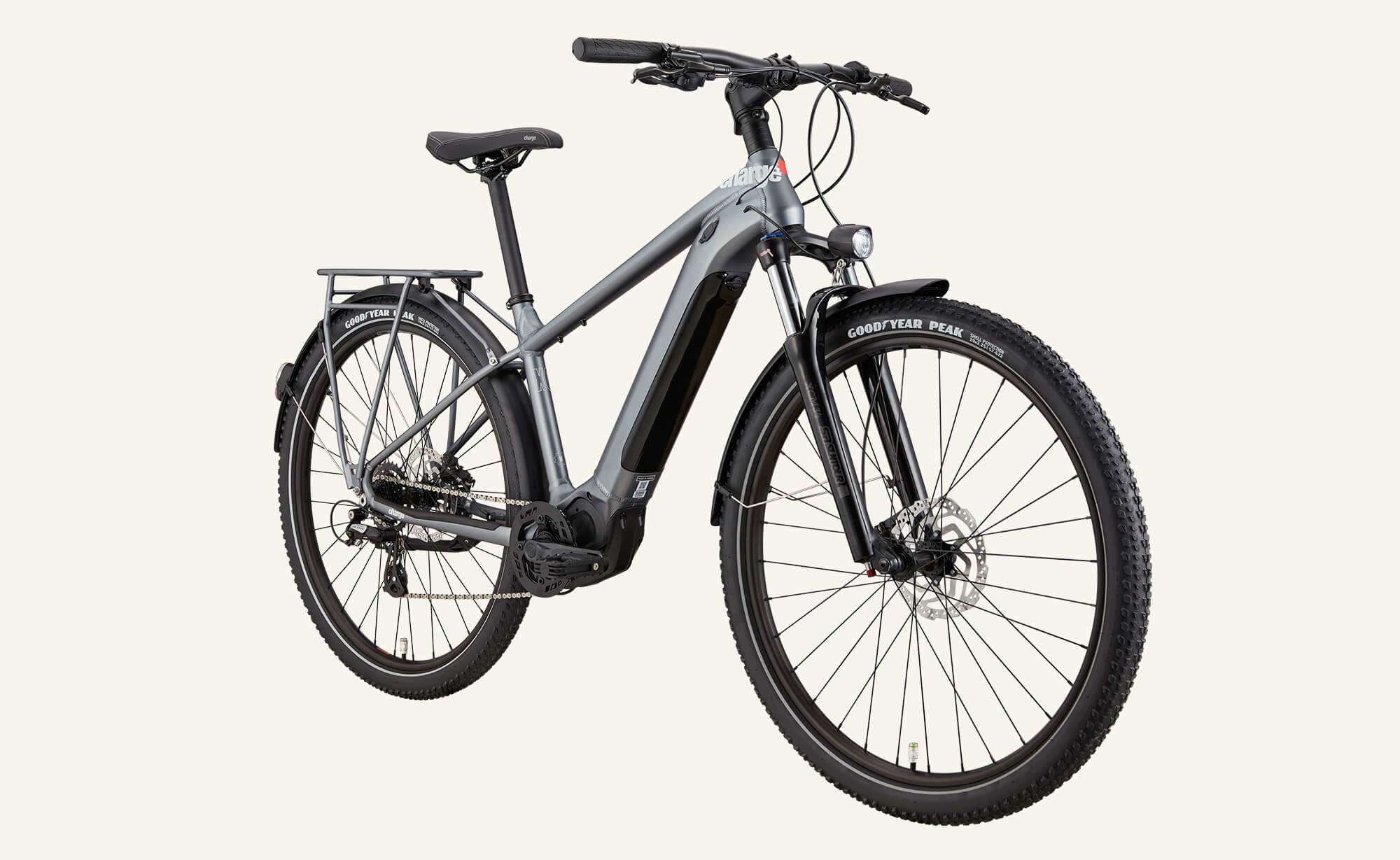 MRSP: $2,699
Goodyear Peak 2.25″ off-road tires
Mid-drive motor
Shimano hydraulic disc brakes
The Charge Bikes XC is the brand's premium model, an off-roader with all the same urban and commuter features.
The XC is the only Charge model with integrated electronics. It has a downtube-housed 504Wh Shimano STEPS battery with an ABUS lock for extra security.
The motor is Shimano's lightweight E5000 250W, 40Nm mid-drive, proving buttery-smooth power transfer and plenty of power to tackle light to moderate XC climbs at speed. This pairing returns up to 50 miles of range, has three pedal assist levels, but doesn't have a throttle, making it a Class 1 e-bike.
The components that give the XC its capability include 2.25″ all-terrain Goodyear tires with robust puncture protection, a 100mm Suntour XCM fork, Shimano MT200 hydraulic disc brakes, and durable 29er WTB rims.
Overall, this Charge eBike is one of the most versatile options under $3,000. Choose it if you want a bike that balances full commuter and urban functionality with cross-country capabilities.
Recommended rider height
Small – 5′ to 5'9″

Large – 5'9″" to 6'4″
Accessories
---
Charge has a comprehensive list of accessories, upgrades, and replacement parts on its online store that you can use to personalize your Charge bike for specific jobs, like taking your kids to school or grocery shopping.
Batteries & Chargers
Child Seats & Accessories
Helmets
Hydration
Inflation
Locks
Mirrors
On Bike Storage
Replacement Parts
They sell roughly 40 proprietary and third-party items in nine different categories. The third-party brands include Blackburn, Giro, Kryptonite, and Thule.
Shipping, Warranty, and Returns
---
Charge electric bikes are currently only shipping to the contiguous United States. They process and ship orders from Monday to Friday using standard UPS ground service. In addition, they offer free delivery on orders over $49.
They have a generous return policy of 30 days for a full refund for a Charge e-bike in unused condition, complete with the original box and contents. Charge deducts a $175 return fee from your bike refund or $8.99 for accessory orders.
All Charge bikes have a standard one-year warranty on manufacturer or materials defects.
Final Verdict: Would We Buy a Charge Electric Bike?
---
We think Charge electric bikes are worthy of serious consideration for the urban rider.
The brand has leveraged the decades of industry expertise and large-scale manufacturing of its parent company, CSG, to deliver high-quality bikes at competitive prices.
Their four e-bikes are well built and equipped with everything you need for commuting, running errands, or just leisurely riding.
In addition, the Charge XC is unusual in its ability to handle cross-country mountain biking trails while maintaining all of the necessary features of an urban e-bike.
For now, the brand's lineup is relatively limited, but we expect it to grow as they grab a foothold in the highly competitive direct-to-consumer e-bike market.
Overall, Charge e-bikes are solid urban options in terms of price and quality, and we would be more than happy to own one!
---
Charge Bikes is one of the industry's newest and most promising electric bike brands.
What makes Charge Bikes unique is its commitment to tackling common problems cyclists face in urban environments.
Each of the four models on the lineup has the same basic componentry that makes owning an e-bike—especially an urban one—a more convenient experience.
---
How it stacks against others