Giant Electric Bikes Review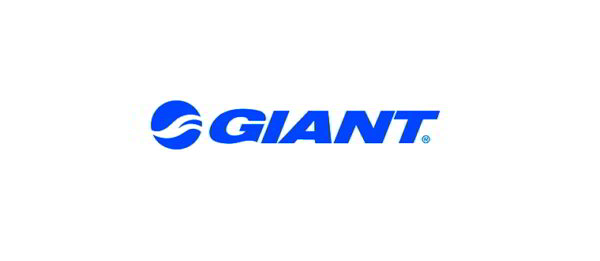 If you've never heard about Giant Bicycles or you know nothing about this Taiwanese brand, we can only assume you've been living under a rock your whole life. Either that or you're an alien.
Giant is the world's largest manufacturer of traditional bicycles and is expected to become the most dominant player in the e-bike market in the recent future as well.
Apart from designing and producing its own bikes, Giant also manufactures bicycles for other major cycling brands, such as Trek, Scott, and Colnago. Therefore, it's unlikely that you've never ridden a bike made by Giant.
If you're considering adding one of its bikes to your collection, you should read our detailed Giant E-Bike review below. We'll tell you all about the brand and the technologies it uses, as well as show you its electric bike lineup.
Are Giant bikes worth the money? Let's find out!
About Giant Bicycles—Are They Really THAT Good?
---
Giant is a well-known brand that has possibly contributed the most to the world of cycling.
Giant is a member of the Giant Group, which was established in 1972, in Taiwan. It is the world's largest manufacturer of high-quality bicycles and cycling gear and one of the most influential brands in the industry.
As an independent brand, Giant was born in 1981 when the first Giant-labeled bicycles hit the stores, first in Taiwan, and then in North America, Europe, and other parts of the world. After that, it soon rose to stardom and became the biggest player in the game.
The thing that sets Giant apart from other brands is that it has always been the pioneer of change. Giant made its frames from lightweight aluminum when the industry's standard was still steel. It was also the first to make carbon fiber bikes widely available to the world, revolutionizing the cycling experience.
Giant also transformed the look and feel of modern road bikes with its Compact Road technology, as well as improved off-road performance bikes with Maestro Suspension.
Today, Giant continues developing groundbreaking cycling technologies and manufacturing modern bikes, including e-bikes for recreational and practical use.
Giant's Patented E-Bike Technologies
---
Giant has been around for almost 50 years. During that time, it has patented numerous technologies that have completely changed how we ride bikes and how we think about them.
Let's take a look at some of the most important e-bike technologies that this company has developed so far. You can find most of these solutions on Giant's electric bicycles. But it all depends on how much money you spend.


SyncDrive Pro is a technology that provides pedaling assistance that's in tune with human input. Therefore, Giant's bicycles are able to produce smooth pedaling power and a natural feel that ensures good performance and an enjoyable ride.
Smart Assist technology uses complex mathematical calculations to determine exactly how much power a rider needs, based on their power input and the pedal-assist level.
EnergyPak is Giant's latest battery system that features an elegant design and full integration. The EnergyPak batteries are placed inside the bike's downtube, so they're not an eyesore. These batteries also charge up to 80% in 2.2 hours and offer a better range than regular batteries.


RideControl is a handlebar-mounted command center that features special ergonomically designed controls. It lets you have full control over your e-bike and track important metrics such as distance, speed, battery level, and pedal-assistance level.
Giant's E-Bike App lets you connect your smartphone directly to your e-bike via Bluetooth. The app lets you tune the motor to get the best support ratio for your needs, use navigation, and track important fitness data.
Review of Giant Electric Bike Lineups
---
When it comes to e-bikes, Giant's selection is not huge at the moment, but it is pretty decent nonetheless. The company manufactures electric bicycles in several categories, including Road, Gravel, Mountain, and Lifestyle.
No matter if you are a regular rider who spins the pedals every day or if you haven't sat on a bike saddle in decades, you're likely to find a model that you like in Giant's lineup.
Let's take a quick look at each of the categories, learn about the individual model lineups, and find the best Giant electric bike for your personal needs.
Giant Electric Road Bike Series
---
Electric road bikes stand for everything that's good about cycling but make it even better with a boost in power to make riding more enjoyable.
If you still want to enjoy speed, cover long distances, and look cool, one of the Giant electric road bikes is the right choice for you.
Road E+ Pro
A drop-bar electric road bike to help you enhance your road riding experience
Road E+ Pro is a proper electric road bike made for speed and performance. These are Class 1 electric bicycles with drop bars, a mid-drive motor, and an integrated battery that sits hidden inside the downtube.
The Road E+ Pro series features Giant's SyncDrive Pro 250W motor with 80 Nm, combined with a 500Wh battery. It's built around a lightweight aluminum frame, equipped with high-end Shimano components and hydraulic brakes that stop on a dime.
If you wish for a high-end electric road bike to overcome injury or keep pedaling well into old age, the Road E+ Pro model is a foolproof choice.
FastRoad E+ EX Pro
Versatile and fast e-bikes for road and off-road exploitation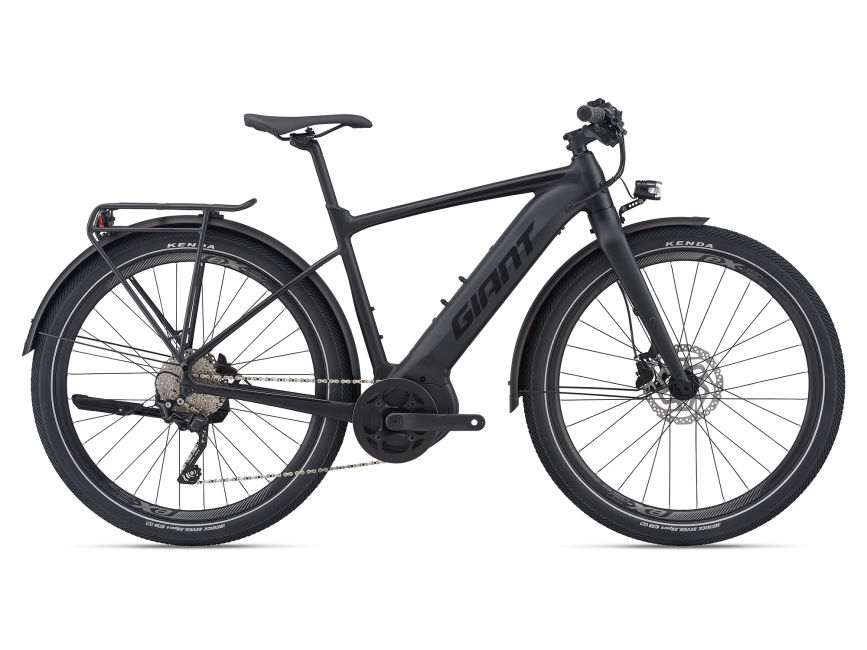 FastRoad E+ EX PRO is a multi-purpose electric road bike with flat bars and wide, versatile tires. It features the Giant SyncDrive Pro 250W motor with the Giant RideControl EVO display for maximum control. The Giant EnergyPak 500Wh battery ensures a decent range and fast charging.
The Giant FastRoad e-bike sports Shimano's gravel-specific GRX RX400 groupset and 27.5 x 2.40″ tires, so you can enjoy in on paved and unpaved roads. Accessories like fenders, lights, and a rear rack will only make the ride better and more practical.
We recommend it to commuters, bike travelers, and those who want a bike that replaces their car.
LaFree E+
Haven't ridden a bike in decades? Start here!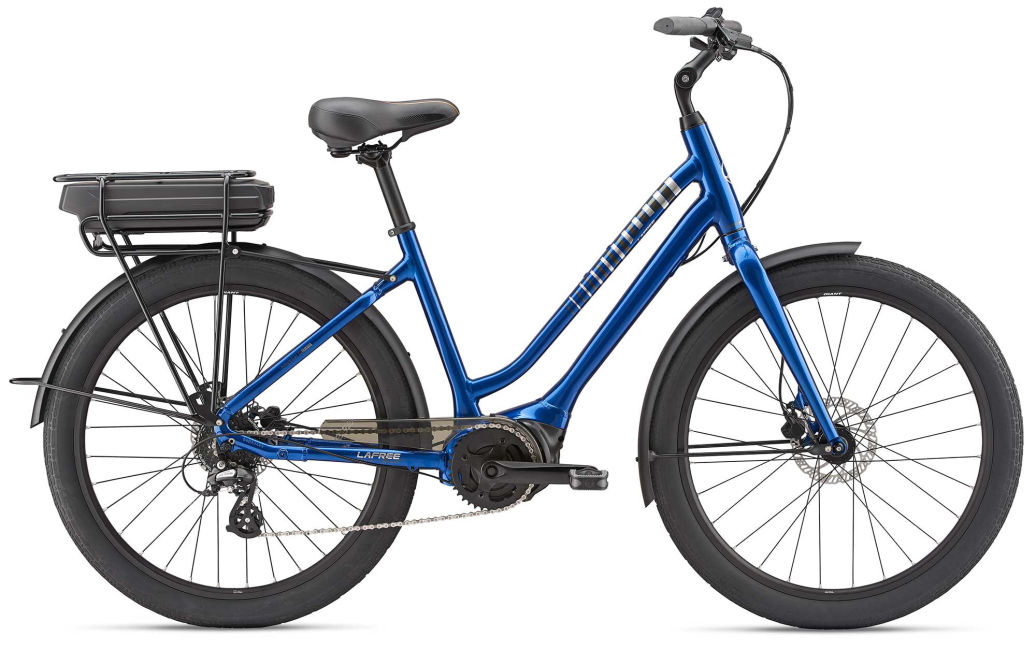 LaFree E+ is not a road bike in the traditional sense of the word, but it is built to be enjoyed on the road. Giant LaFree is a city/commuter/comfort bike built to be appreciated on a daily basis by regular people, rather than hardcore cyclists.
It has a 60Nm SyncDrive Life motor and a 400Wh battery that together provide plenty of assistance and a decent range. The upright geometry will put you in a comfortable riding position and the rear rack allows you to carry groceries, a child seat, or anything else you need on hand.
Explore the neighborhood, get fit, commute, or ditch the car, LaFree E+ can do it all.
Giant Electric Gravel Bike Series
---
Gravel bikes have become very popular because they give you more possibilities than any other type of bike. A gravel electric bike takes those possibilities to another level.
Ride farther than ever before, explore paved and unpaved roads, and keep pedaling even when you run out of road. Let's see what Giant's gravel e-bikes put on the table.
Roam E+
Forget about the limits and start exploring more.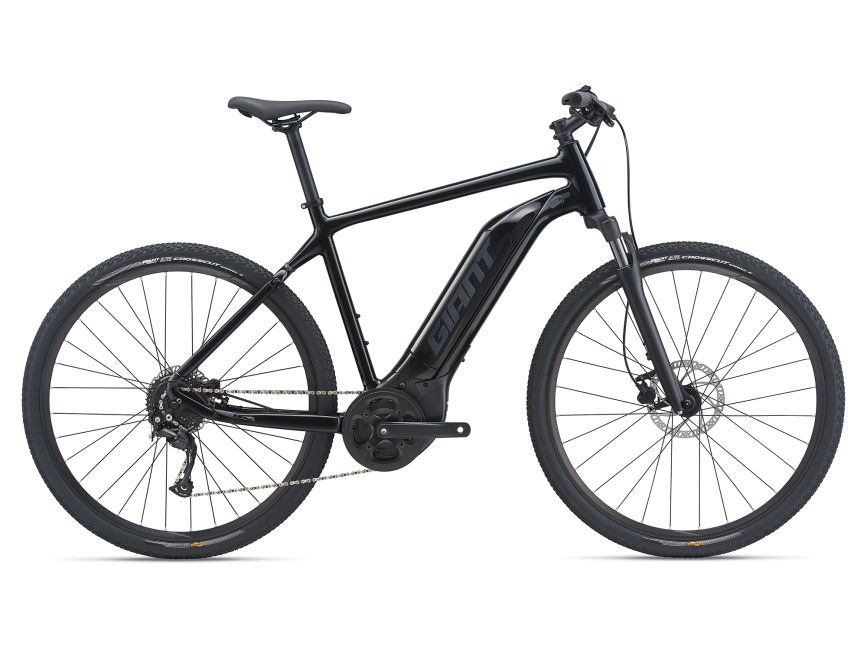 Giant Roam E+ is an all-road electric bicycle that's built to enable you to roam and explore wherever you want to. You can ride it on smooth asphalt but also on gravel, bike paths, or even trails.
Roam E+ is powered by a Giant SyncDrive Core 50Nm motor, with an automatic mode and tunable support. This Class 1 e-bike also has a 400Wh battery and a RideControl display.
The suspended fork, hydraulic disc brakes, and 700x45c tires come together to make it a comfortable and capable e-bike for all purposes.
Explore E+
All the e-bikes you need in one affordable model.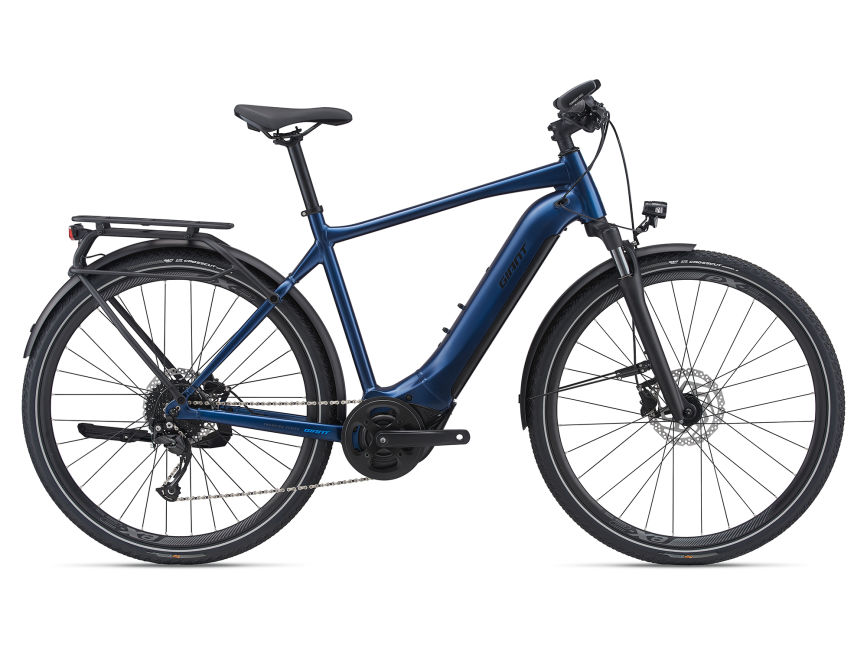 Giant Explore E+ is the ultimate electric bicycle for the average rider. Unless you're a performance-oriented road or MTB rider, you'll probably like what Explore E+ is all about.
This is a commuter bike that's built to stray away from smooth city streets. It features a Giant SyncDrive Life motor, an EnergyPak Smart 500Wh battery, and a RideDash EVO display. It's built around a lightweight aluminum frame with a suspension fork and features a mid-range Shimano Alivio group.
Giant Explore E+ can be ridden day or night, rain or shine as it comes with fenders, lights, and a rear rack that can carry whatever you need. Get it and forget that you own a car.
Revolt E+ Pro
Leave no rock unturned on scenic backcountry roads.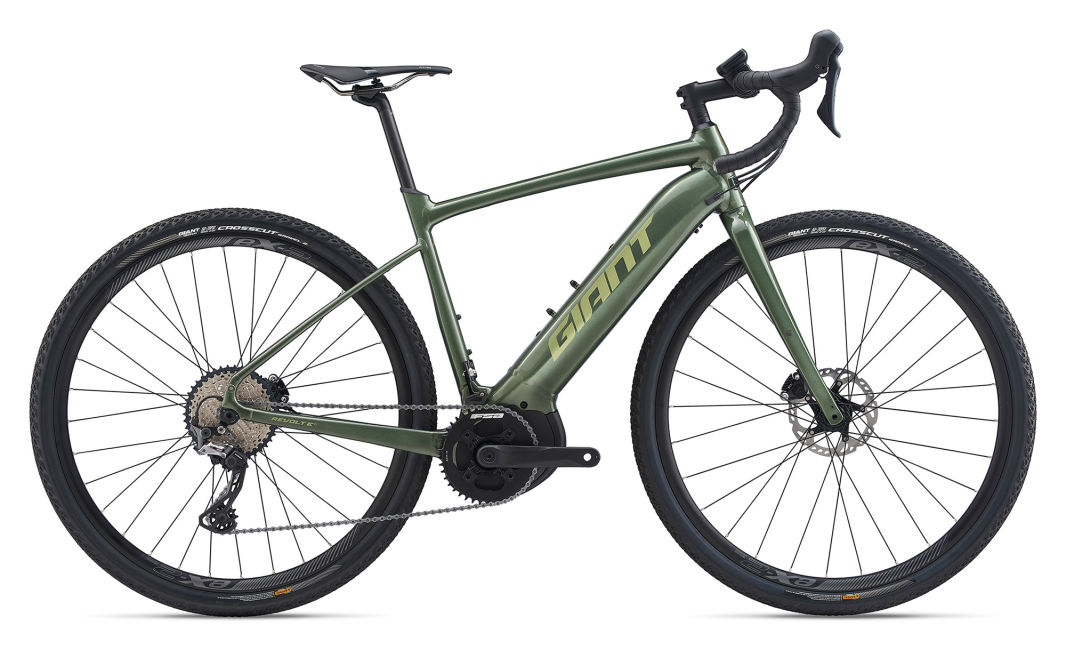 Last but not least, we have a proper electric gravel bike with drop bars, a gravel-specific groupset, and gravel-ready tires. Giant Revolt E+ Pro has all you need to explore gravel roads, away from the hectic traffic and busy roads and streets.
The Giant SyncDrive Pro motor outputs 80Nm of tuneable support, coupled with a compact 375Wh battery. This is a Class 3 e-bike, so the maximum pedal-assisted speed is 28 mph, perfect for hardpacked gravel roads.
In addition, Revolt E+ Pro features a full Shimano GRX groupset, including brakes, and 700x45c tubeless-ready tires.
Get Giant Revolt E+ Pro if you want efficiency, control, and versatility.
Giant Electric Mountain Bike Series
---
A few years ago, few people could imagine that electric mountain bikes would wiggle their way onto trails. Today, the electric mountain bike market is the fastest growing one in the e-bike industry.
Giant electric mountain bikes let you enhance your singletrack adventures, climb steep hills, and conquer high peaks. More climbs equals more descents, which comes without a recovery penalty if you do it on an e-bike.
Let's see which models Giant offers at the moment and find out what they are good for.
Talon E+
An e-bike for beginners to enjoy the perks of real trail riding.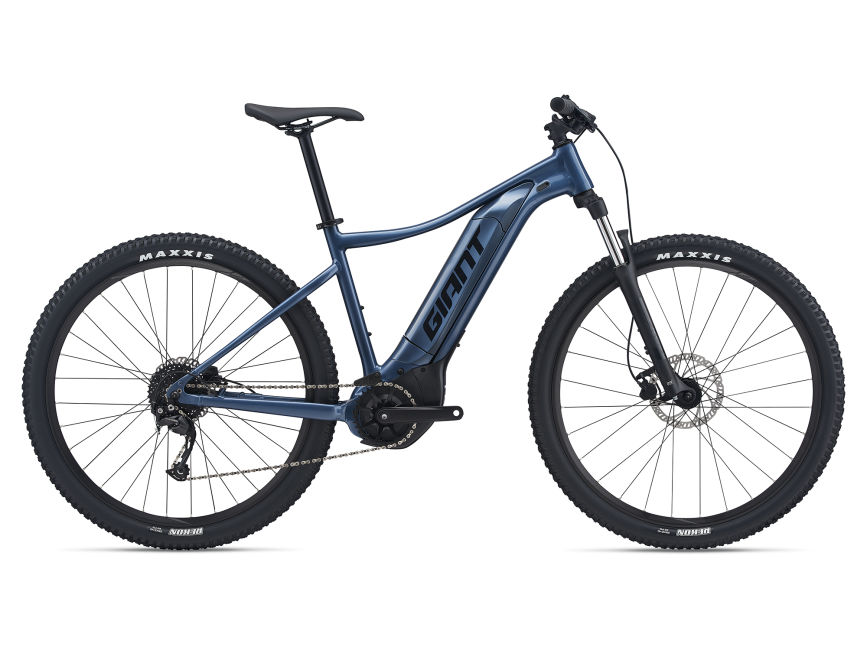 Giant imagined the Talon E+ series to be a selection of affordable mountain bikes for trail beginners and those who simply want to enjoy some off-roading. Talon E+ is built around a sturdy aluminum frame and a 100mm fork, combined with massive 29″ wheels and tires for uncompromising on-trail rolling capabilities.
It uses a Giant SyncDrive Core mid-drive motor to push the rider, with 50 Nm of torque and 5 pedal-assist modes, plus automatic. The 400Wh battery is "hidden" inside the rather unwieldy down tube.
The traditional drivetrain has a Shimano Alivio 9-speed rear derailleur and a 36T chainring on the front. Tektro hydraulic disc brakes are easy to adjust.
We recommend it if you think it fits your needs.
Trance X E+ Pro
E-mountain trail bikes for big boys and even bigger trails.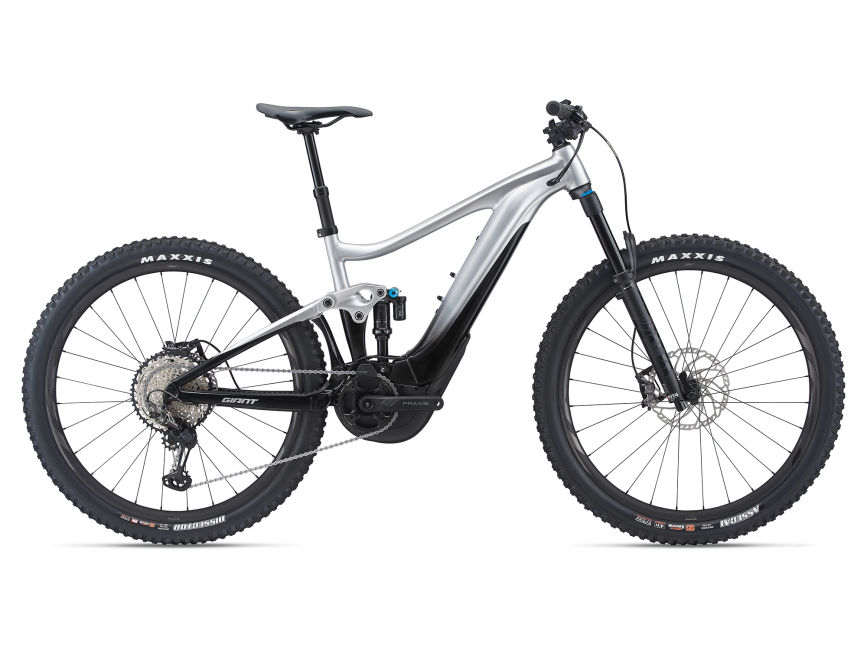 Trance X E+ Pro is a serious electric mountain bike with full-suspension, 29″ tires, and aggressive slack geometry. If you want a Giant fat tire mountain bike and you have a big budget, there's little you won't like about these models.
The Giant's mid-drive motor puts out massive 80Nm of torque for powerful climbing, with pedal-assist up to 20 mph. The battery has a 625Wh capacity, which translates to a lot of climbed hills.
The Fox suspension gives you 150mm of travel front and rear, whereas the 2.6″ Maxxis tires ensure both grip and confidence to shred trails.
Simply said, Trance X E+ Pro will let you hit trails as hard as before, if not even harder.
Stance E+
A mid-range Giant full-suspension electric mountain bike for harsh terrain.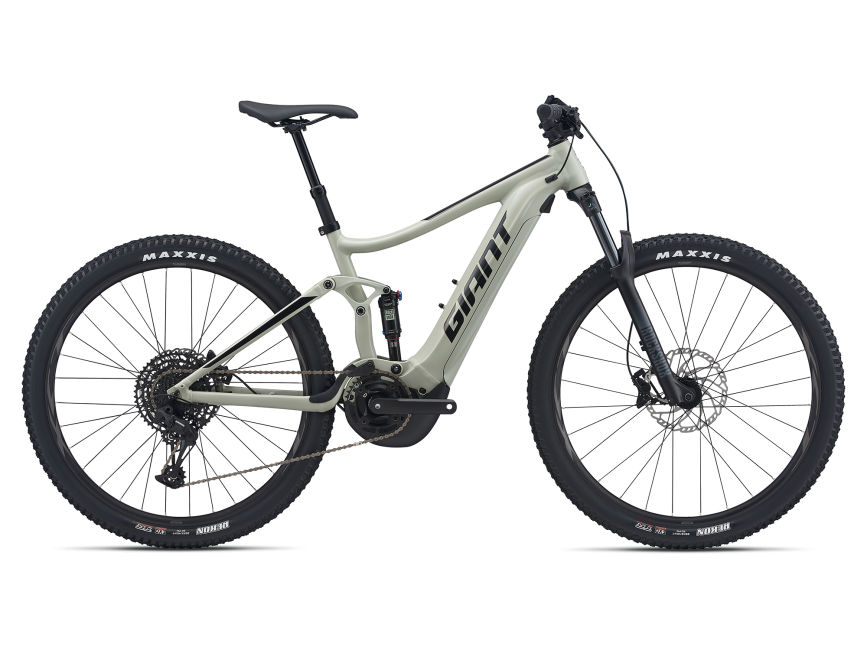 Giant Stance E+ is designed with trail-friendly geometry and rider-friendly components. This is a purebred full-suspension trail bike with 130mm of travel and a mid-drive motor that will send you flying up steep climbs.
The SyncDrive Sport motor is powered by Yamaha and develops 50Nm of torque, whereas the battery packs 625 Wh of additional juice.
Stance E+ bikes feature lightweight and efficient 1x drivetrains and uncompromising 29″ wheels. These ensure a good attack angle on fast descents. While descending, you'll also appreciate the hydraulic disc brakes with giant rotors.
Are there any trails and descents waiting to be sent?
Fathom E+
Versatile trail application with 27.5″ wheels and a dynamic motor.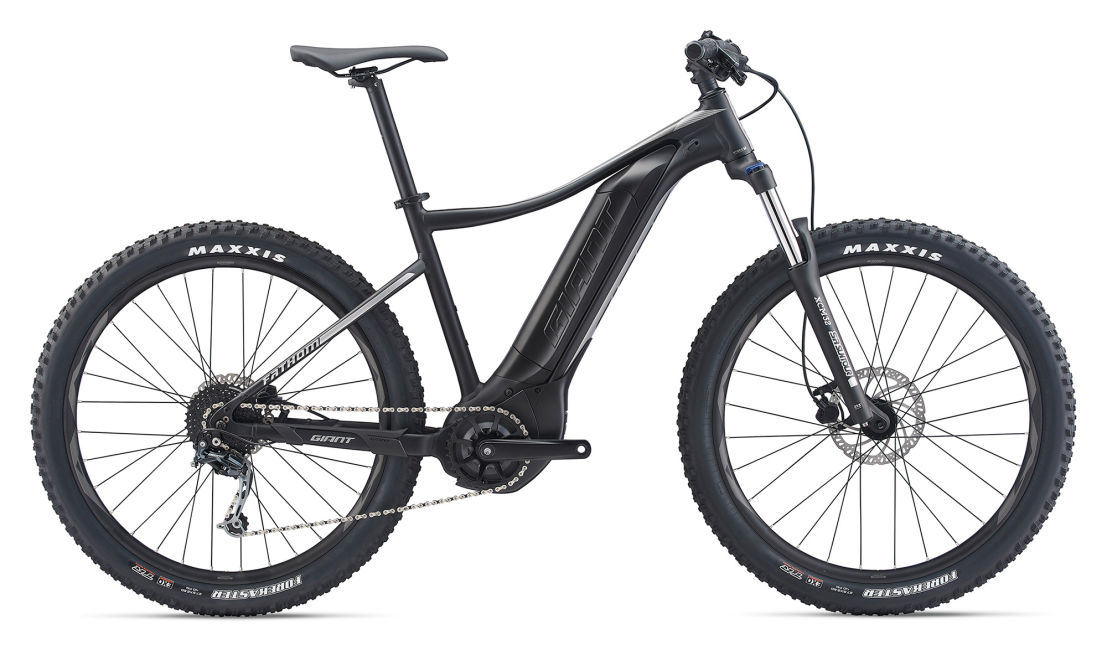 Giant Fathom E+ will let you take full control of trails thanks to its sport-optimized motor and versatile 27.5″ wheels with super-wide tires.
This bike excels on XC and singletrack terrain, where the SyncDrive Sport motor can help you reach a 20mph speed and the 500Wh battery can help you maintain it over a decent distance.
Fathom E+ bikes are reasonably priced, so they come with mid-range components that offer excellent value for the money. Examples of this include Shimano Deore components and Tektro hydraulic disc brakes.
This is a Giant electric bike for easier climbing and longer riding, deep into the sunset.
Reign E+ Pro
Reign the trails, both up and down, with the help of a mighty motor.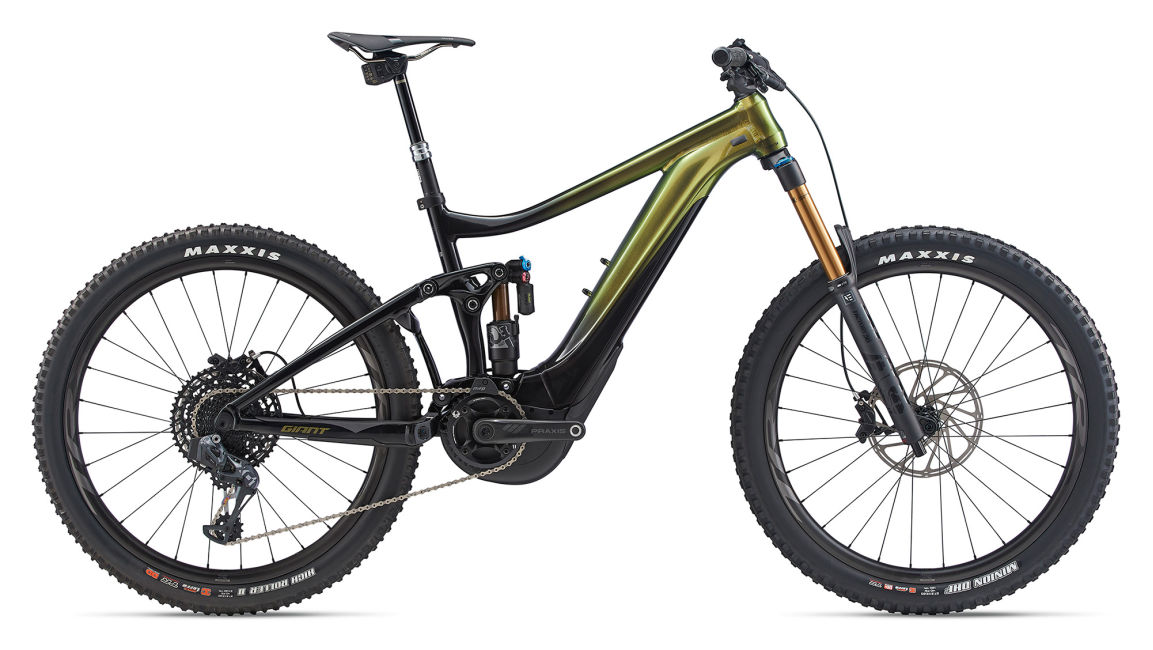 The Reign E+ electric mountain bike is the creme de la creme of Giant's e-mountain collection. These are premium enduro bikes with high-end components and high-end prices. The top model costs $8,500. Ouch!
We're talking about SyncDrive Pro mid-drive motors with up to 80Nm of torque and EnergyPak Smart 500Wh batteries integrated into the down tube.
Happy owners will also enjoy the high-end SRAM and Shimano drivetrains, brakes, and top-of-the-line 170mm suspension. These are 27.5″ electric mountain bikes, so handling is nimble and precise on demanding twisty trails.
You can't go wrong with one of these Giants if you need their performance and their price fits your budget.
Momentum Lifestyle Electric Bikes
---
Momentum is a newly-established brand, founded by Giant. It makes so-called Lifestyle bicycles intended for casual, everyday use. If you're an urban commuter looking to ride their car less, Momentum is a brand you should look into. These are also great bikes for recreational rides around the block, through the park, on bike paths, or for losing weight.

At the moment, Momentum manufactures three electric models called:
Vida E+
Transcend E+
LaFree E+
According to the info on the website, momentum was founded with a clear mission: "To help you move through life with happiness and ease."
The three model lines available at the moment roughly cost between $2,100 and $2,800, which puts them in the entry-level to mid-range category. They include both step-over and step-thru frame variations, so they're suitable for male and female riders.
Something they have in common is Giant's SyncDrive mid-drive motors, hydraulic disc brakes, and a relaxed upright riding geometry. This makes them ideal for older riders, as well as those riders who don't cycle too much but want to feel good when they do.
Momentum e-bikes are neither very lightweight, nor too fast (these are Class 1 e-bikes), but they look pretty and get the job done with ease. If you want a no-fuss e-solution, look into this Giant's sister company.
Value for the Money—Are Giant Electric Bikes Too Expensive These Days?
---
Giant is one of the biggest, if not the biggest bicycle manufacturers in the world. That's true for electric bicycles as well. Big-name brands are usually more expensive than small ones because they sell you both the bike and the branding. But is that true for Giant as well?
Actually, compared to some other big cycling brands like Trek, Specialized, or Canyon, Giant is a lot less expensive overall. That's possible because Giant does the entire production and development process in one place, which allows them to cut costs, reduce overhead, and lower production times.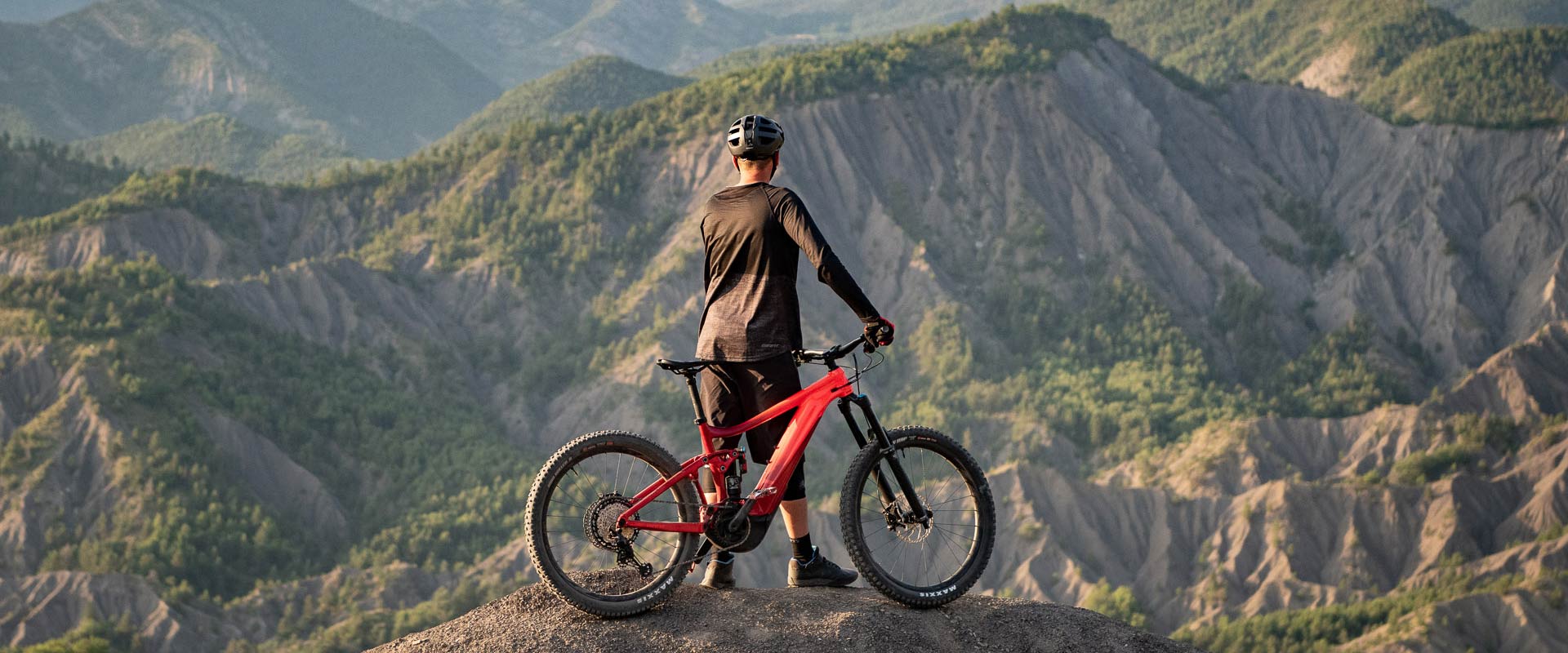 Therefore, even though you can definitely find cheaper e-bikes out there, Giant electric bicycles are not overly expensive. They offer pretty good value for money. Plus, buying from a big brand means that you will 100% get a replacement or a refund if your bike has a manufacturing defect. That's not usually the case when purchasing cheap bikes off Amazon, even though you save at first.
What's unique for Giant is that its e-bikes are fitted with proprietary technologies, such as SyncDrive motors and EnergyPak batteries. These are fitted on high-quality frames that are also built in-house by Giant. Therefore, all parts are compatible and work well as a package.
Ultimately, if you want an e-bike from a reputable and recognizable brand that offers good bang for the buck, you should probably get a Giant e-bike if there is one that fits your needs.
Frequently Asked Questions (FAQ)
---
Looking for answers to some specific questions about Giant electric bicycles? Check out the FAQ section below.
Is Giant the best bike brand?
Giant bikes are very good, considering that this is the biggest cycling brand in the world. However, whether or not they are the best is a subjective matter. Giant makes high-quality electric bicycles on par with other major manufacturers like Trek, Cannondale, Specialized, Canyon, and so on. Therefore, it is definitely one of the best bike brands in the world. Giant's bikes get excellent ratings and user reviews, known to be durable, affordable, and reliable.
Where are Giant e-bikes made?
Giant has manufacturing factories in Taiwan and China, as well as the Netherlands and Hungary. Most of their e-bikes are made in Taiwan, but some are manufactured in other facilities as well.
Which is better Giant or Trek?
If you have a certain budget to spend and you do not want to go over it, Giant is the better choice. You will get better components and more value for your money. However, Trek bicycles are better designed and look nicer than Giant's. Therefore, if your budget allows it and you're willing to pay more for better looks, you will not go wrong with Trek either. Both companies are major players in the industry, manufacturing bicycles that last for years and ride for tens of thousands of miles.
Are Giant e-bikes any good?
Giant bikes offer the best value for money compared to all other established brands. The company has long been known as the king of budget bikes. However, Giant has also been consistently making high-end bikes that help riders win world championships and Grand Tours. Giant equips its bicycles with parts sourced from other reputable cycling brands, so you know you're always getting high-quality gear for your money.
Does Giant make good electric mountain bikes?
Giant makes excellent electric mountain bikes. Giant's e-mountain bicycles are equipped with proprietary SyncDrive motors and EnergyPak batteries made in collaboration with Yamaha. Giant produces electric mountain bikes in different price categories, so they are suitable both for beginners and for experienced riders.
---
Facts
Giant is a well-known brand that has possibly contributed the most to the world of cycling.
Apart from designing and producing its own bikes, Giant also manufactures bicycles for other major cycling brands, such as Trek, Scott, and Colnago.
Today, Giant continues developing groundbreaking cycling technologies and manufacturing modern bikes, including e-bikes for recreational and practical use.
---
How it stacks against others