We are e-bikes obsessed and may earn a commission if you buy something through our site. More…
Keith Lehman – Third generation Southwestern Oregon native. Graduated Southwestern Oregon Community College and Southern Oregon University. Avid mountain biker turned bike shop owner.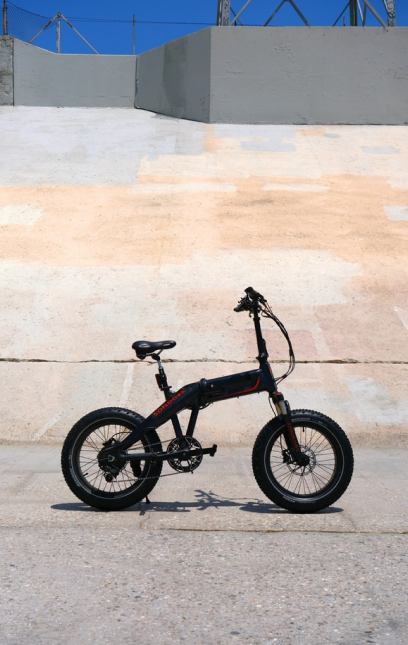 The decision has been made to get your first e-bike, which is very cool. You are going to love it.
You have a lot of questions and this is understandable. Ebikes are booming right now and the choices are continually growing, which makes it easy to get overwhelmed.
Do not let the wave of new e-bicycles carry you away as there is a style of e-bike out there for everyone, including you. Conventional non-motorized bikes and electric bikes share the same styles and forms: off-road, street, folding, hybrid, retro, beach cruiser, fat tire, trike, and utility/cargo bikes.
You can always have more than one, as no one bike can do it all. Often one member of the family gets the first and the second follows shortly after. Biking is a family and social activity and e-bikes make it possible for someone who might not be able to ride a conventional bike able to ride again.
An e-bike can help you get the exercise you might not be able to get otherwise. It is common knowledge that, because rider can ride farther, they end up getting the same benefits as a conventional bike rider. And no, despite what some people might say, it is not cheating.
E-bicycles make biking accessible to everyone. Here is a list of steps to help you make a decision.
What type of riding do you do??
Your preferred type of riding can help you decide the style of bike to consider.
Because of the wide variety of e-bike options, with a little research, you will be able to find the right one for you.
Electric mountain bikes
(known as eMTB), are one of the most common type of ebike out there. Off-road and trails require knobby tires for traction, suspension to help absorb the bumps and an aggressive stance which is more upright than the rider
position of a road bike.
Road bikes, which are primarily used on paved streets, benefit from a smooth, narrower, high-pressure tire for speed, coupled with an aerodynamic rider position with dropped handlebars. Road bikes usually do not have any suspension. Something to consider is that some electric road bikes use disc brakes, which are standard on e-bikes, because of the added weight from the battery and motor as compared to non-motorized road bikes, which use rim brakes.
Beach cruisers and retro styles are also popular and why not? The retro motorcycle look coupled with a motor, what is not to like? Some people find the swept back bars, upright rider position, a big soft seat and even a step through frame much easier to ride. These styles are great for short commutes, like trips to the park or grocery store, and have a great look.
Hybrids, which are a melding of street and off-road styles, offer the best of both worlds with a bit of compromise. Their frames offer a more upright rider position, like the emtb, but ride on narrower tires, which are not really suited for mud or off-road conditions. Also, if they have suspension it will be minimal compared to the electric mountain bikes.
Trikes, with their three-wheel design, offer a stable platform if balance is a concern. Trikes are also a bigger and wider platform to build on. By adding baskets or even pulling a small trailer you can increase your carrying capacity.
Utility/cargo bikes: If you want a bike to sell concessions from, this is an ideal option. Much like the trike, a utility/cargo bike can be outfitted with baskets, saddle bags and panniers or even coolers and ice chests to become a versatile vendor stand.
Fat tire bikes: Snow and sand and the need to float over these surfaces brought about the development of fat tire bikes. There are many styles of bikes available in a fat tire version. Fat tires do have pluses and minuses, however. The major drawback is greater rolling resistance as compared to conventional two-and-a-half-inch wide tires. A benefit is that they have so much volume, that fat tires act as a cushion and help smooth out a rougher ride. Fat tire bikes are popular and can be found on non-motorized bikes as well, in spite of the greater rolling resistance from the wider tires over conventional tires.
Folding bikes are great if you plan to travel with your bike or if you are using your bike for commuting and don't have much space to store it.  They are much easier to pack away than a non-folding bike, take up less room in a vehicle and can easily be stored indoors. The main drawback of folding bikes is that they are mostly one style and not as versatile as a traditional bike.  Folding bikes have smaller wheels and a small frame as they are meant to be packed away. They have hub motors; being part of the wheel, a hub motor takes up less space.
How much riding will you do and what is your fitness level?
This might be an unknown right now, but it is something that needs to be considered.
Bikes built with higher-grade components last longer before needing replacement parts or an upgrade.
More money upfront will give a greater return on investment with less maintenance. Better bikes keep their resell value if you decide to upgrade down the road. Higher quality bikes also have lighter and stronger frames and are built with components which are stronger and will last longer. Yes, they cost more initially, but in exchange, you will get smoother shifting, quicker stops, more adjustability, and overall longer life for the bike.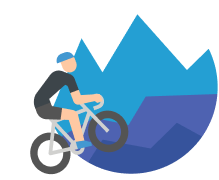 If you are already a cyclist and have been off the bike for a while, then you may want a little help up the hills. Riding bikes is fun and it can also be an intense workout. Having a motor, even a small one, can help reduce the pain of getting your legs back. One great feature of e-bikes it that you do not have to use the motor all the time.
You can choose the level of help you get with what is called pedal assist. Pedal-assist has multiple levels from zero (no assist) to maximum assist. One way to utilize this is to ride as far as possible without using the motor, then use assistance for the last leg home. You get to decide how much and when to use it.
What is your budget?
It is important to know your budget before you begin your search. An e-bike is a big purchase. Prices have a wide range and can vary from as little as five hundred dollars up to over twelve thousand dollars.
Like most recreational vehicles, an e-bike will continue to require upkeep and maintenance depending on use. Also consider the cost of any accessories you may need, such as a helmet or other safety gear. Set a budget and stick to it for your first purchase. You can always resell and upgrade later.
How much experience do you have?
This can be an issue because with little or no experience with bikes you will have no prior knowledge to draw on and might not even know where to start.
This lack of experience can lead to an impulse buy and you can end up paying for something you do not want or will not use. Another problem with no experience is you can end up spending too little and get a bike not capable of meeting the demands you will put on it.
Spend too much and you run the risk of buying more bike than you can use. Not everyone needs a carbon fiber frame, one thousand watts of power, full suspension with downhill long travel or four-piston disc brakes. That being said, the one part of any bike to not go cheap on is the frame. By investing in a quality frame, you will have the foundation to build on if you like how the bike fits and feels.
Where to buy and what are the advantages or disadvantages?
Online: The advantages are choice, delivery to your door, and lower prices. The disadvantages are you do not know who you are doing business with and it takes a lot of research to vet the supplier. Shipping rates can be exceedingly high and the wait can drag into weeks or even months.
Local bike shop: This is your best choice if you are new to bikes. Your local bike shop can fit you to the right size of bike. They can also let you test several styles and brands they carry as well as answer any questions you will have. They will also be able to set you up with accessories like a helmet, gloves, tools, lights, and bags.
Private party: If you know your bikes and are comfortable with buying used, a private seller could be for you. Unless they are selling a new bike still under warranty, buying from a private seller usually means "as is." The upside is that great deals are out there, for an assortment of reasons. Sometimes a minor spill is all it takes for a newbie to have a change of heart and sell. Or it might be a perfectly great bike for you, but it simply did not fit the previous owner.
Buy or build?
Why build when there are so many choices to buy?
Building appeals to a different type. If you already have a great bike, or a spare bike, adding a motor and battery can make it better.
Considering the cost of high-end bikes, an ebike conversion is a workable option for many riders. Converting can also be a do-it-yourself project well within the abilities of someone who performs their own maintenance and you get to choose your own parts or kit.
A kit is the easiest method for conversion, as all the pieces are selected to work with each other and there are multiple options such as displays, throttles, input sensors and, of course, batteries and chargers. Not to mention the variety of sizes in watts for the motor.
Choose the motor style and size.
Mid motor or hub motor?
Mid motor is the most popular for riders wanting the most power and the familiarity of a motorcycle design.
One advantage of the mid motor is the weight is centered in the middle of the frame which balances the bike. Another advantage is the power is being transmitted through the bike's drive system, which allows you to pick the best gear for the terrain.
Because of this power delivery, the rider can change gears efficiently, accelerate more quickly, and go faster overall.  A disadvantage of the mid motor design is that bicycle drive trains are not designed for the tremendous output of the higher wattage motors. This can increase the wear and eventually break the drive train.
A mid motor can also compete with the battery for space on your bike.
Hub motors are exactly that; the hub is larger and within it is the motor.
They come in front wheel, rear wheel, and even both, for all-wheel drive. The advantage of all-wheel drive is that the torque is supplied to the tire via the spokes directly from the hub.
This direct transfer results in fewer broken parts. A disadvantage is that a hub motor makes the wheels heavier and affects the responsiveness of the suspension, unlike the mid motor. Motors come in four sizes by watts: 250, 500, 750 and 1000 watts.
For the purists or former cyclist, 250 watts is enough. The smaller motor is just enough to help on the hills a bit. The other extreme is the individuals who want more power and they find ways to increase output to the max. Wherever you find yourself, there is a motor and battery combination to meet your needs.
Choose your battery size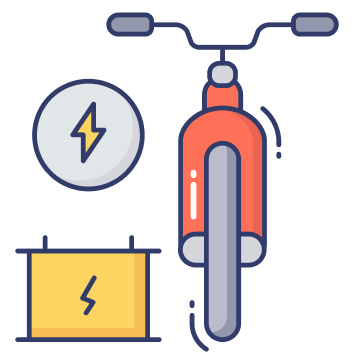 The battery and charger are matched with the motor.
The common voltages are 36-volt, 48-volt, 52-volt, and 72-volt.
The size of the battery is differentiated by Amp Hours, (aH). Physically larger batteries have a higher aH because it has more cells.
Greater range can be achieved with a bigger battery as well as being able to power larger motors. Another option is using dual batteries which effectively doubles the range of the bike or you can carry an extra, which can be swapped out while the other is charging.
Each of those options, however, will make the bike heavier and create more bulk. The battery itself can cost upwards of a thousand dollars, if it is manufactured with quality, name brand cells.
Take a test ride
If you have friends with e-bikes, see if you can take a ride on theirs.
Get their opinions of their bikes. What do they like or dislike about the bike they chose? Ask if they will go to the local bike shop with you while you test a few bikes. Make sure you test a bike which fits you.
The shop people are the experts and should be able to set you up with a bike to fulfill your needs. How do you feel when riding the bike? Once you have ridden a few bikes and narrowed it down to a couple of choices, consider which bike feels the best. You should be comfortable and at ease while riding.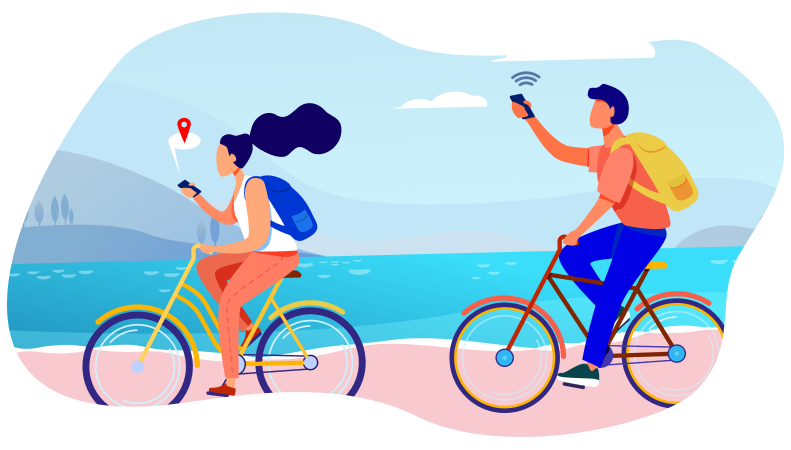 Confirm the warranty and consider insurance
New bikes come with a factory warranty against normal manufacturing defects of at least one year.
Two years or more is not unheard of and high-end bike warranties can be even longer, as many as four years. If you go online and search ebike warranties, you may be able to read the manufacturer's warranty before you buy.
Using the right credit card may also extend your warranty. Check with your card provider to see if this is a benefit they offer. Insurance is a topic that often comes up in ebike circles. With the amount of money that can go into an ebike, it is a good idea to protect your investment. There are agencies which write policies specifically for ebikes, but often a homeowner or renters' policy will cover a loss.
You should have enough information to start working toward your first ebike purchase. Ebikes are all the rage right now and sales are not slowing down. Take your time, ride as many bikes as you can and ask a lot of questions. If you have a budget try and stick to it at least for now. Have fun.